Female Nude, Reclining. Study for the Painting Reclining Female Nude (White Nude)
, 1919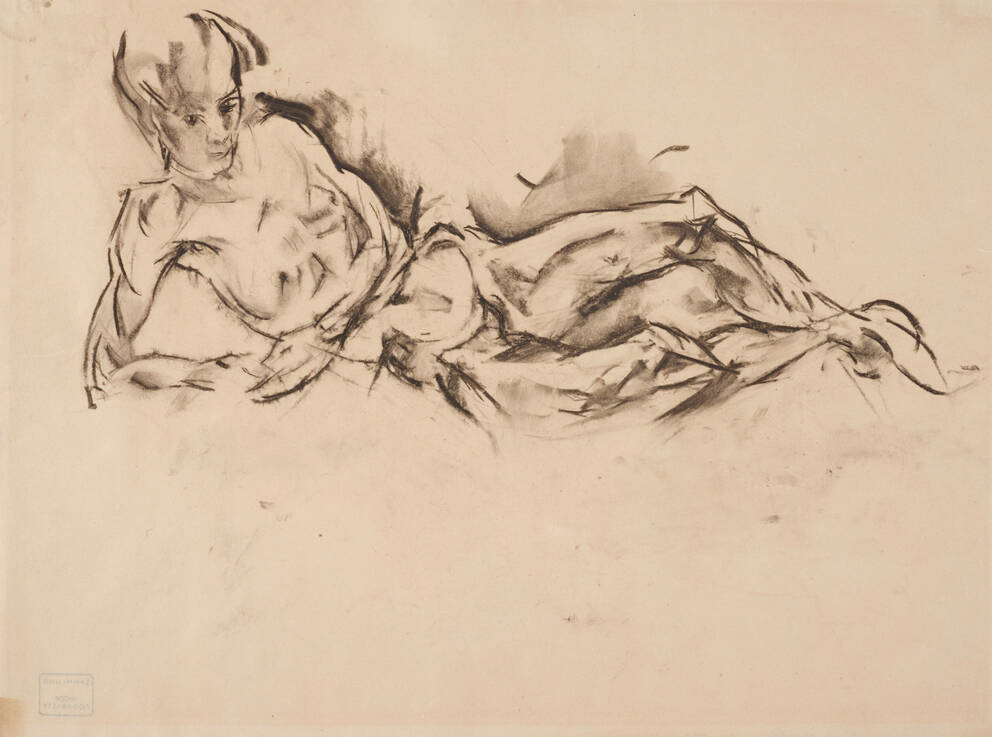 Leopold Museum,
Vienna © Herbert Boeckl estate,
Vienna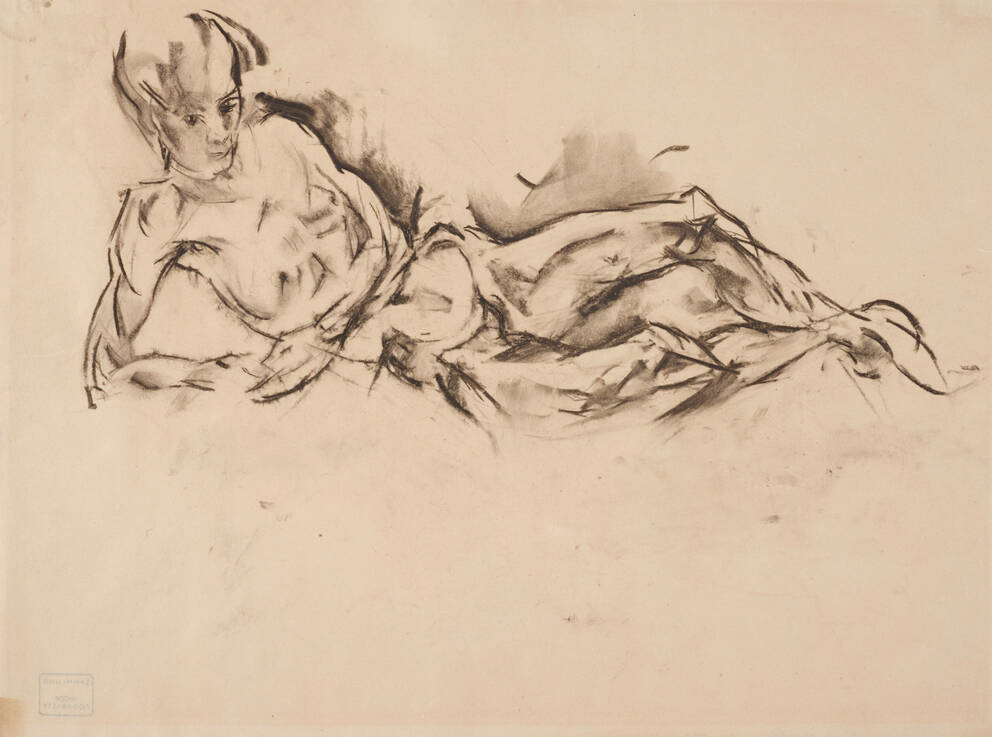 Female Nude, Reclining. Study for the Painting Reclining Female Nude (White Nude)
1919
Black chalk on tracing paper
36.3×48.5 cm
Artists
Herbert Boeckl

(Klagenfurt 1894–1966 Vienna)
Unfortunately not on display at the moment
Shortly after the end of World War I, the Austrian painter Herbert Boeckl (1895–1966) abandoned his first attempts at linear design in favor of a more dynamic design. The chalk drawing Female Nude, Reclining is a study for the 1919 painting Reclining Female Nude (White Nude). Boeckl develops the shape of the female nude, lying on her side and propped up on her elbow, with searching strokes. The silhouette is displayed as an undulating wave. Boeckl shows little interest in the depiction of hands and feet, while the model gazes out of the picture with determination and makes eye contact with the beholder. The painter employs blurs to create wash-like effects. The positioning of the model in the upper half of the work's horizontal rectangle is surprising. In the painting, Boeckl depicted the female nude in a diagonal position, slanting downwards. He continued the swinging contours of the body in the surrounding space, thus creating an all-over structure.
Object data
Artist/author

Title

Female Nude, Reclining. Study for the Painting Reclining Female Nude (White Nude)

Date

1919

Art movement

Expressionism

Category

Graphic work

Material​/technique

Black chalk on tracing paper

Dimensions

36.3×48.5 cm

Credit line

Leopold Museum, Vienna, Inv. 1259

Inventory access

Contributed to the Leopold Museum-Privatstiftung in 1994

Selection of Reference works

Moderne Österreichische Farbmalerei um 1918, hrsg. von Elisabeth Leopold, Wien 2021 (Ausst.-Kat. Leopold Museum, Wien, 03.02.2021-24.05.2021).
Frauenbilder – Künstlerinnen – 19. und 20. Jahrhundert. Vom Biedermeier bis zur Moderne, hrsg. von Elisabeth Leopold, Wien 2017 (Ausstellungsbroschüre, Leopold Museum, Wien, 07.07.2017–18.09.2017).
Linie und Form. 100 Meisterzeichnungen aus der Sammlung Leopold, hrsg. von Franz Smola/Fritz Koreny, Wien 2014 (Ausst.-Kat. Leopold Museum, Wien, 23.05.2014–20.10.2014).

Keywords
If you have further information on this object, please contact us.