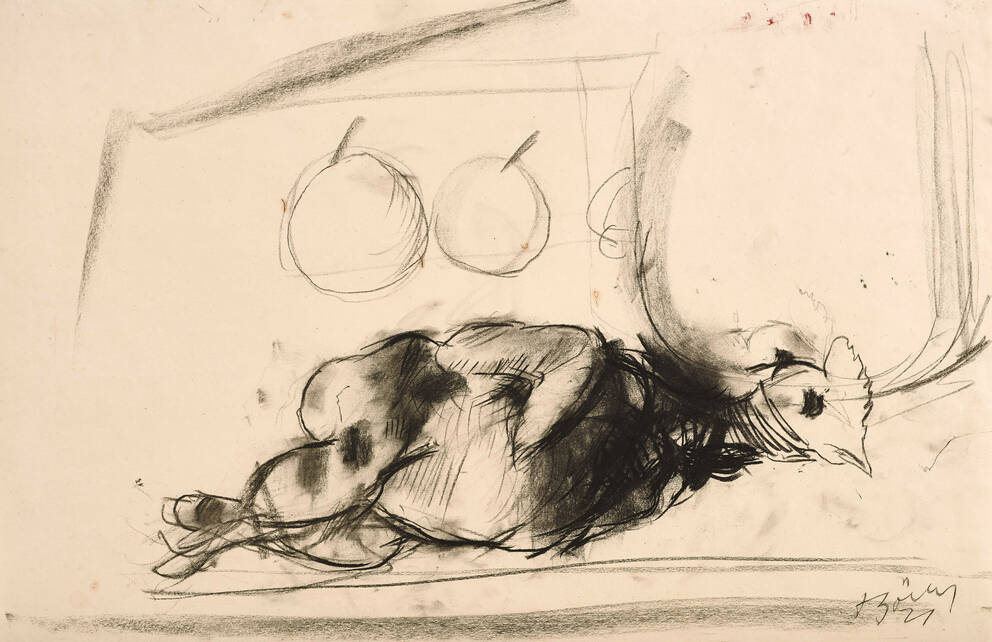 Leopold Museum,
Vienna © Herbert Boeckl estate,
Vienna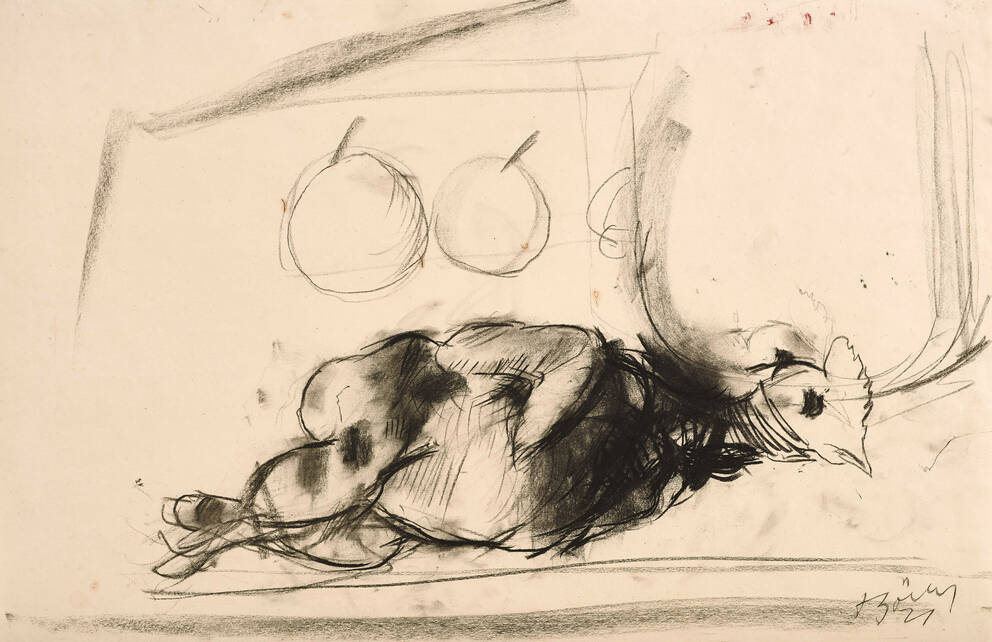 Dead Chicken
1921
Charcoal on paper
35.7×54.9 cm
Artists
Herbert Boeckl

(Klagenfurt 1894–1966 Vienna)
Unfortunately not on display at the moment
In the early 1920s, Herbert Boeckl (1894–1966) shot to the top of the Austrian avant-garde. In the media of drawing and gouache, in particular, he attempted the dissolution of shapes, but without getting too close to abstraction. This depiction of a dead chicken is a telling example for his pondering of formal problems. Boeckl presents – parallel to the picture plane – a plucked chicken with its head still attached, behind it presumably two apples and a jug or a bottle to the right. The lower edge of the work is emphasized with a broad charcoal line, two further lines forming a corner in the upper left area suggest the farther edge of the table. Instead of chromatic colors, Boeckl used flat charcoal blurs to develop the mood of the work. His means range from thin lines and broad strokes to atmospherically dense darkness. Methods of drawing and painting blend in this work on paper, dating from 1921.
Object data
Artist/author

Title

Dead Chicken

Date

1921

Art movement

Expressionism

Category

Graphic work

Material​/technique

Charcoal on paper

Dimensions

35.7×54.9 cm

Signature

Signed and dated lower right using charcoal: Böckl 21

Credit line

Leopold Museum, Vienna, Inv. 1281

Inventory access

Contributed to the Leopold Museum-Privatstiftung in 1994

Selection of Reference works

Linie und Form. 100 Meisterzeichnungen aus der Sammlung Leopold, hrsg. von Franz Smola/Fritz Koreny, Wien 2014 (Ausst.-Kat. Leopold Museum, Wien, 23.05.2014–20.10.2014).

Keywords
If you have further information on this object, please contact us.