Ars. Ex Libris of the Union of Austrian Visual Artists (Secession)
, 1898/99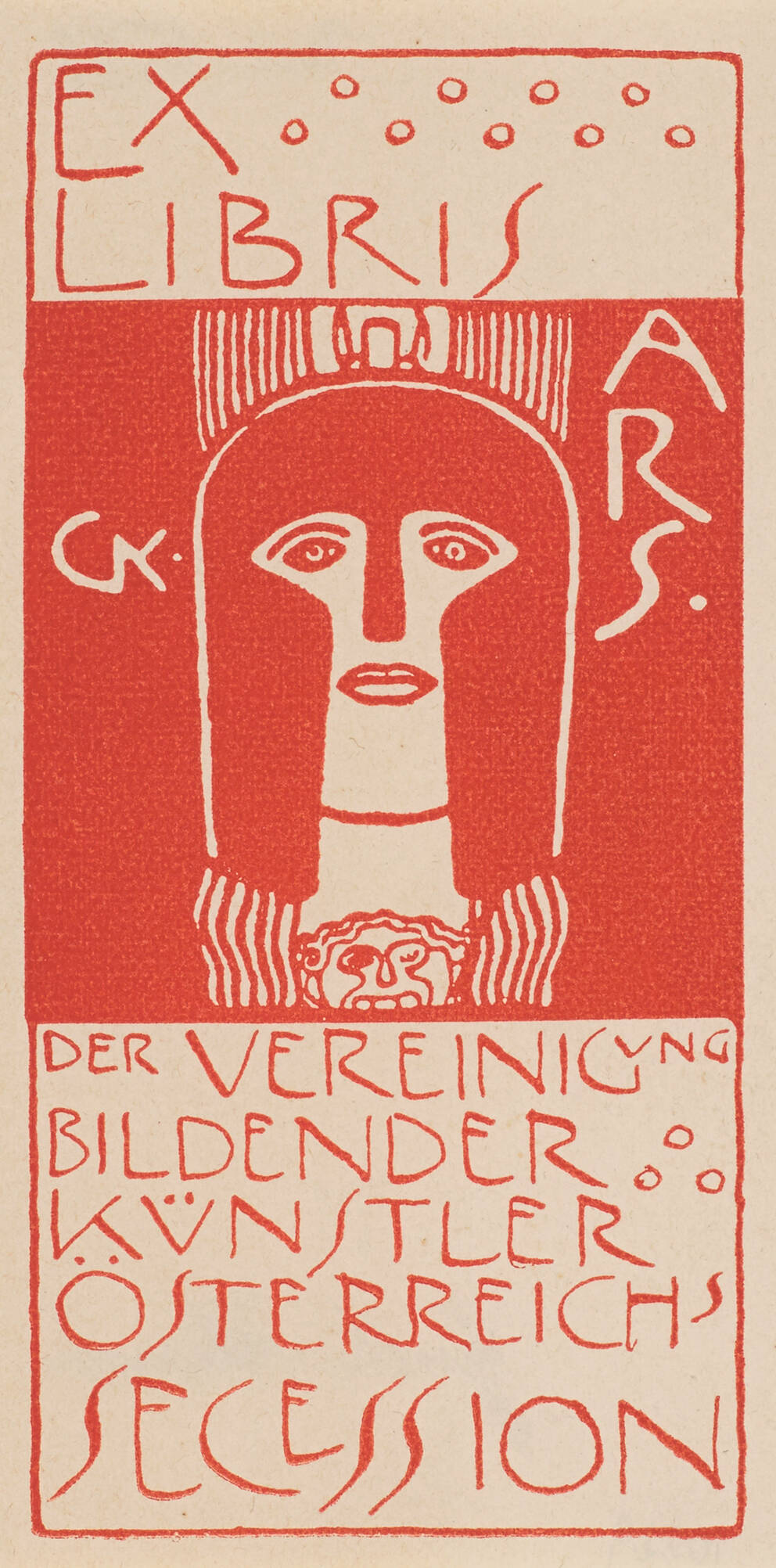 Leopold Museum,
Vienna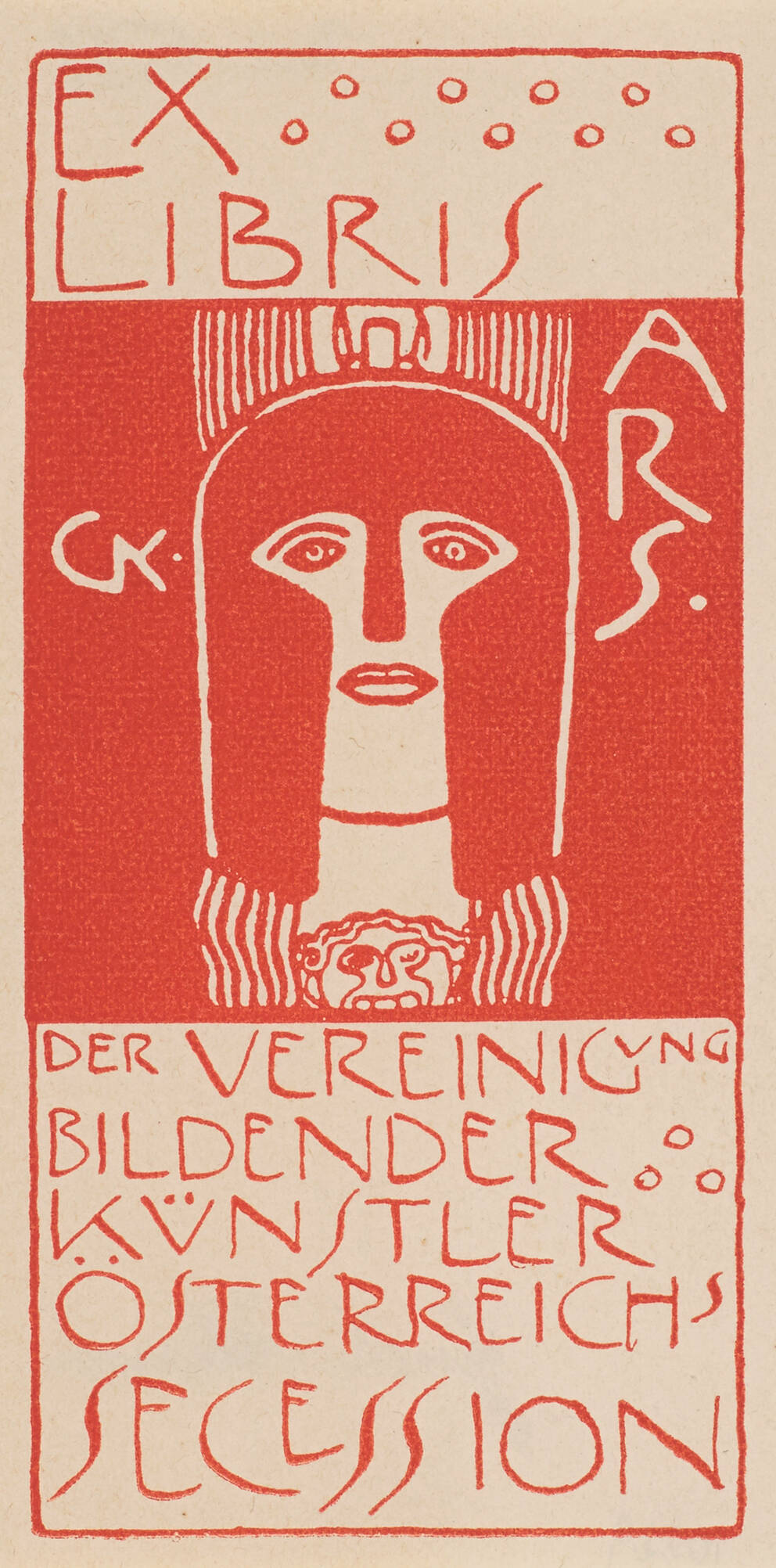 Ars. Ex Libris of the Union of Austrian Visual Artists (Secession)
1898/99
Color lithograph in red on paper
10.3×5.2 cm
Artists
Gustav Klimt

(Baumgarten near Vienna/Vienna 1862–1918 Vienna)
Unfortunately not on display at the moment
Gustav Klimt (1862–1918) derived the graphic motif of a female head, wearing a Greek helmet and decorated with a Gorgon's head in the area of the neck, directly from his 1898 painting Pallas Athene. The Secessionists saw the figure of the able-bodied Pallas Athene as a symbol for the defense of artistic freedom. Thus, the choice of this motif for the Secession's ex libris was of a programmatic nature and related to Klimt's pre-eminent role within the association as the Secession's first president from 1897 to 1899. The graphic work was reproduced twice in the Secession's magazine Ver Sacrum, featuring in number 1 of year 1900 in red on the cover and in black on page 5. Klimt further selected the motif of Pallas Athene for the poster advertising his large-scale collective exhibition, shown in the autumn/winter of 1903/04, as well as for the cover of the accompanying catalogue.
Object data
Artist/author

Title

Ars. Ex Libris of the Union of Austrian Visual Artists (Secession)

Date

1898/99

Art movement

Art Nouveau, Symbolism, Secession

Category

Graphic work

Material​/technique

Color lithograph in red on paper

Dimensions

10.3×5.2 cm

Signature

Designated above: EX LIBRIS; monogrammed center left: GK; designated center right: ARS; designated below: DER VEREINIGUNG BILDENDER KÜNSTLER ÖSTERREICHS SECESSION

Credit line

Leopold Museum, Vienna, Inv. 1598

Inventory access

Contributed to the Leopold Museum-Privatstiftung in 1994

Selection of Reference works

Gustav Klimt. Die Sammlung im Leopold Museum, hrsg. von Tobias G. Natter/Elisabeth Leopold, Ostfildern 2013 (Bestandskatalog des Leopold Museum: Band 1).
Wien 1900. Sammlung Leopold, hrsg. von Diethard Leopold/Peter Weinhäupl, Wien u.a. 2009.
Die nackte Wahrheit. Klimt, Schiele, Kokoschka und andere Skandale, hrsg. von Tobias G. Natter/Max Hollein, München 2005 (Ausst.-Kat. Schirn Kunsthalle, Frankfurt, 28.01.2005-24.01.2005; Leopold Museum, Wien, 31.05.2005-22.08.2005).
Alice Strobl: Gustav Klimt. Die Zeichnungen 1878-1903, Salzburg 1980.

Catalogue raisonne

Keywords
If you have further information on this object, please contact us.
Provenance
Provenance research
Leopold Museum
i
Dr. Rudolf Leopold, Wien (o.D.);
Leopold Museum-Privatstiftung, Wien (1994).
For provenance related information, please contact us.