Three Women Skaters
, n. d.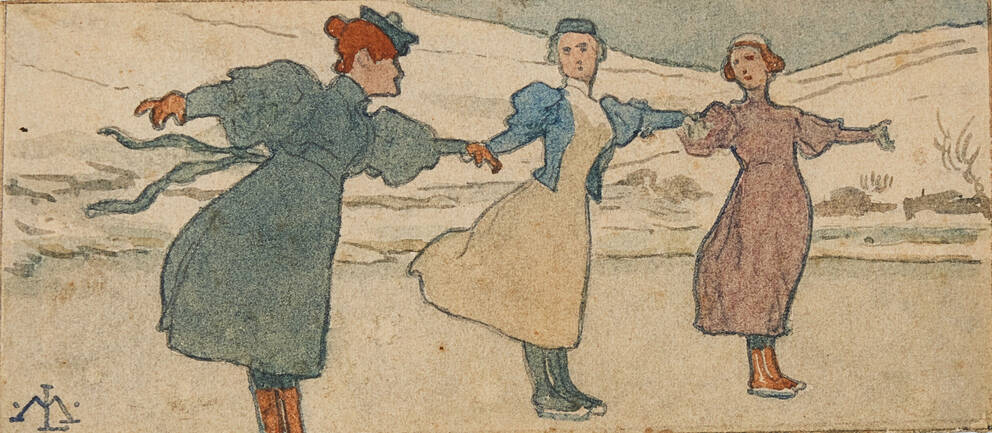 Leopold Museum,
Vienna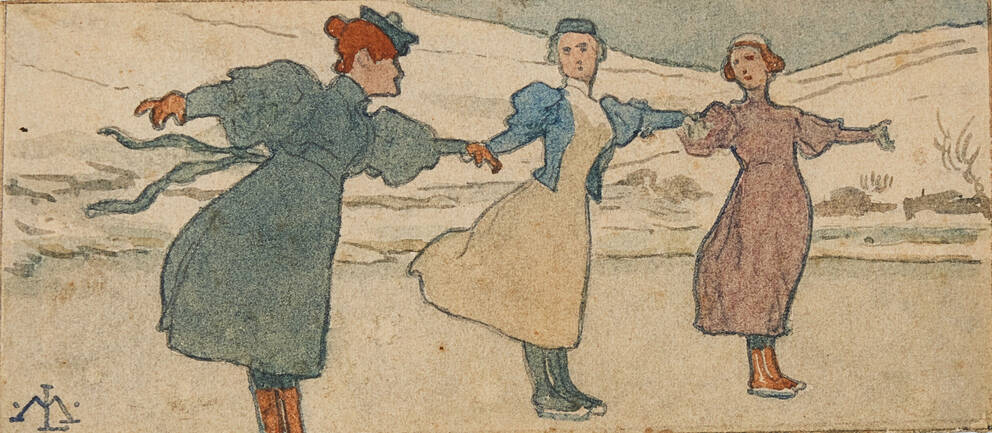 Three Women Skaters
n. d.
Ink, watercolor on paper
5.6×12.3 cm
Artists
Maximilian Lenz

(Vienna 1860–1948 Vienna)
Unfortunately not on display at the moment
The artist Martin Lenz was a founding member of the Vienna Secession association and belonged to the circle around Gustav Klimt (1862–1918). His most impressive works date from this period. The Three Women Skaters is one of numerous vignettes he created. In a pretty simple composition, three girls are showing holding each other by the hands. They do not look like trained skaters but rather a little fearful and insecure. They are skating against the wind, which blows the long skirts of their dresses. Each girl wears a simple dress, each in a different color—blue, white, mauve—with clear outlines. Seen in the background is a snowy scenery which, in conjunction with the ice and wind, gives a sense of the cold that the girls are exposed to.
Object data
Artist/author

Title

Three Women Skaters

Date

n. d.

Art movement

Art Nouveau

Category

Graphic work

Material​/technique

Ink, watercolor on paper

Dimensions

5.6×12.3 cm

Signature

Monogrammed lower left:ML

Credit line

Leopold Museum, Vienna, Inv. 1613

Inventory access

Contributed to the Leopold Museum-Privatstiftung in 1994

Keywords
If you have further information on this object, please contact us.
Provenance
Provenance research
Leopold Museum
i
Dr. Rudolf Leopold, Wien (o.D.);
Leopold Museum-Privatstiftung, Wien (1994)
For provenance related information, please contact us.