Five Striding Men. Study for the painting Eurhythmy
, 1894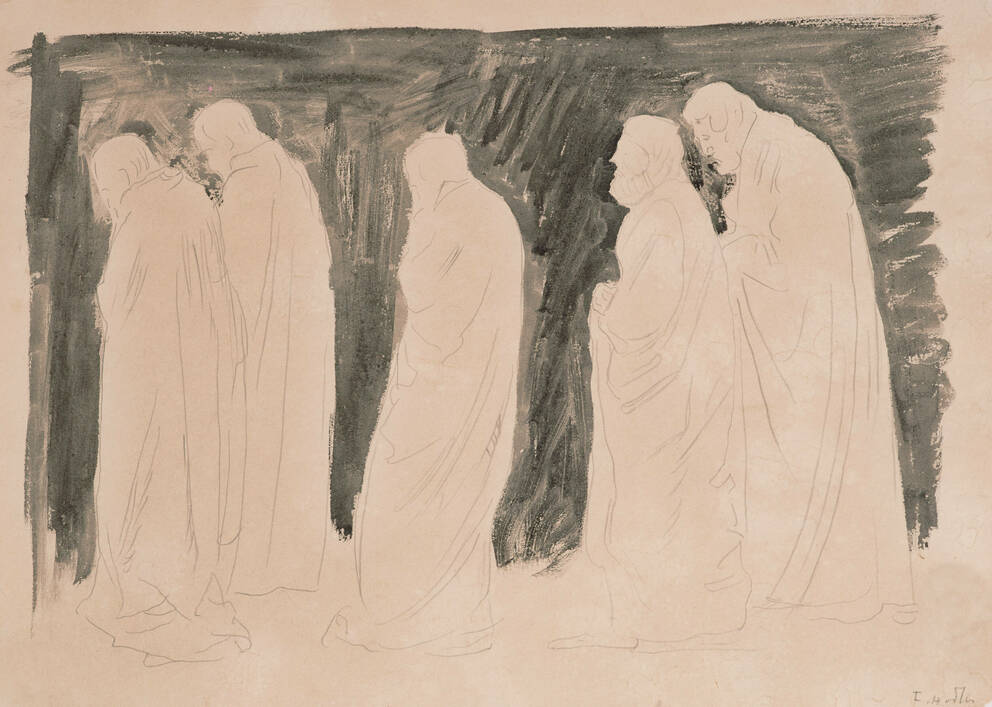 Leopold Museum,
Vienna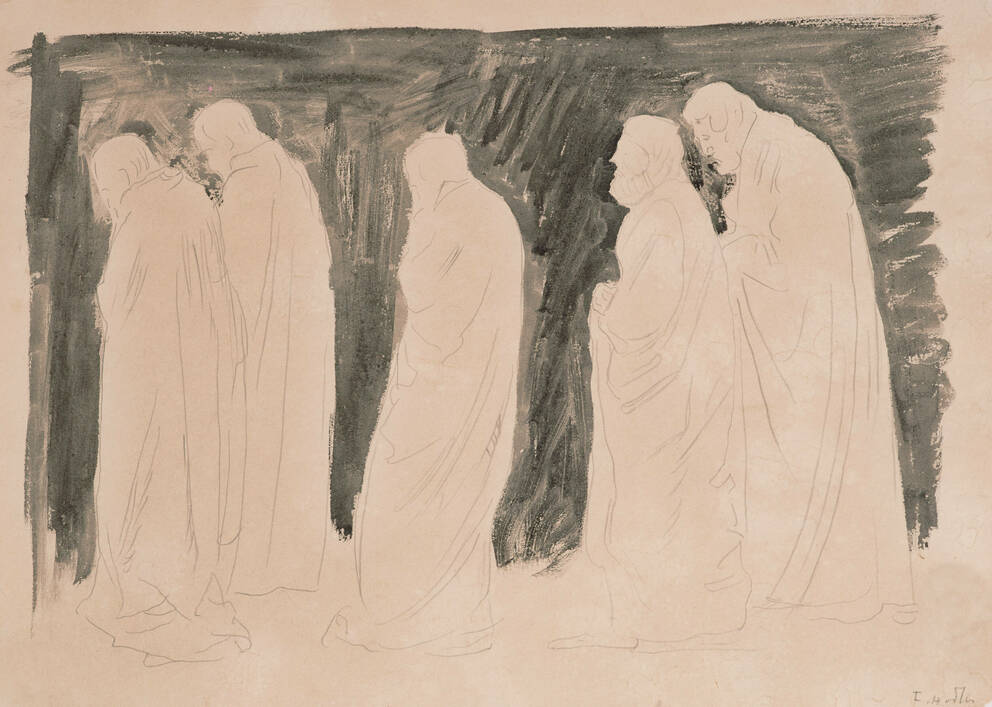 Five Striding Men. Study for the painting Eurhythmy
1894
Pencil, gouache on paper
30.4×42.8 cm
Artists
Ferdinand Hodler

(Bern 1853–1918 Genva)
Unfortunately not on display at the moment
In Five Striding Men. Study for the painting Eurhythmy, a precursor for a monumental oil painting dating from 1894, Ferdinand Hodler (1853–1918) rhythmically segments the horizontal composition with the figures of bearded men in wide, flowing, toga-like garments walking in a single file. Hodler outlines the figures with swift, secure pencil strokes. He pays especially close attention to the articulation of folds, beards and strands of hair. With equally confident and dynamic brush strokes, the Swiss painter renders the gray background in gouache. A bright margin is left as if to frame the uncolored figures and suggest spatial depth. In his work Eurhythmy, Hodler referred to the anthroposophical artistic dance originated in Switzerland by Rudolf Steiner (1861–1925) and Marie von Sivers (1867–1948). The movement of bodies in space is a recurring motif in Hodler's oeuvre. The painter frequently used dance as a metaphor for the phenomenon of existence.
Object data
Artist/author

Title

Five Striding Men. Study for the painting Eurhythmy

Date

1894

Art movement

Classical Modernism

Category

Graphic work

Material​/technique

Pencil, gouache on paper

Dimensions

30.4×42.8 cm

Signature

Signed lower right using pencil: F. Hodler

Credit line

Leopold Museum, Vienna, Inv. 1769

Inventory access

Contributed to the Leopold Museum-Privatstiftung in 1994

Selection of Reference works

Ferdinand Hodler: Wahlverwandtschaft von Klimt bis Schiele, hrsg. von Hans-Peter Wipplinger, Wien 2017 (Ausst.-Kat. Leopold Museum, Wien, 13.10.2017–22.01.2018).
Koloman Moser 1868-1818, hrsg. von Rudolf Leopold/Gerd Pichler, Wien 2007 (Ausst.-Kat. Leopold Museum, Wien, 25.05.2007-10.09.2007).
Walter Hugelshofer Ferdinand Hodler: Eine Monographie, Zürich, 1952.

Keywords
If you have further information on this object, please contact us.
Provenance
Provenance research
Leopold Museum
i
Dr. Rudolf Leopold, Wien (o.D.);
Leopold Museum-Privatstiftung, Wien (seit 1994).
For provenance related information, please contact us.