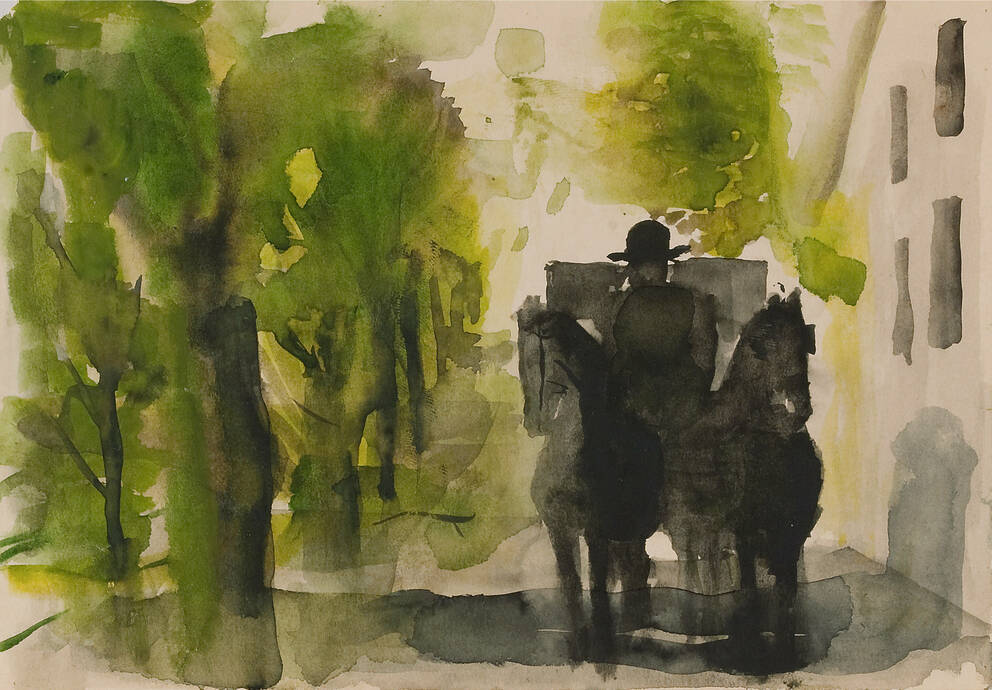 Leopold Museum,
Vienna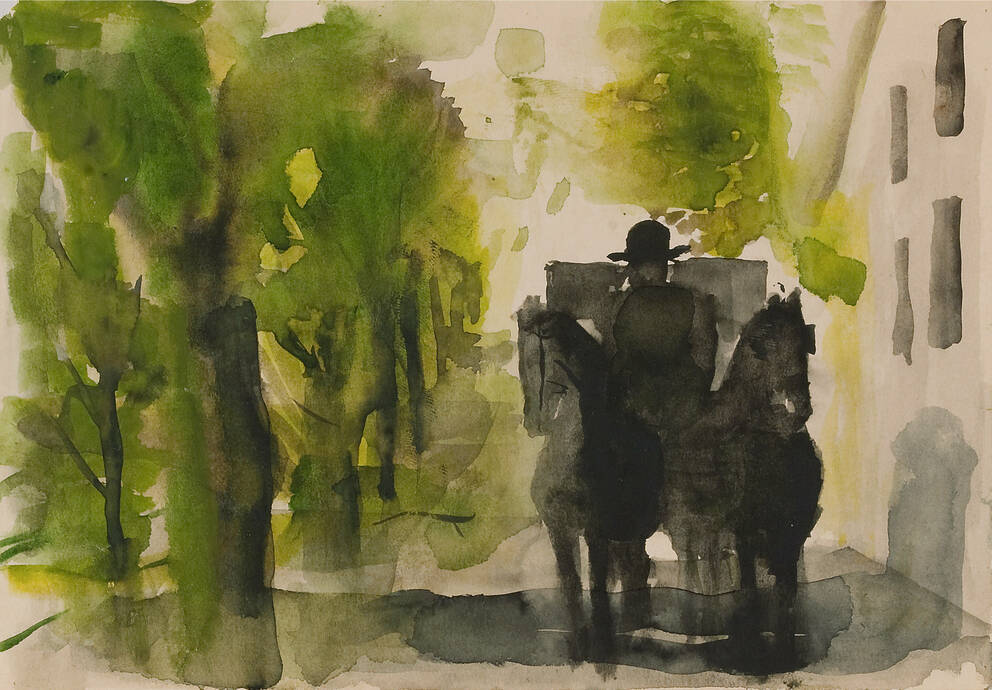 Black Carriage
c. 1928
Watercolor on paper
12.5×17.8 cm
Artists
Wilhelm Thöny

(Graz 1888–1949 New York)
Unfortunately not on display at the moment
A horse-drawn carriage is moving directly towards the beholder between the facade of a house and an avenue of trees. The black horses and coachman dressed in black evoke a funeral coach in the shadows of the trees. The motif, as well as the reduction to only few colors, generate a sense of oppressive gloom. In the 1920s, the painter Wilhelm Thöny (1888–1949) was staying in his birthplace of Graz. Owing to his experiences as a war painter on the frontlines during World War I and his sensitivity to the worrying events taking place over the ensuing years, he developed a proclivity for gloomy scenes. The watery-airy application of watercolors evokes a mixture of gravity and lightness which, in the face of the symbolic presence of death, produces an inner, psychological impact.
Object data
Artist/author

Title

Black Carriage

Date

c. 1928

Art movement

Classical Modernism, Expressionism

Category

Graphic work

Material​/technique

Watercolor on paper

Dimensions

12.5×17.8 cm

Credit line

Leopold Museum, Vienna, Inv. 1824

Inventory access

Contributed to the Leopold Museum-Privatstiftung in 1994

Selection of Reference works

Verborgene Schätze der österreichischen Aquarellmalerei, hrsg. von Rudolf Leopold/Franz Smola, Wien 2010 (Ausst.-Kat. Leopold Museum, Wien 05.03.2010-24.05.2010).

Keywords
If you have further information on this object, please contact us.