Barcarole (Mythical Creature with Lyre)
, 1914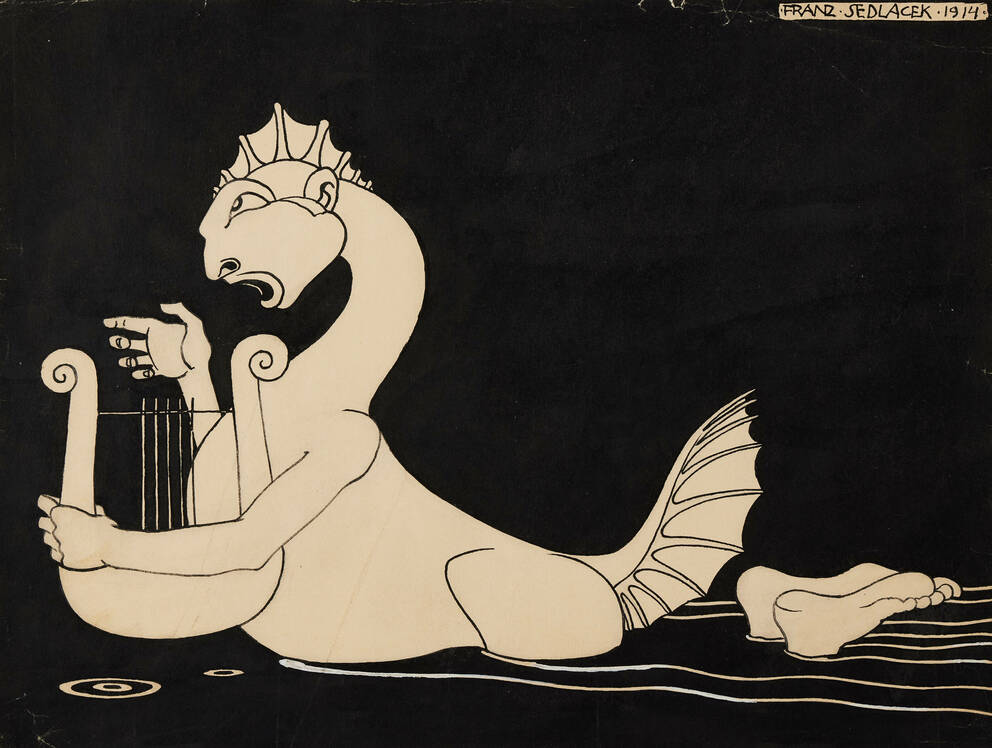 Leopold Museum,
Vienna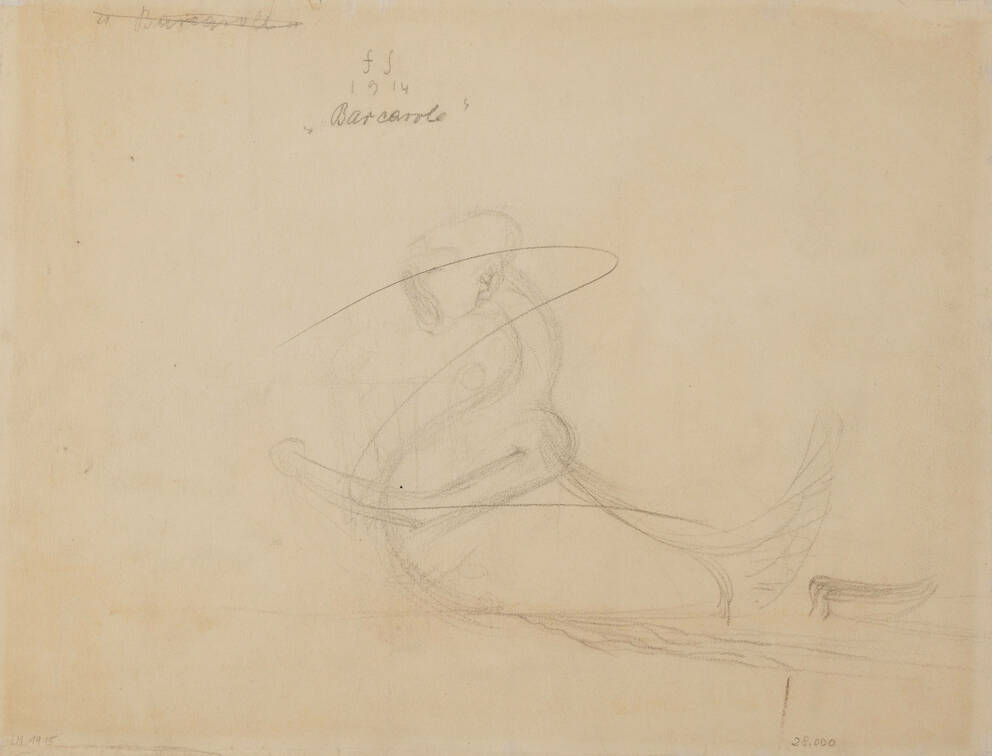 Leopold Museum,
Vienna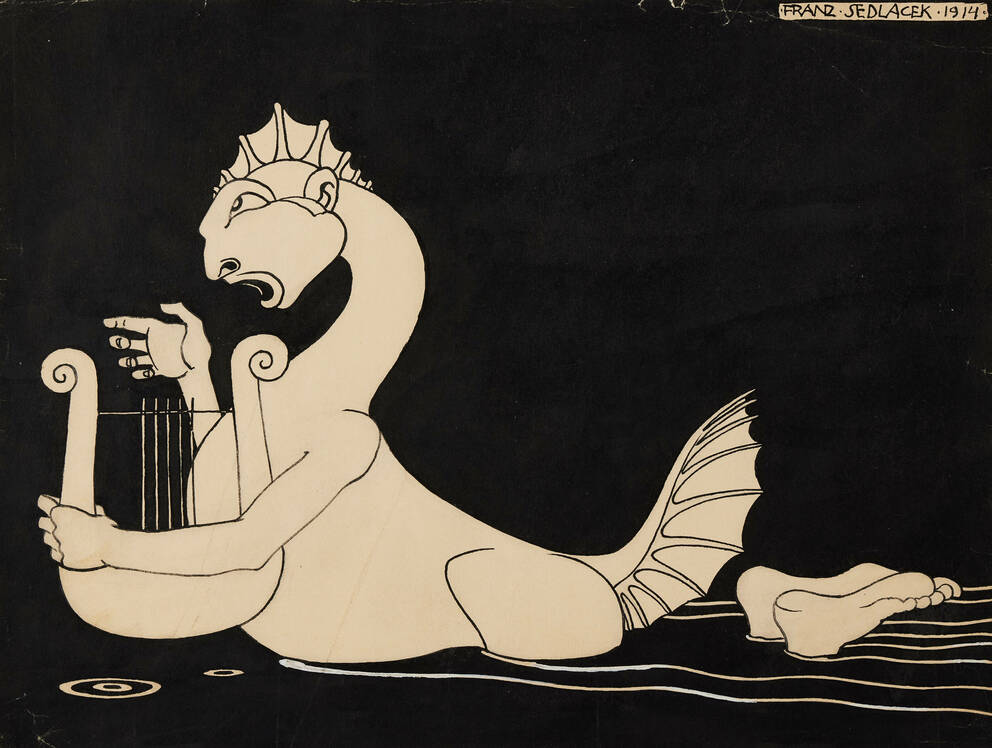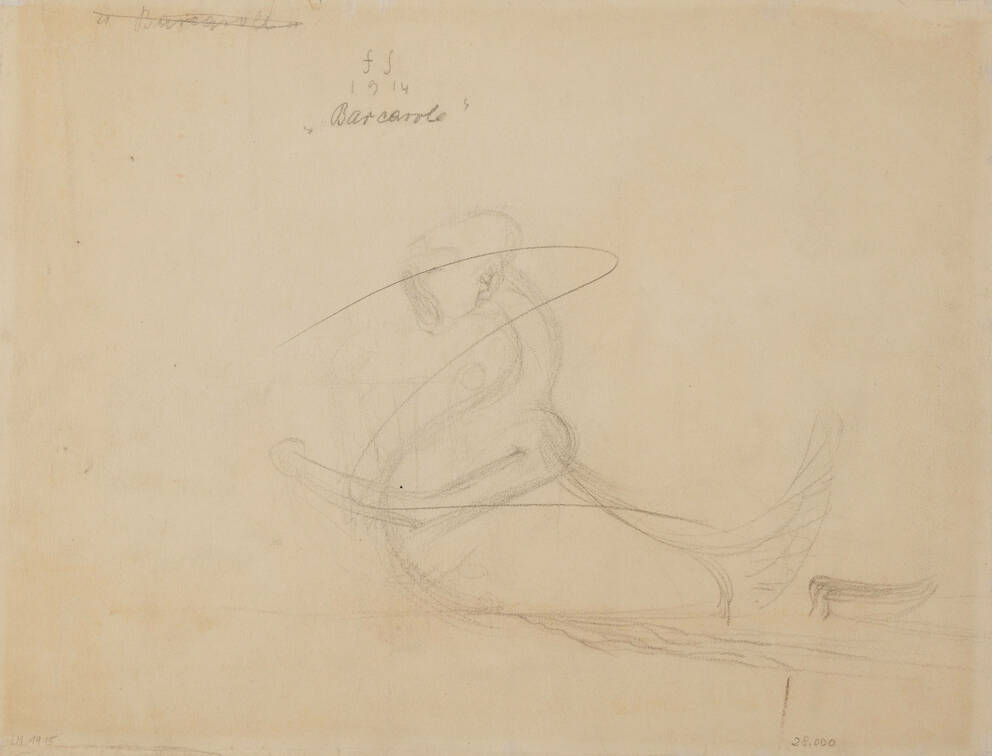 Barcarole (Mythical Creature with Lyre)
1914
India ink, opaque white on paper
33.8×44.1 cm
Artists
Franz Sedlacek

(Breslau/Wrocław 1891, 1945 missing in Poland)
Unfortunately not on display at the moment
A "barcarole" is a type of Italian gondola song that was revisited by Jacques Offenbach (1819–1880) in his opera The Tales of Hoffmann. The 1914 work Barcarole (Mythical Creature with Lyre), which Franz Sedlacek (1891, missing since 1945) painted with India ink on paper, is stylistically reminiscent of antique Greek vase painting in which figures were rendered as bright omissions, more closely defined through delicate, precise outlines, on a dark ground. This wondrous mythical creature is a sort of sea dragon with human facial features, arms and legs, whose overall shape is reminiscent of a gondola. Floating gracefully and calmly on the water, it appears to be singing and playing the lyre. Despite the strictly bichrome, shadowless and sharply delineated black-and-white rendering, the creature appears impressively three-dimensional.
Object data
Artist/author

Title

Barcarole (Mythical Creature with Lyre)

Date

1914

Art movement

Art Nouveau, Symbolism

Category

Graphic work

Material​/technique

India ink, opaque white on paper

Dimensions

33.8×44.1 cm

Signature

Signed and dated upper right: FRANZ.SEDLACEK.1914.

Credit line

Leopold Museum, Vienna, Inv. 1915

Inventory access

Contributed to the Leopold Museum-Privatstiftung in 1994

Keywords
If you have further information on this object, please contact us.
Provenance
Provenance research
Leopold Museum
i
Dr. Rudolf Leopold, Wien (o.D.);
Leopold Museum-Privatstiftung, Wien (1994)
For provenance related information, please contact us.