Armchair from Gustav Klimt's Studio in Josefstädter Straße 21, 8th district, Vienna. Manufacturer: Wiener Werkstätte
, 1906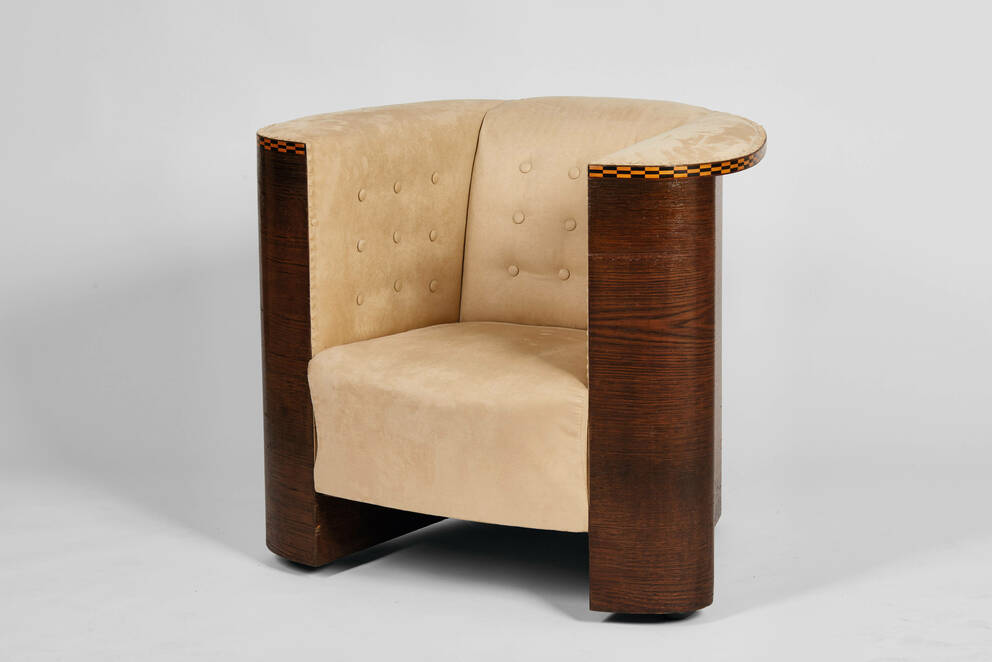 Leopold Museum,
Vienna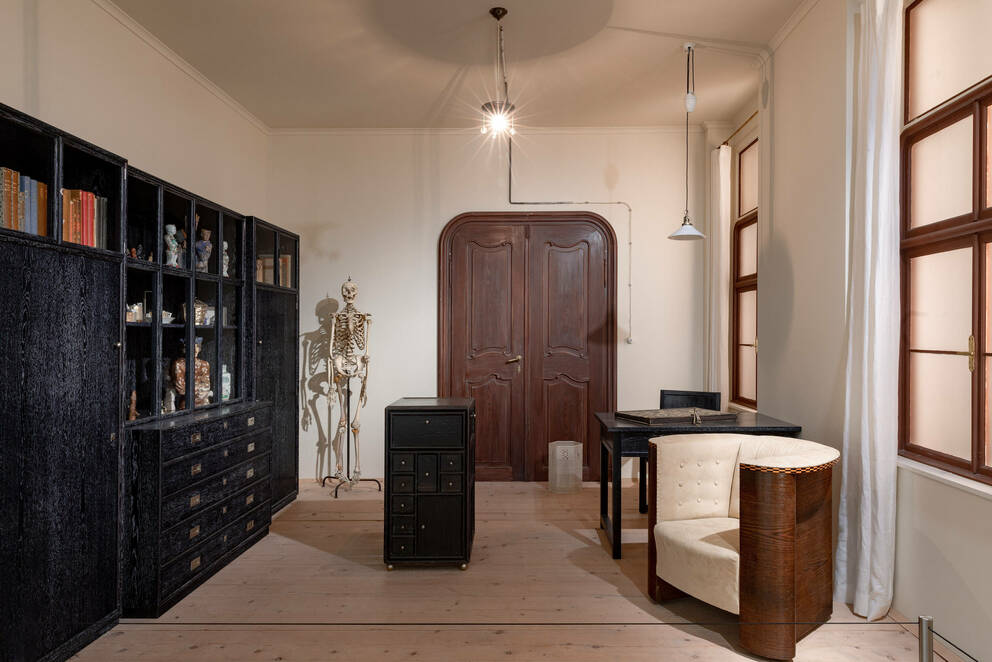 Leopold Museum,
Vienna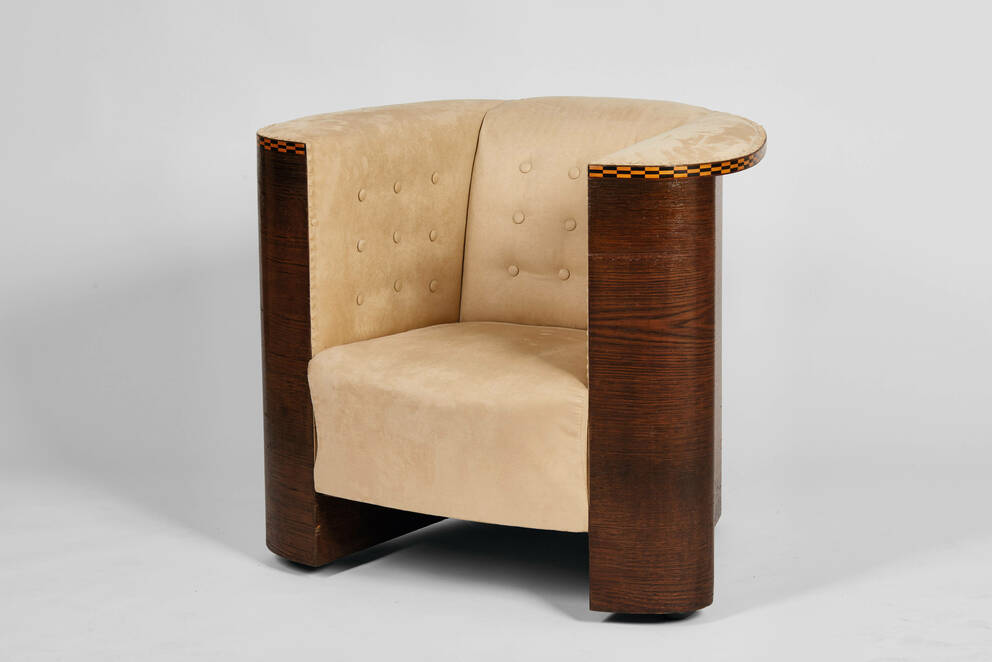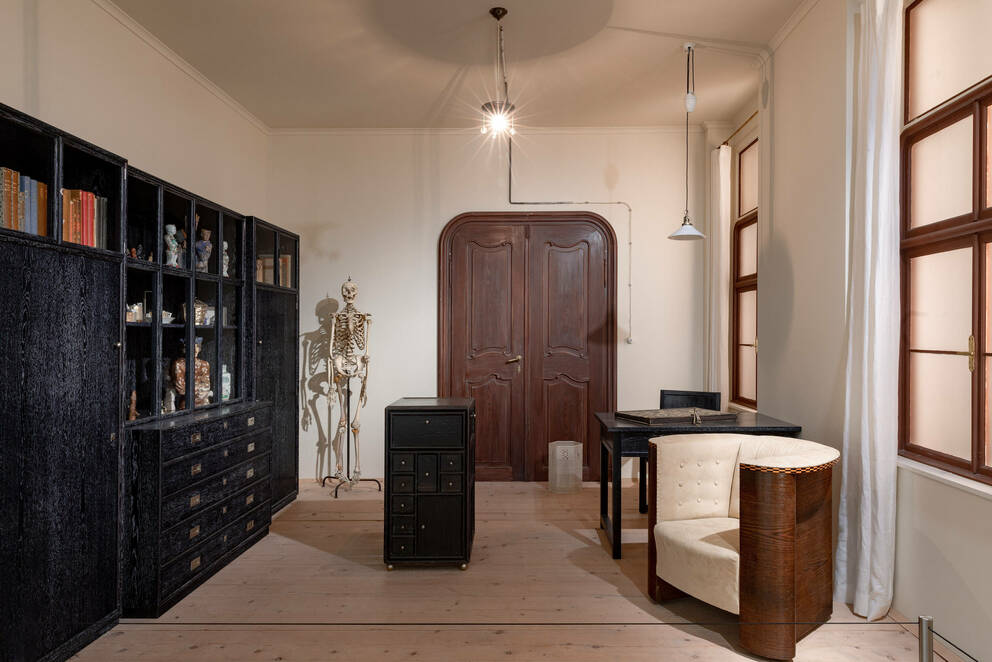 Armchair from Gustav Klimt's Studio in Josefstädter Straße 21, 8th district, Vienna. Manufacturer: Wiener Werkstätte
1906
Veneered palisander, ebony and maple marquetry
83×95.5×80 cm
Artists
Josef Hoffmann

(Pirnitz/Brtnice 1870–1956 Vienna)
Currently on display at OG4
Gustav Klimt (1862–1918) had moved into his studio in Vienna's 8th district together with his brother Ernst Klimt (1864–1892) and also stayed there after the latter's early death. In 1911, Klimt had to clear out of the studio as the building was demolished, relocating to what would be his last place of work in Feldmühlgasse in the Hietzing district. Josef Hoffmann (1870–1956) planned for an interior-design totality for the premises of his close friend and ally. As Klimt resisted any massive intervention in his accustomed workplace environment, implementation remained limited to just a few pieces of furniture. In them, the designer used austere rectangular shapes and dark-stained wood. This armchair is of a later date and shows clear differences in shape and materials used from the other studio furnishings. The motif of the semicircle of back and armrests was used by Klimt, though in a strongly modified way, in the 1906 portrait of Fritza Riedler.
Object data
Artist/author

Title

Armchair from Gustav Klimt's Studio in Josefstädter Straße 21, 8th district, Vienna. Manufacturer: Wiener Werkstätte

Date

1906

Art movement

Art Nouveau, Wiener Werkstätte

Category

Furniture

Material​/technique

Veneered palisander, ebony and maple marquetry

Dimensions

83×95.5×80 cm

Credit line of the permanent loan

Ernst Ploil, Vienna

Selection of Reference works

Wien 1900. Aufbruch in die Moderne, hrsg. von Hans-Peter Wipplinger, Wien 2019 (Ausst.-Kat. Leopold Museum, Wien, ab 15.03.2019).
Gustav Klimt. Jahrhundertkünstler, hrsg. von Hans-Peter Wipplinger/Sandra Tretter, Wien 2018 (Ausst.-Kat. Leopold Museum, Wien, 22.06.2018–04.11.2018).
Linie und Form. 100 Meisterzeichnungen aus der Sammlung Leopold, hrsg. von Franz Smola/Fritz Koreny, Wien 2014 (Ausst.-Kat. Leopold Museum, Wien, 23.05.2014–20.10.2014).
Klimt persönlich. Bilder - Briefe - Einblicke, hrsg. von Tobias G. Natter/Franz Smola, Wien 2012 (Ausst.-Kat. Leopold Museum, Wien, 24.02.2012–27.08.2012).
Eduard F. Sekler: Josef Hoffmann. Das architektonische Werk: Monographie und Werkverzeichnis, Salzburg/Wien 1982.

Catalogue raisonne

Keywords
If you have further information on this object, please contact us.