Ver Sacrum. Theseus and Minotaur. Poster for the 1st Exhibition of the Vienna Secession (Version Prior to Censorship)
, 1898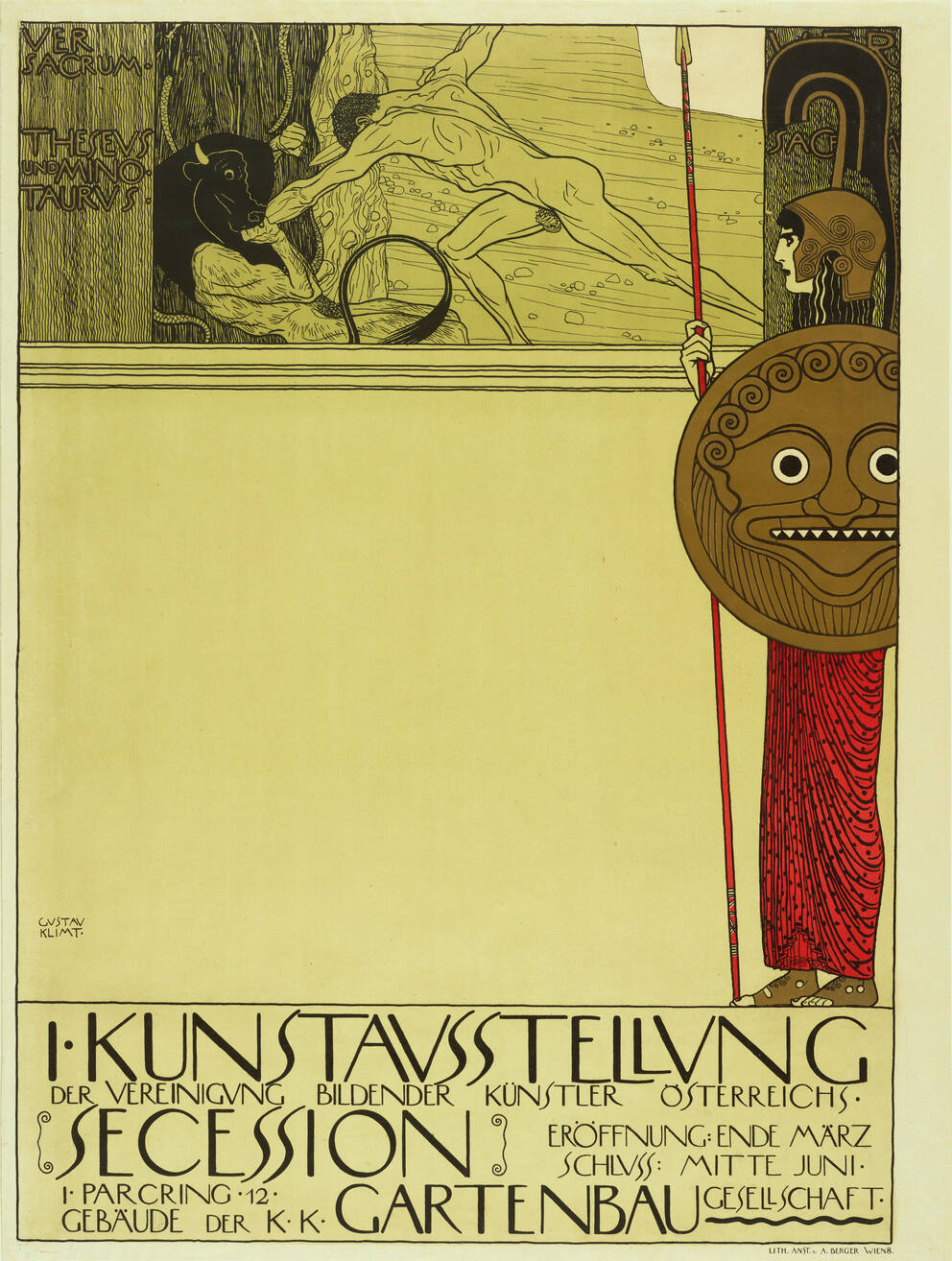 Leopold Museum,
Vienna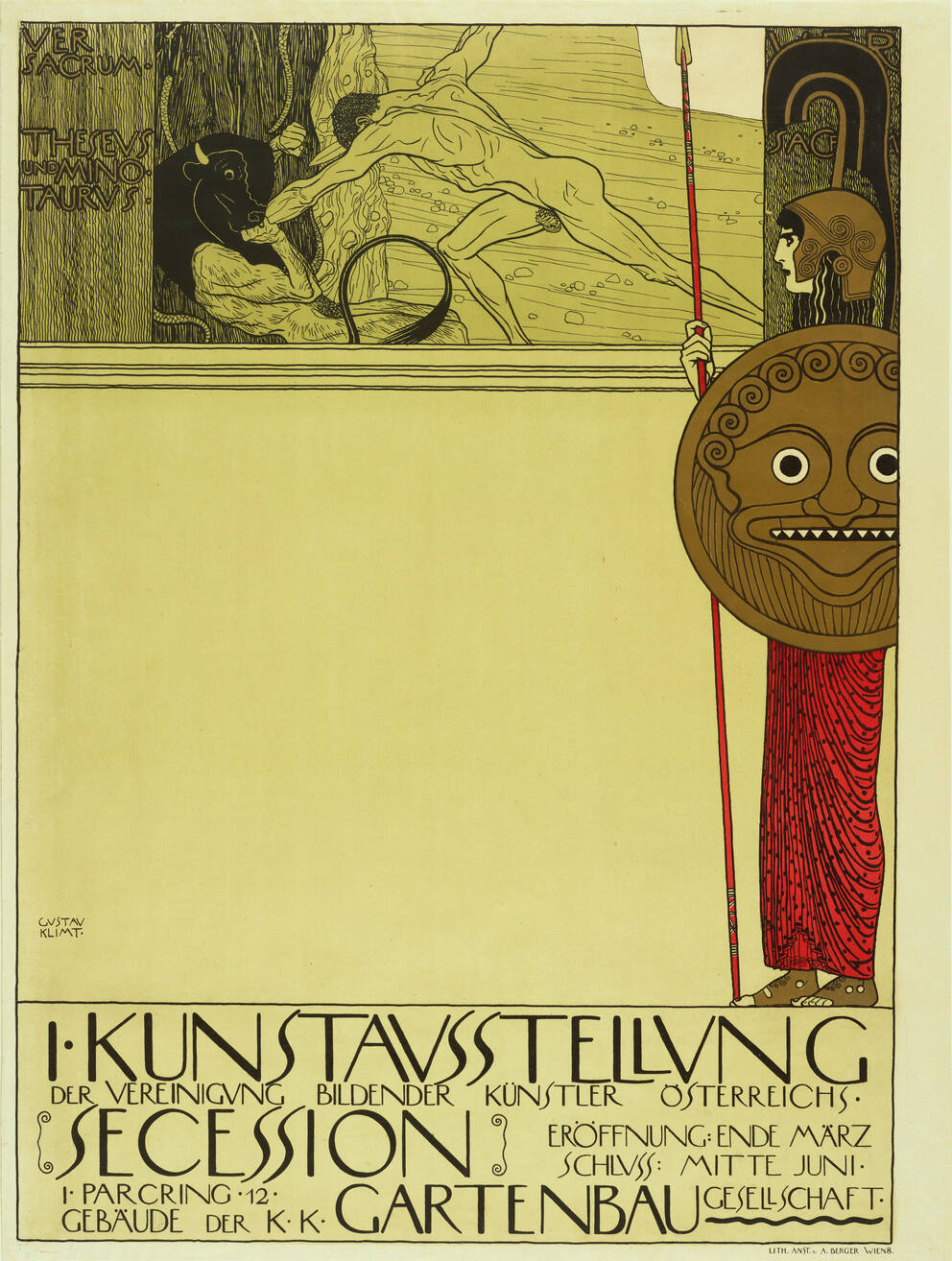 Ver Sacrum. Theseus and Minotaur. Poster for the 1st Exhibition of the Vienna Secession (Version Prior to Censorship)
1898
Color lithograph with gold print on paper
97.3×73.2 cm
Artists
Gustav Klimt

(Baumgarten near Vienna/Vienna 1862–1918 Vienna)
Unfortunately not on display at the moment
In early April 1897, Gustav Klimt (1862–1918) and numerous fellow campaigners founded the Association of Austrian Visual Artists Vienna Secession. Klimt was named the association's first president and designed the motif for the poster advertising the 1st Secession Exhibition in the spring of 1898. The depiction of Theseus fighting against Minotaur in the presence of Pallas Athene, the patroness of the arts and sciences, was of a programmatic nature and was meant to symbolize the newly founded Secession's battle with the Künstlerhaus. The depiction of the naked Theseus brought Klimt into conflict with the authorities who ordered him to partly cover the figure with tree trunks in a new version of the poster. This version also served as the cover motif for the Secession's magazine Ver Sacrum first published in 1898.
Object data
Artist/author

Title

Ver Sacrum. Theseus and Minotaur. Poster for the 1st Exhibition of the Vienna Secession (Version Prior to Censorship)

Date

1898

Art movement

Symbolism, Art Nouveau, Secession

Category

Graphic work

Material​/technique

Color lithograph with gold print on paper

Dimensions

97.3×73.2 cm

Signature

Designated upper left: VER SACRUM. THESEUS UND MINO. TAURUS.; designated upper right: VER SACRUM [partly covered]; signed lower left: GUSTAV KLIMT.; designated lower center: I. KUNSTAUSSTELLUNG DER VEREINGUNG BILDENDER KÜNSTLER ÖSTERREICHS. SECESSION ERÖFFNUNG: ENDE MÄRZ SCHLUSS: MITTE JUNI. I. PARCRING. 12. GEBÄUDE DER K.K. GARTENBAUGESELLSCHAFT.

Credit line

Leopold Museum, Vienna, Inv. 2064

Inventory access

Contributed to the Leopold Museum-Privatstiftung in 1994

Selection of Reference works

Wien 1900. Aufbruch in die Moderne, hrsg. von Hans-Peter Wipplinger, Wien 2019 (Ausst.-Kat. Leopold Museum, Wien, ab 15.03.2019).
Gustav Klimt. Die Sammlung im Leopold Museum, hrsg. von Tobias G. Natter/Elisabeth Leopold, Ostfildern 2013 (Bestandskatalog des Leopold Museum: Band 1).
Klimt persönlich. Bilder - Briefe - Einblicke, hrsg. von Tobias G. Natter/Franz Smola, Wien 2012 (Ausst.-Kat. Leopold Museum, Wien, 24.02.2012–27.08.2012).
nackte männer. von 1800 bis heute, hrsg. von Tobias G. Natter, München 2012 (Ausst.-Kat. Leopold Museum, Wien, 19.10.2012-28.01.2013).
Wien 1900. Sammlung Leopold, hrsg. von Diethard Leopold/Peter Weinhäupl, Wien u.a. 2009.
Die nackte Wahrheit. Klimt, Schiele, Kokoschka und andere Skandale, hrsg. von Tobias G. Natter/Max Hollein, München 2005 (Ausst.-Kat. Schirn Kunsthalle, Frankfurt, 28.01.2005-24.01.2005; Leopold Museum, Wien, 31.05.2005-22.08.2005).
Alice Strobl: Gustav Klimt. Die Zeichnungen 1878-1903, Salzburg 1980.

Catalogue raisonne

Entwurf: Strobl Bd. 1/1980: 327; Reinzeichnung: Strobl Bd. 1/1980: 327

Keywords
If you have further information on this object, please contact us.
Provenance
Provenance research
Leopold Museum
i
Dr. Rudolf Leopold, Wien (o.D.);
Leopold Museum-Privatstiftung, Wien (seit 1994).
For provenance related information, please contact us.