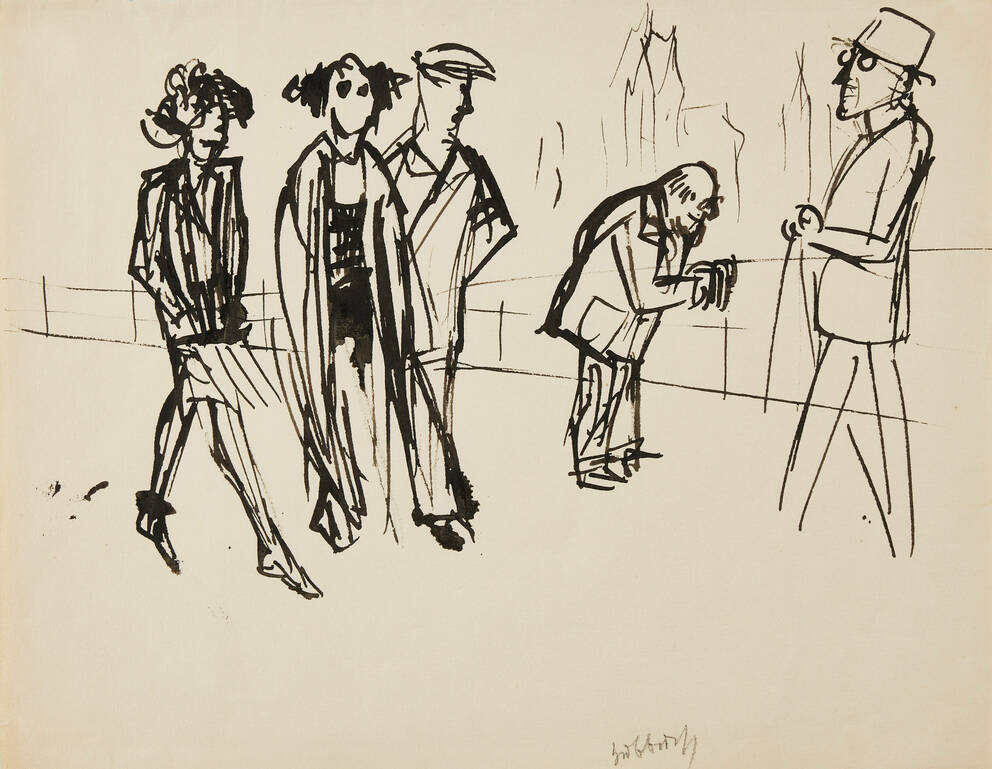 Leopold Museum,
Wien © KARL HUBBUCH STIFTUNG/Städtische Galerie Karlsruhe 2023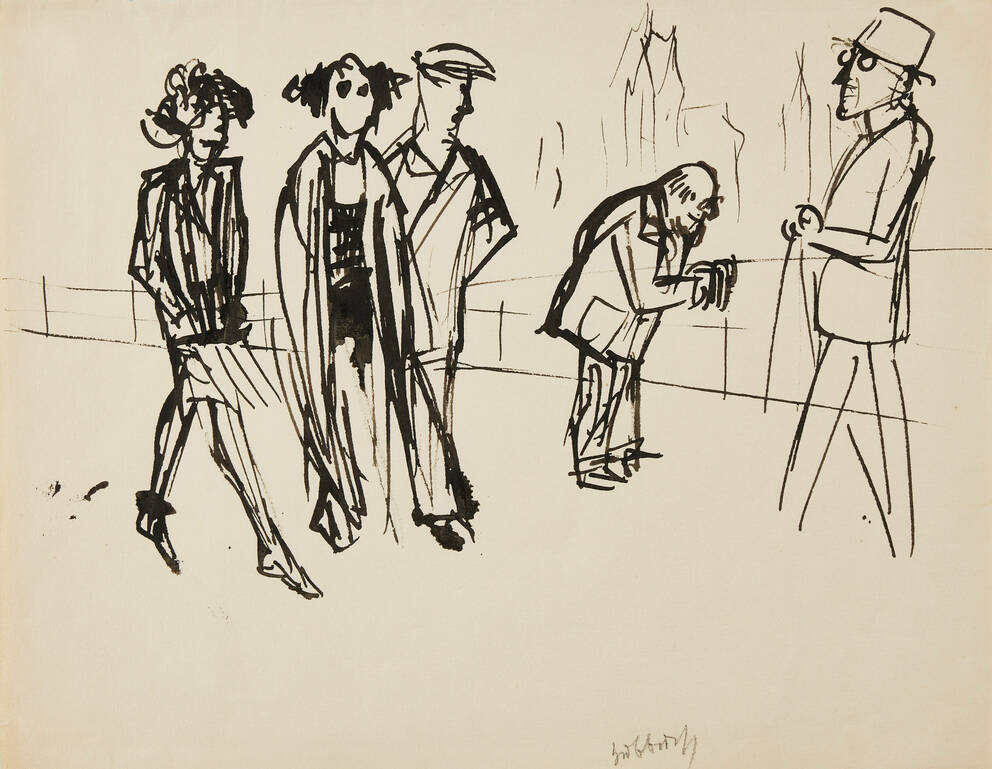 Street Scene
n. d.
India ink on paper
23.3×29.7 cm
Artists
Karl Hubbuch

(Karlsruhe 1891–1979 Karlsruhe)
Unfortunately not on display at the moment
His eye for remarkable details enables the Karlsruhe-born graphic artist and painter Karl Hubbuch (1891–1979) to capture the characteristics of five promenading figures in his pen and ink drawing Street Scene and to render their movements and their relations to each other perceptible and credible, using the sparing means of compact pen strokes. Two younger, fashionable ladies are flanked by a sporty companion wearing a cap. A distinguished gentleman with a hat and cane is approaching them in an accentuated upright posture. Between them in the background, a stout, bald man leaning slightly forward with a rounded back seems to be propped up on a railing that is hinted at with rapid strokes. With lose, casual strokes, Hubbuch indicates high buildings that suggest the atmosphere of a big city. As a representative of objective realism, he becomes an astute chronicler of social upheaval in Germany in the interwar and postwar years.
Object data
Artist/author

Title

Street Scene

Date

n. d.

Art movement

Art after 1945

Category

Graphic work

Material​/technique

India ink on paper

Dimensions

23.3×29.7 cm

Signature

Signed lower center: Hubbuch

Credit line

Leopold Museum, Vienna, Inv. 2217

Inventory access

Contributed to the Leopold Museum-Privatstiftung in 1994

Keywords
If you have further information on this object, please contact us.
Provenance
Provenance research
Leopold Museum
i
Dr. Rudolf Leopold, Wien (o.D.);
Leopold Museum-Privatstiftung, Wien (seit 1994).
For provenance related information, please contact us.