Constantinople. Golden Horn
, 1911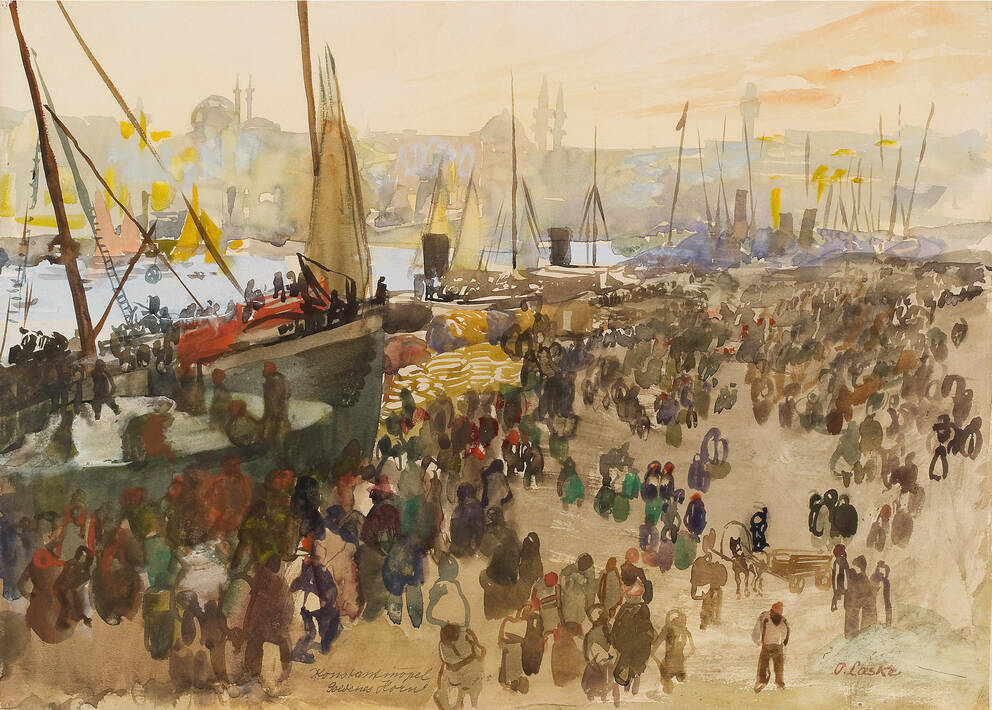 Leopold Museum,
Vienna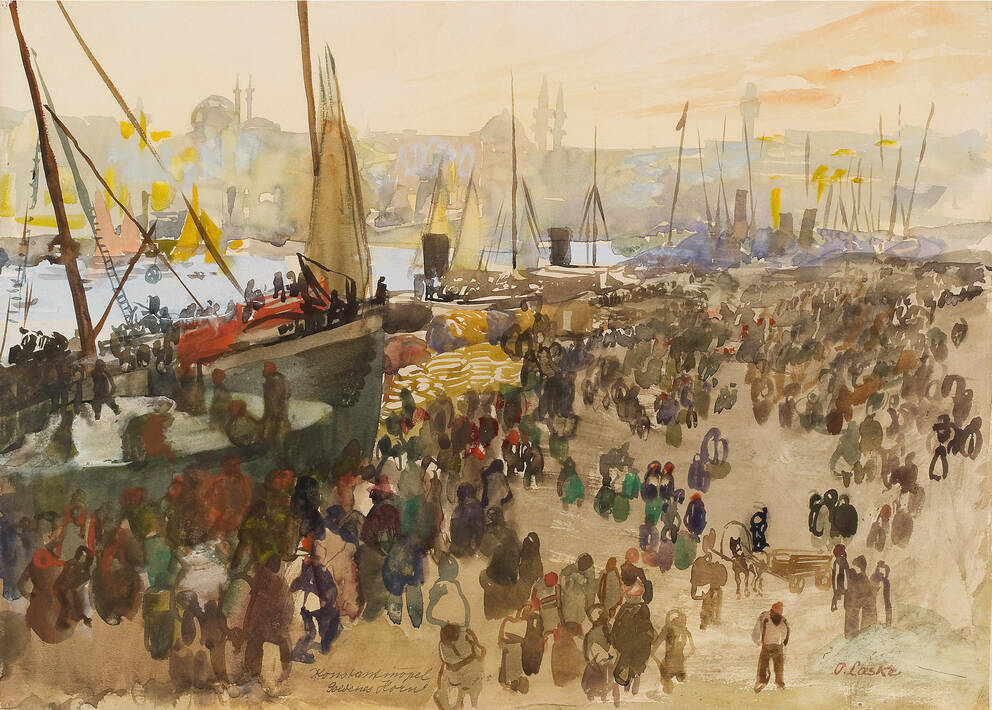 Constantinople. Golden Horn
1911
Gouache on paper
36.2×50.1 cm
Artists
Oskar Laske

(Czernowitz/Chernivtsi 1874–1951 Vienna)
Unfortunately not on display at the moment
The painter Oskar Laske (1874–1951) derived most of his inspiration from his travels. Almost every year, he embarked on extended tours through all of Europe, the Middle East and North Africa. Before the outbreak of World War I, in 1911, Laske visited Greece and Turkey, where he captured this harbor scene on the Golden Horn. From an elevated vantage point, the artist painted a spacious square filled with a large crowd. The figures appear only as outlines. Behind the masts of the ships, we see the view of Istanbul with its mosques and minarets losing themselves in the hazy distance. By means of loose brushstrokes and watery glazing, Laske managed to capture the scene's spatiality and atmosphere with sublime skill.
Object data
Artist/author

Title

Constantinople. Golden Horn

Date

1911

Art movement

Hagenbund, Expressionism

Category

Graphic work

Material​/technique

Gouache on paper

Dimensions

36.2×50.1 cm

Signature

Signed lower right using gouache: O. Laske; designated lower center using pencil: Konstantinopel Goldenes Horn

Credit line

Leopold Museum, Vienna, Inv. 2386

Inventory access

Contributed to the Leopold Museum-Privatstiftung in 1994

Selection of Reference works

Linie und Form. 100 Meisterzeichnungen aus der Sammlung Leopold, hrsg. von Franz Smola/Fritz Koreny, Wien 2014 (Ausst.-Kat. Leopold Museum, Wien, 23.05.2014–20.10.2014).

Keywords
If you have further information on this object, please contact us.