Ex Libris Lotte Franzos
, c. 1956 (?)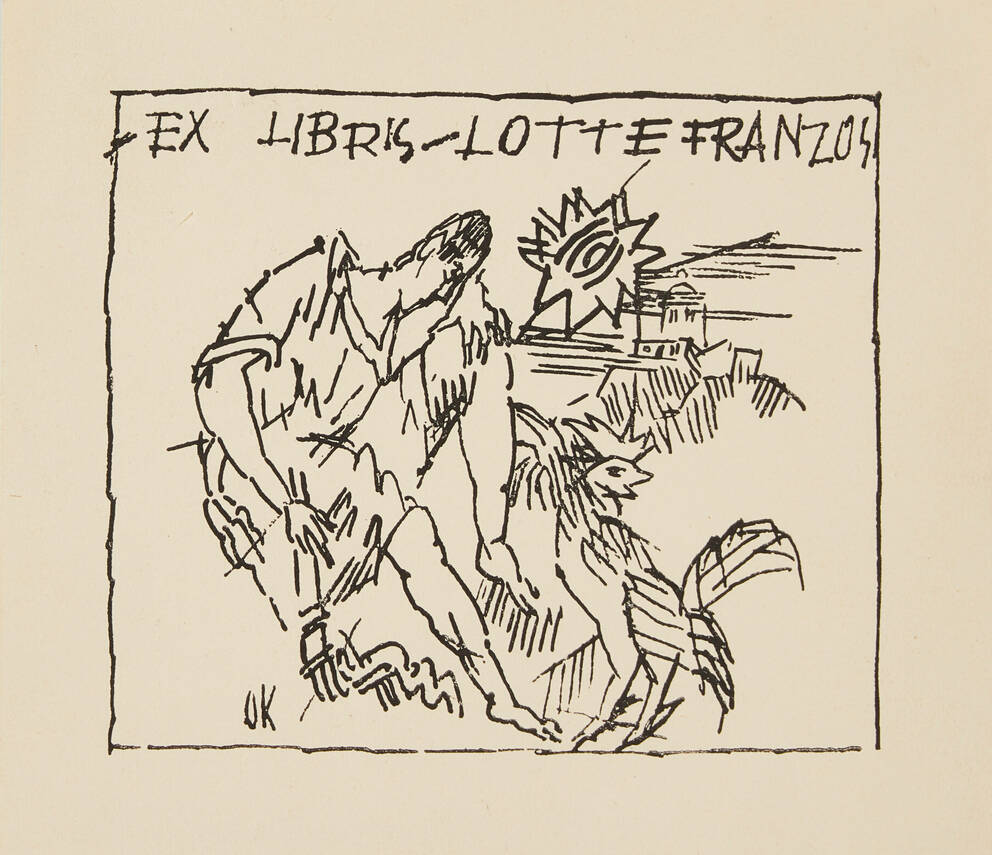 Leopold Museum Vienna,
© Fondation Oskar Kokoschka/Bildrecht,
Vienna 2022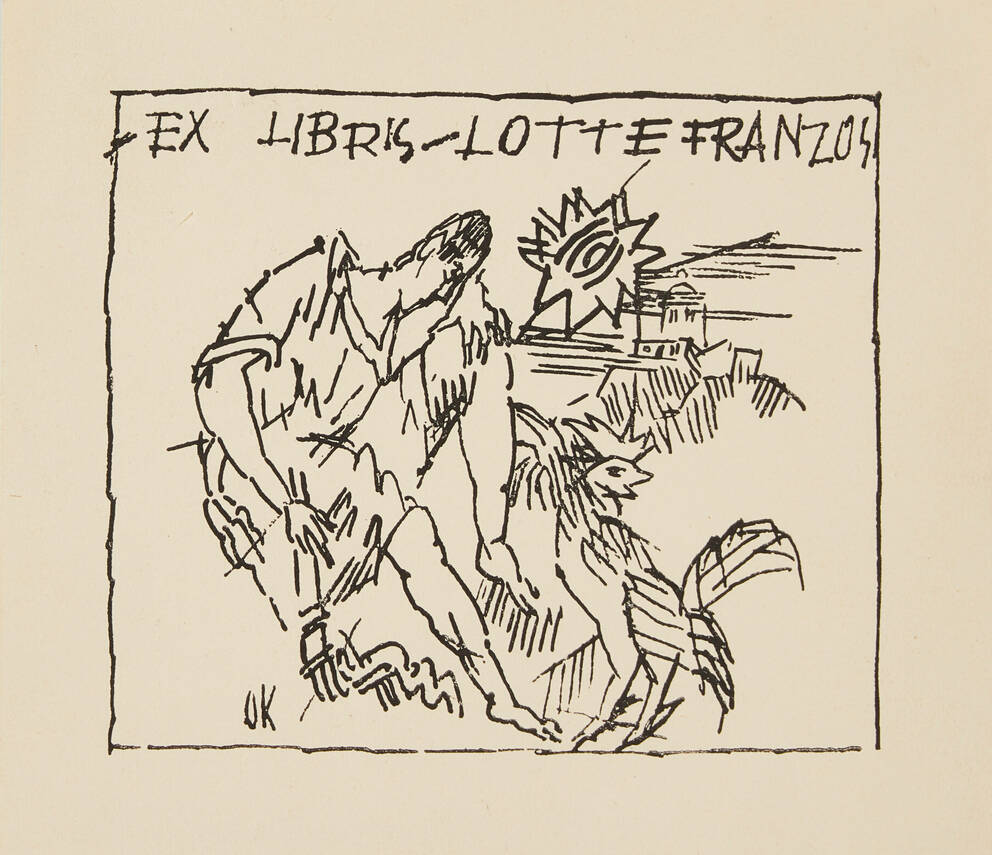 Ex Libris Lotte Franzos
c. 1956 (?)
Lithograph on paper
7.8×8.8 cm
Artists
Oskar Kokoschka

(Pöchlarn 1886–1980 Montreux)
Unfortunately not on display at the moment
Lotte Franzos (1881–1957) was among the earliest patrons of the young Oskar Kokoschka (1886–1980). In 1904 she married the lawyer Emil Franzos, and the culturally active couple's home became a meeting place for Viennese celebrities. Kokoschka created not only this ex libris for Franzos – who herself had studied art history and draftsmanship – but also a painting, a drawing and a fan. Only one of several drafts created in 1911 for the ex libiris was reproduced as an etching from the ink drawing. The depiction shows a man with Kokoschka's features cowering on the floor, who clutches a torch in his right hand. Kokoschka embodies the figure of Thanatos, the God of Death. The work's melancholy atmosphere can be ascribed to Kokoschka's perceived rejection by Viennese society, which he felt treated him like an outcast.
Object data
Artist/author

Title

Ex Libris Lotte Franzos

Date

c. 1956 (?)

Art movement

Expressionism

Category

Graphic work

Material​/technique

Lithograph on paper

Dimensions

7.8×8.8 cm

Signature

Monogrammed in the depiction lower left: OK

Credit line

Leopold Museum, Vienna, Inv. 2427

Inventory access

Contributed to the Leopold Museum-Privatstiftung in 1994

Selection of Reference works

Wien 1900. Aufbruch in die Moderne, hrsg. von Hans-Peter Wipplinger, Wien 2019 (Ausst.-Kat. Leopold Museum, Wien, ab 15.03.2019).
Oskar Kokoschka. Expressionist, Migrant, Europäer, hrsg. von Cathérine Hug/Heike Eipeldauer, Heidelberg 2018 (Ausst.-Kat. Kunsthaus Zürich, 14.12.2018–10.03.2019; Leopold Museum, Wien, 06.04.2019–08.07.2019).
Kokoschka. Das Ich im Brennpunkt, hrsg. von Tobias G. Natter/Franz Smola, Wien 2013 (Ausst. Kat. Leopold Museum, Wien, 04.10.2013–27.01.2014).
Alfred Weidinger/Alice Strobl: Oskar Kokoschka. Die Zeichnungen und Aquarelle 1897–1916, Salzburg 2008.
Die nackte Wahrheit. Klimt, Schiele, Kokoschka und andere Skandale, hrsg. von Tobias G. Natter/Max Hollein, München 2005 (Ausst.-Kat. Schirn Kunsthalle, Frankfurt, 28.01.2005-24.01.2005; Leopold Museum, Wien, 31.05.2005-22.08.2005).

Catalogue raisonne

Weidinger/Strobl 2008: 371

Keywords
If you have further information on this object, please contact us.