The Intruders. Illustration for the series of lithographs The Great Wall of China
, 1913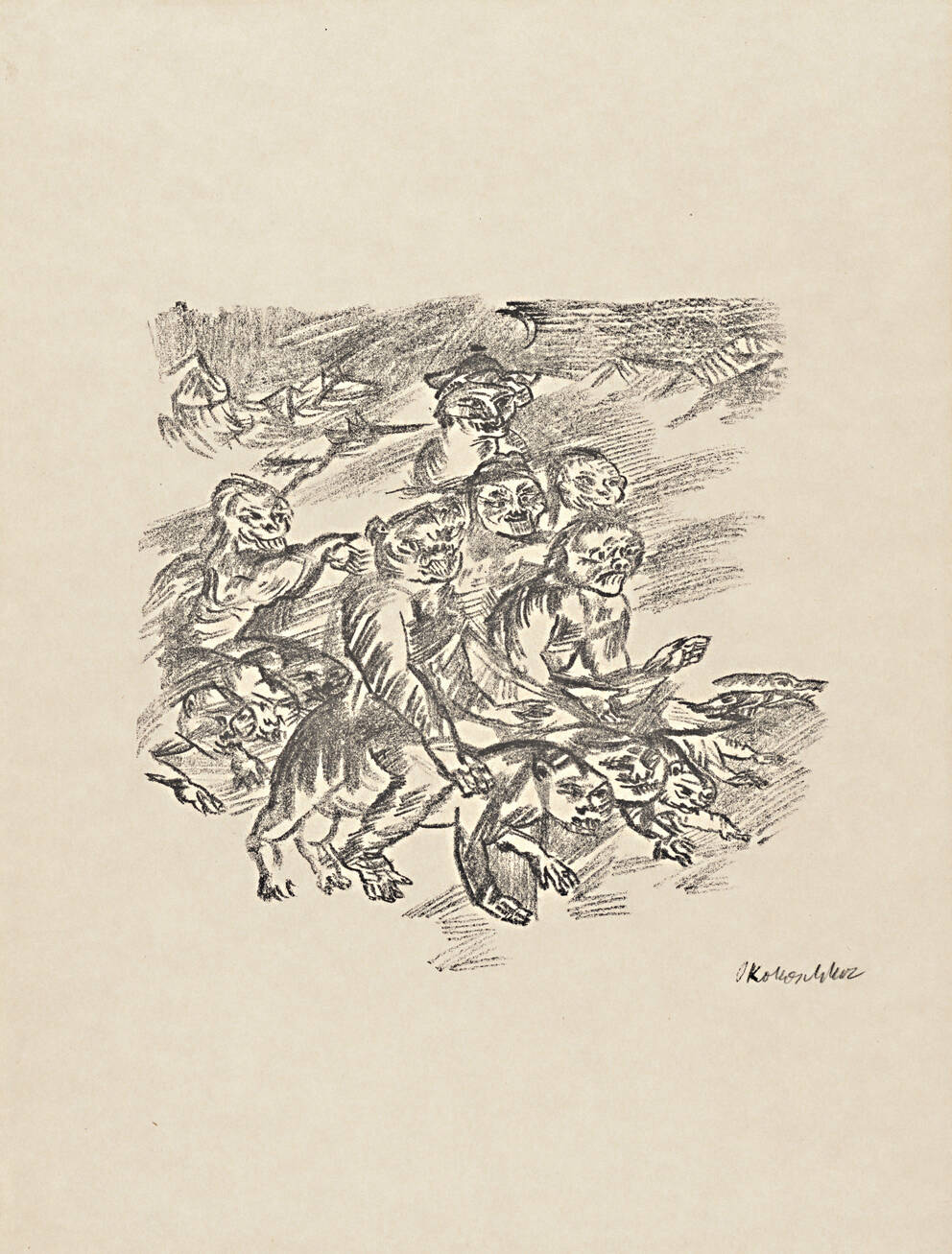 Leopold Museum Vienna,
© Fondation Oskar Kokoschka/Bildrecht,
Vienna 2022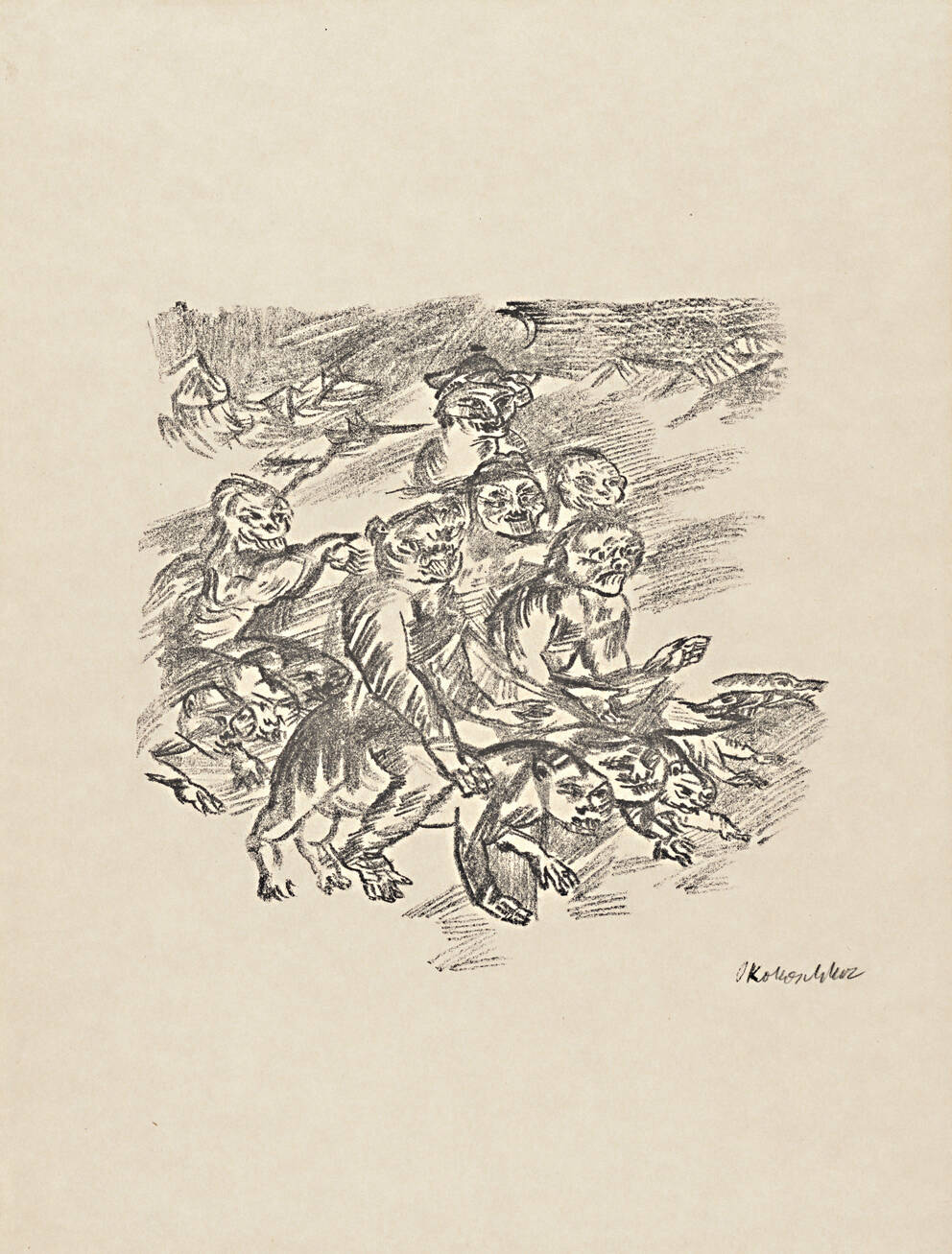 The Intruders. Illustration for the series of lithographs The Great Wall of China
1913
Lithograph on paper
51.6×38.9 cm
Artists
Oskar Kokoschka

(Pöchlarn 1886–1980 Montreux)
Unfortunately not on display at the moment
In 1913, Oskar Kokoschka (1886–1980) created the illustrations for the Austrian writer Karl Kraus's (1874–1936) essay
The Great Wall of China
, which was published in 1909 in the magazine
Die Fackel
. Rather than making direct references to Kraus's narration, the lithographs
At the Spinning Wheel
,
The Eavesdropper
and
The Intruders
show distinct stylistic parallels to Kokoschka's own story [
The Bound Columbus
] as well as to his works
The Couple in Candlelight
,
At the Crossroads
and
Woman Bent over Phantom
. The radical works on paper, abounding in brutal scenes, provided Kokoschka with an outlet for processing Alma Mahler's (1879–1964) abortion of their child.
Object data
Artist/author

Title

The Intruders. Illustration for the series of lithographs The Great Wall of China

Date

1913

Art movement

Expressionism

Category

Graphic work

Material​/technique

Lithograph on paper

Dimensions

51.6×38.9 cm

Signature

Monogrammed on the plate lower right: OK; name added by hand: OKokoschka

Credit line

Leopold Museum, Vienna, Inv. 2446

Inventory access

Contributed to the Leopold Museum-Privatstiftung in 1994

Selection of Reference works

Wien 1900. Aufbruch in die Moderne, hrsg. von Hans-Peter Wipplinger, Wien 2019 (Ausst.-Kat. Leopold Museum, Wien, ab 15.03.2019).
Oskar Kokoschka. Expressionist, Migrant, Europäer, hrsg. von Cathérine Hug/Heike Eipeldauer, Heidelberg 2018 (Ausst.-Kat. Kunsthaus Zürich, 14.12.2018–10.03.2019; Leopold Museum, Wien, 06.04.2019–08.07.2019).
Kokoschka. Das Ich im Brennpunkt, hrsg. von Tobias G. Natter/Franz Smola, Wien 2013 (Ausst. Kat. Leopold Museum, Wien, 04.10.2013–27.01.2014).
Alfred Weidinger/Alice Strobl: Oskar Kokoschka. Die Zeichnungen und Aquarelle 1897–1916, Salzburg 2008.
Die nackte Wahrheit. Klimt, Schiele, Kokoschka und andere Skandale, hrsg. von Tobias G. Natter/Max Hollein, München 2005 (Ausst.-Kat. Schirn Kunsthalle, Frankfurt, 28.01.2005-24.01.2005; Leopold Museum, Wien, 31.05.2005-22.08.2005).
Hans Maria Wingler/Friedrich Welz: Oskar Kokoschka. Das druckgraphische Werk, Salzburg 1975.

Catalogue raisonne

Weidinger/Strobl 2008: 567
Wingler/Welz 1975: 42

Keywords
If you have further information on this object, please contact us.