Pietà (It Is Enough). Illustration for the series of lithographs on Johann Sebastian Bach's O Eternity, Thou Word of Thunder
, c. 1913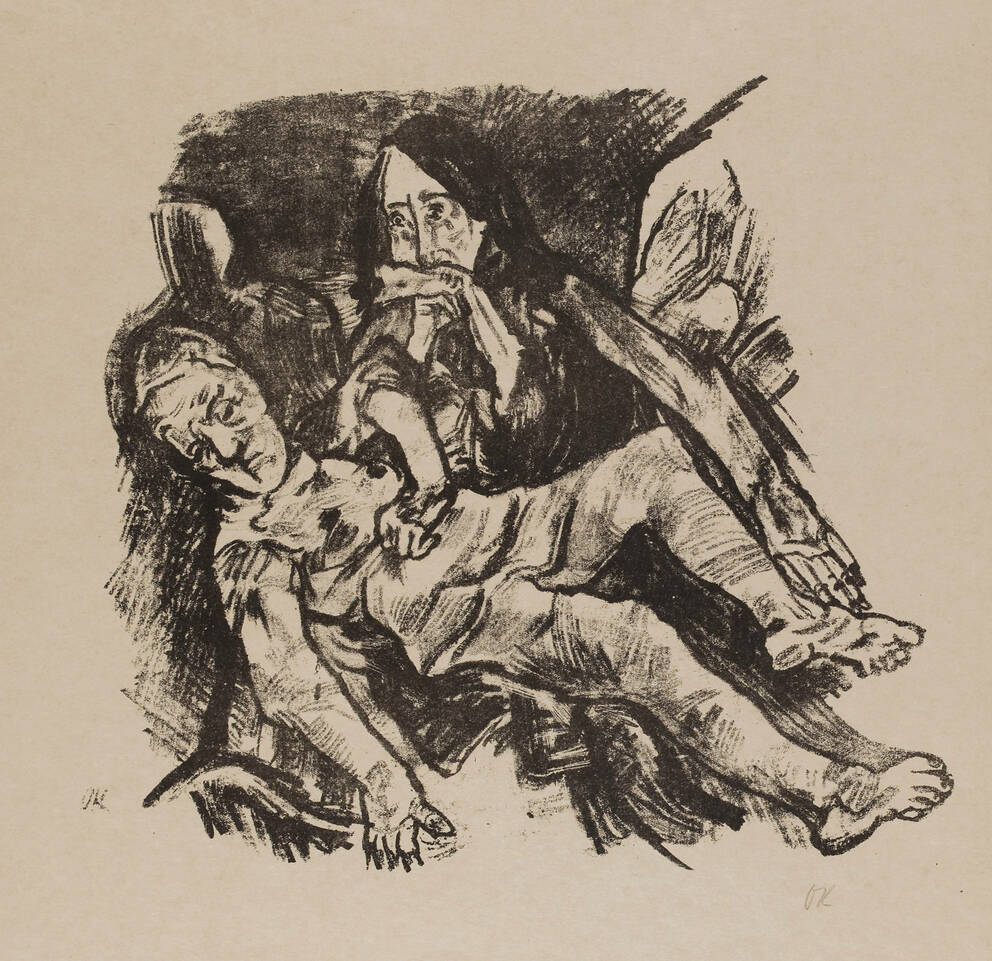 Leopold Museum Vienna,
© Fondation Oskar Kokoschka/Bildrecht,
Vienna 2022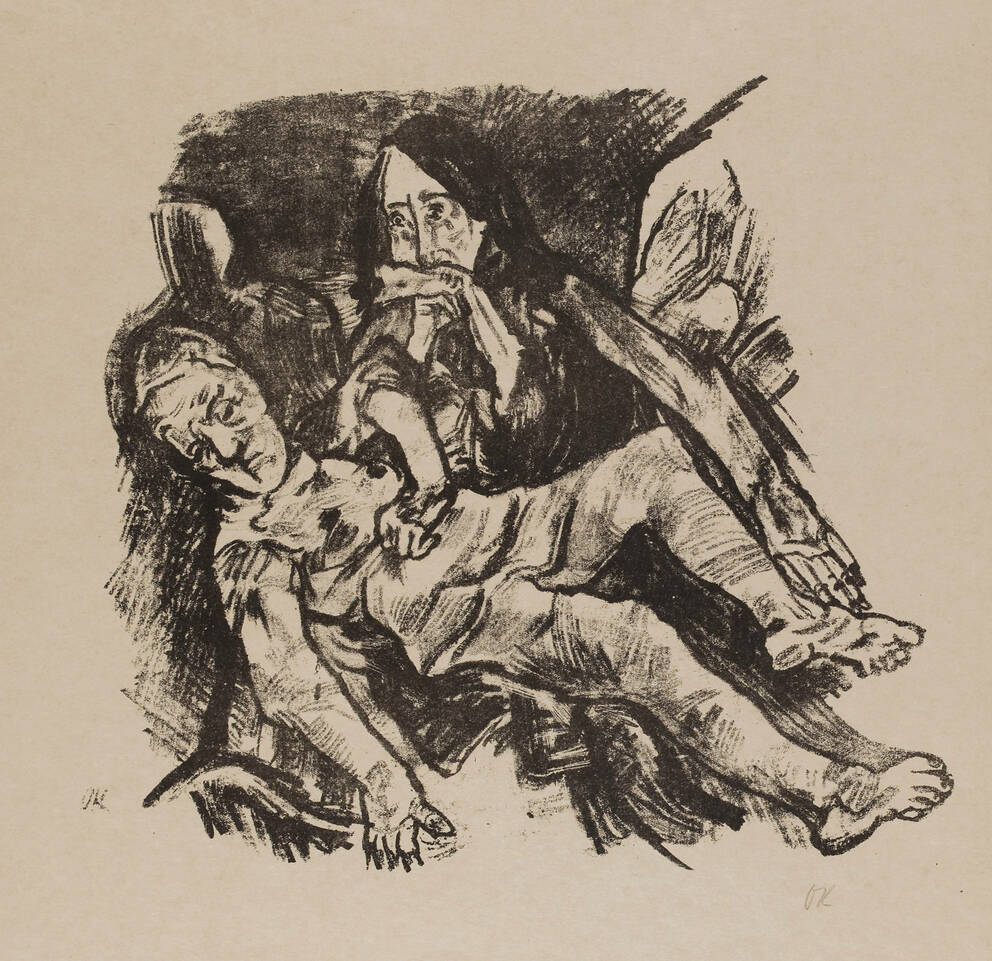 Pietà (It Is Enough). Illustration for the series of lithographs on Johann Sebastian Bach's O Eternity, Thou Word of Thunder
c. 1913
Lithograph on paper
43.4×44.5 cm
Artists
Oskar Kokoschka

(Pöchlarn 1886–1980 Montreux)
Unfortunately not on display at the moment
Trying to process his failed relationship with Alma Mahler (1879–1964), Oskar Kokoschka (1886–1980) created several cycles of graphic works, including the series of lithographs on Johann Sebastian Bach's (1685–1750) cantata
O Eternity, Thou Word of Thunder
. Kokoschka illustrated Bach's allegorical dialogue between fear and hope with eleven renderings, with himself embodying hope and the role of fear ascribed to Mahler. Driven by fear, hope embarks on a journey that ends in death. The scenes can be interpreted biographically, as Kokoschka repeatedly alluded to past events from his life. For the last work in the series
Pietà ("It Is Enough")
, the artist revisited the pictorial formula of the Pietà and thus referred back to the poster, conceived in 1909, for his play
Murderer, the Hope of Women
. Rather than rendering the female figure as a deadly
femme fatale
, however, Kokoschka stylized the woman as a mourning Lady of Sorrows bearing Mahler's traits in this depiction.
Object data
Artist/author

Title

Pietà (It Is Enough). Illustration for the series of lithographs on Johann Sebastian Bach's O Eternity, Thou Word of Thunder

Date

c. 1913

Art movement

Expressionism

Category

Graphic work

Material​/technique

Lithograph on paper

Dimensions

43.4×44.5 cm

Signature

Monogrammed on the plate lower left: OK; handwritten monogram lower right: OK

Credit line

Leopold Museum, Vienna, Inv. 2447

Inventory access

Contributed to the Leopold Museum-Privatstiftung in 1994

Selection of Reference works

Wien 1900. Aufbruch in die Moderne, hrsg. von Hans-Peter Wipplinger, Wien 2019 (Ausst.-Kat. Leopold Museum, Wien, ab 15.03.2019).
Oskar Kokoschka. Expressionist, Migrant, Europäer, hrsg. von Cathérine Hug/Heike Eipeldauer, Heidelberg 2018 (Ausst.-Kat. Kunsthaus Zürich, 14.12.2018–10.03.2019; Leopold Museum, Wien, 06.04.2019–08.07.2019).
Kokoschka. Das Ich im Brennpunkt, hrsg. von Tobias G. Natter/Franz Smola, Wien 2013 (Ausst. Kat. Leopold Museum, Wien, 04.10.2013–27.01.2014).
Wien 1900. Sammlung Leopold, hrsg. von Diethard Leopold/Peter Weinhäupl, Wien u.a. 2009.
Alfred Weidinger/Alice Strobl: Oskar Kokoschka. Die Zeichnungen und Aquarelle 1897–1916, Salzburg 2008.
Die nackte Wahrheit. Klimt, Schiele, Kokoschka und andere Skandale, hrsg. von Tobias G. Natter/Max Hollein, München 2005 (Ausst.-Kat. Schirn Kunsthalle, Frankfurt, 28.01.2005-24.01.2005; Leopold Museum, Wien, 31.05.2005-22.08.2005).
Hans Maria Wingler/Friedrich Welz: Oskar Kokoschka. Das druckgraphische Werk, Salzburg 1975.

Catalogue raisonne

Weidinger/Strobl 2008: 656
Wingler/Welz 1975: 68

Keywords
If you have further information on this object, please contact us.