Pietà. Poster for the play Murderer, the Hope of Women for the Internationale Kunstschau
, 1909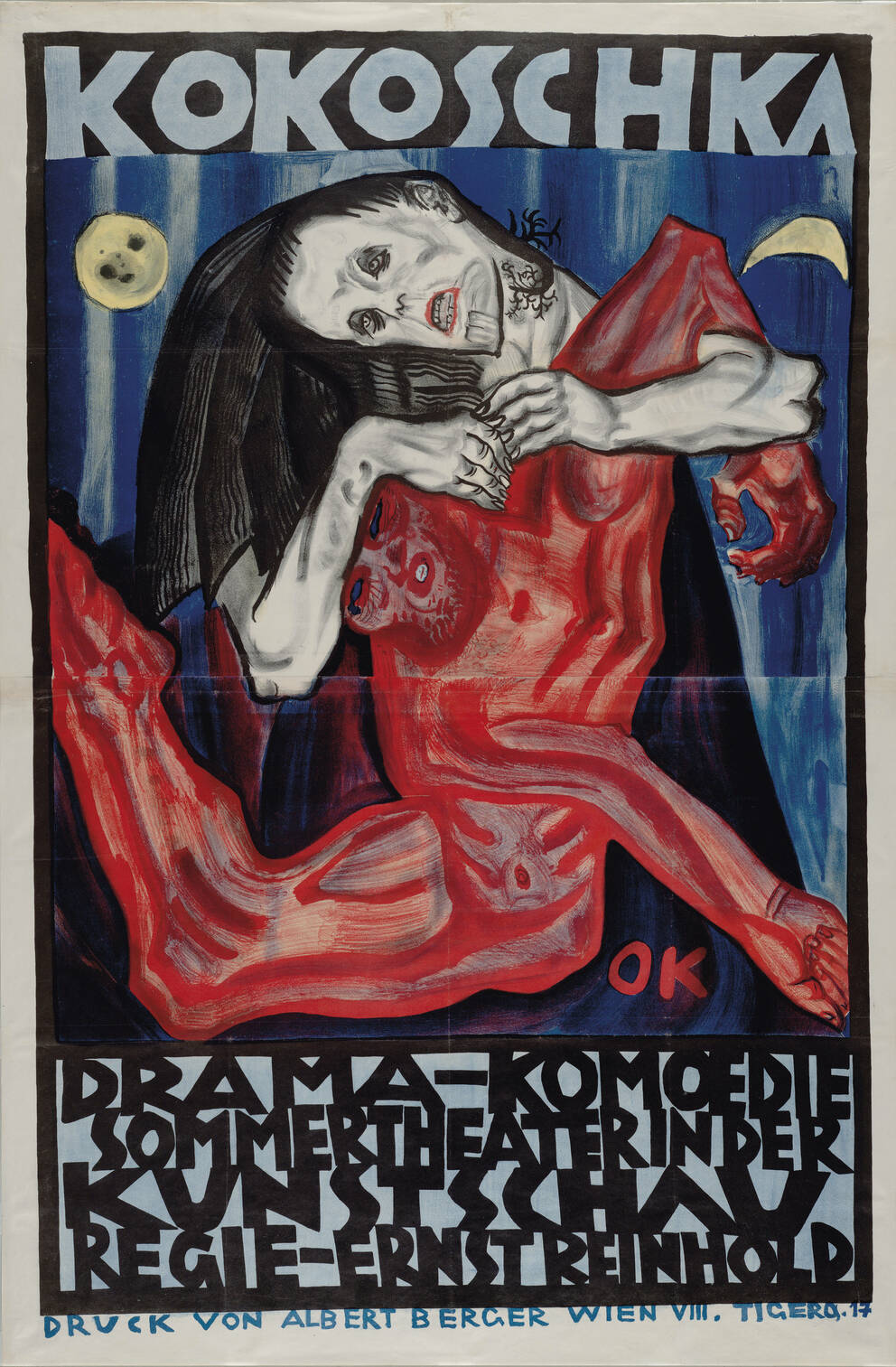 Leopold Museum Vienna,
© Fondation Oskar Kokoschka/Bildrecht,
Vienna 2022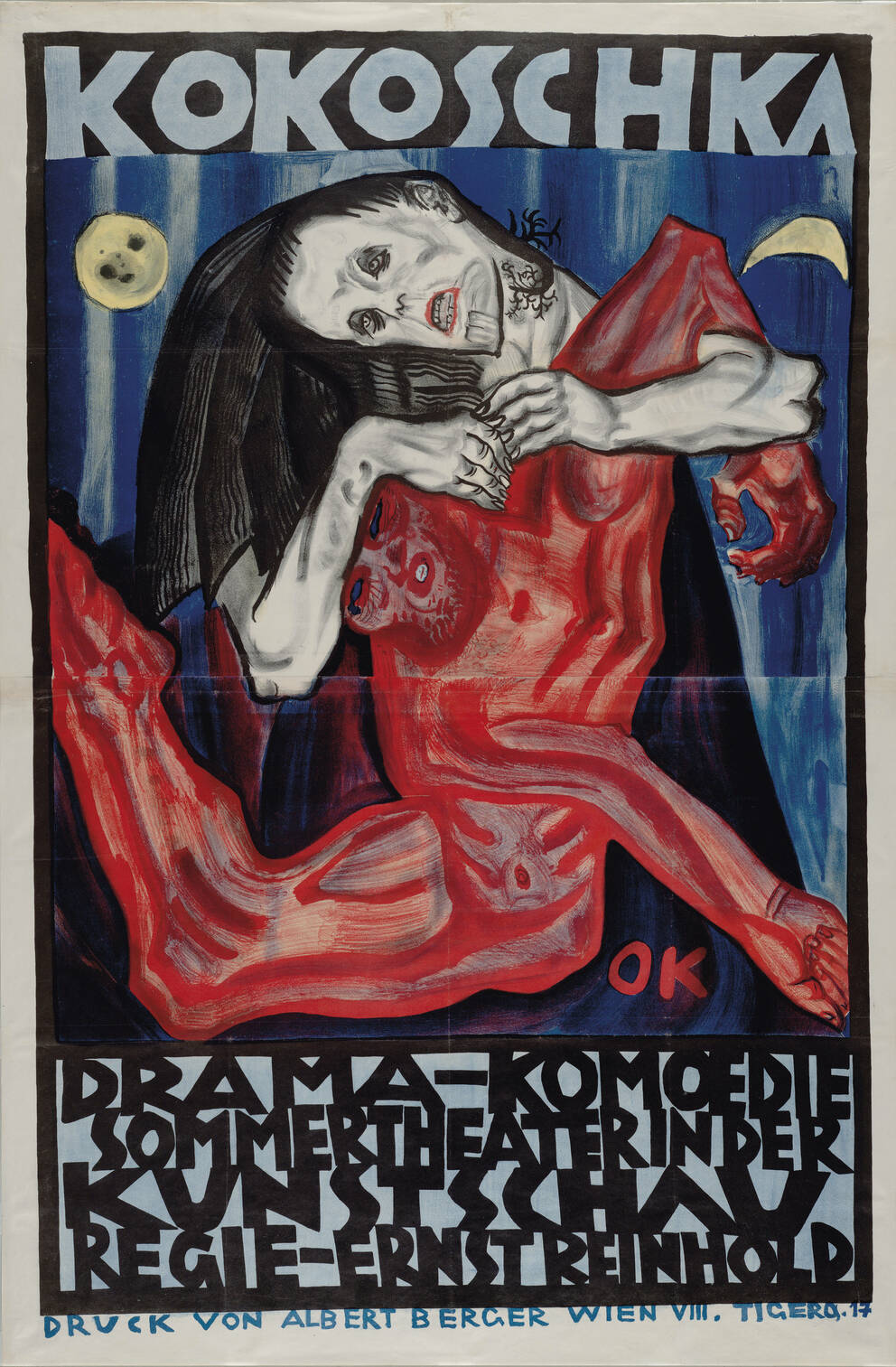 Pietà. Poster for the play Murderer, the Hope of Women for the Internationale Kunstschau
1909
Color lithograph on paper
125×82 cm
Artists
Oskar Kokoschka

(Pöchlarn 1886–1980 Montreux)

Lithograph and print Albert Berger, Vienna
Unfortunately not on display at the moment
After Oskar Kokoschka (1886–1980) had already caused a stir with the presentation of his poster design
The Cotton Picker
for the
1908 Kunstschau
, his play
Murderer, the Hope of Women
sealed his reputation as "chief wildling". Premiering on 4th July 1909 at the garden theater of the
Internationale Kunstschau
, the play caused a veritable scandal, seeing as Kokoschka flouted bourgeois conventions and staged the relationship between man and woman as a power struggle shaped by violence and sexual desire. Wishing to promote his play, the artist designed a poster: Drawing on Christian iconography, he used the popular motif of the Pietà. Rather than depicting the Mother of Christ as a mourning woman, however, Kokoschka rendered her as a deadly
femme fatale
, holding the blood-smeared body of Christ in her arms. The deliberately coarse writing emphasizes the rendering's wild and brutal character. Today, both the poster and the play are considered a first climax of Kokoschka's Expressionist oeuvre.
Object data
Artist/author

Design: Oskar Kokoschka
Print: Lithograph and print Albert Berger, Vienna

Title

Pietà. Poster for the play Murderer, the Hope of Women for the Internationale Kunstschau

Date

1909

Art movement

Expressionism

Category

Graphic work

Material​/technique

Color lithograph on paper

Dimensions

125×82 cm

Signature

Typographically labeled

Credit line

Leopold Museum, Vienna, Inv. 2673

Inventory access

Contributed to the Leopold Museum-Privatstiftung in 1994

Selection of Reference works

Wien 1900. Aufbruch in die Moderne, hrsg. von Hans-Peter Wipplinger, Wien 2019 (Ausst.-Kat. Leopold Museum, Wien, ab 15.03.2019).
Oskar Kokoschka. Expressionist, Migrant, Europäer, hrsg. von Cathérine Hug/Heike Eipeldauer, Heidelberg 2018 (Ausst.-Kat. Kunsthaus Zürich, 14.12.2018–10.03.2019; Leopold Museum, Wien, 06.04.2019–08.07.2019).
Kokoschka. Das Ich im Brennpunkt, hrsg. von Tobias G. Natter/Franz Smola, Wien 2013 (Ausst. Kat. Leopold Museum, Wien, 04.10.2013–27.01.2014).
Wien 1900. Sammlung Leopold, hrsg. von Diethard Leopold/Peter Weinhäupl, Wien u.a. 2009.
Alfred Weidinger/Alice Strobl: Oskar Kokoschka. Die Zeichnungen und Aquarelle 1897–1916, Salzburg 2008.
Die nackte Wahrheit. Klimt, Schiele, Kokoschka und andere Skandale, hrsg. von Tobias G. Natter/Max Hollein, München 2005 (Ausst.-Kat. Schirn Kunsthalle, Frankfurt, 28.01.2005-24.01.2005; Leopold Museum, Wien, 31.05.2005-22.08.2005).
Hans Maria Wingler/Friedrich Welz: Oskar Kokoschka. Das druckgraphische Werk, Salzburg 1975.

Catalogue raisonne

Weidinger/Strobl 2008: 299
Wingler/Welz 1975: 31

Keywords
If you have further information on this object, please contact us.