Round Table. Poster for the *49th Exhibition of the Vienna Secession *
, 1918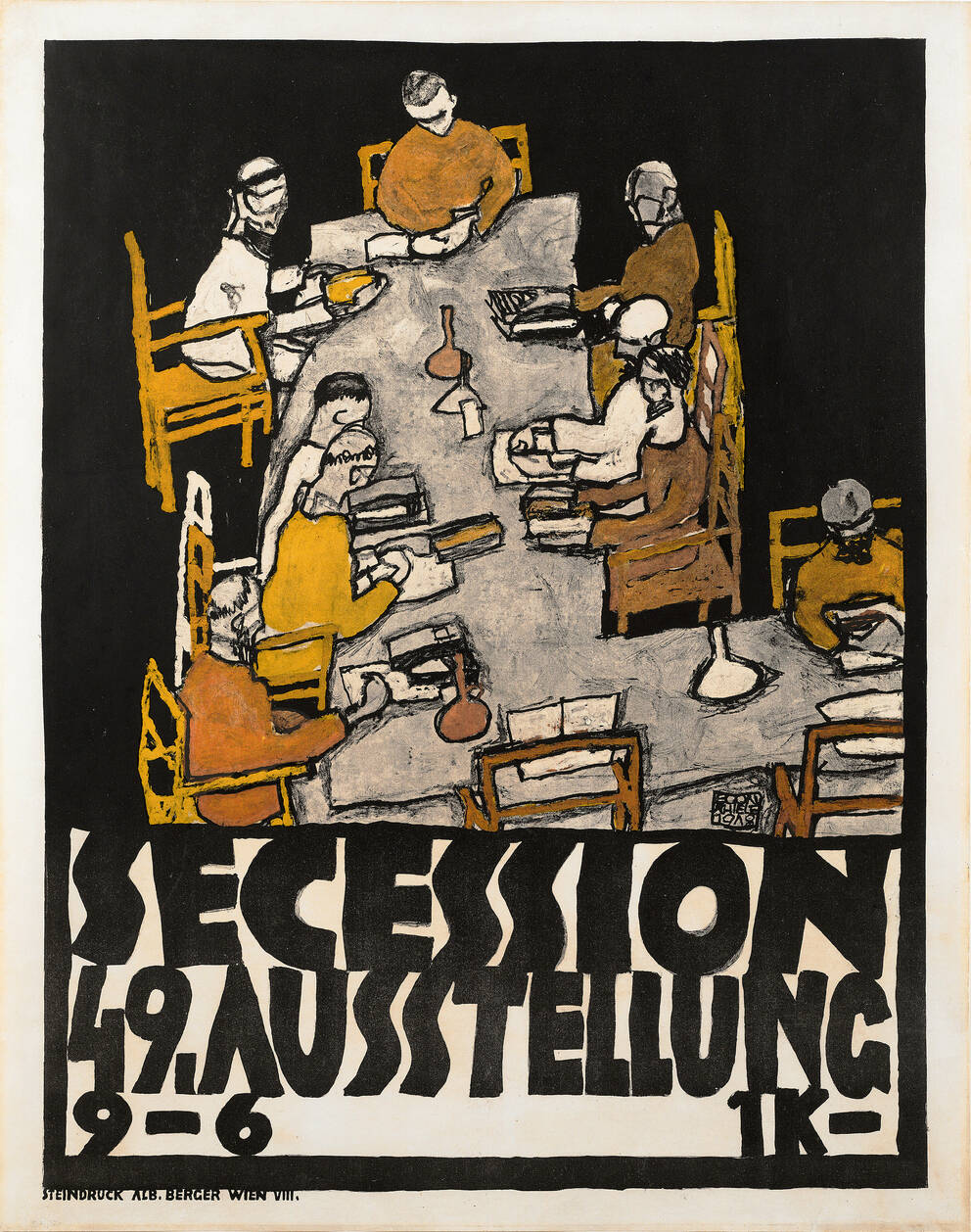 Leopold Museum,
Vienna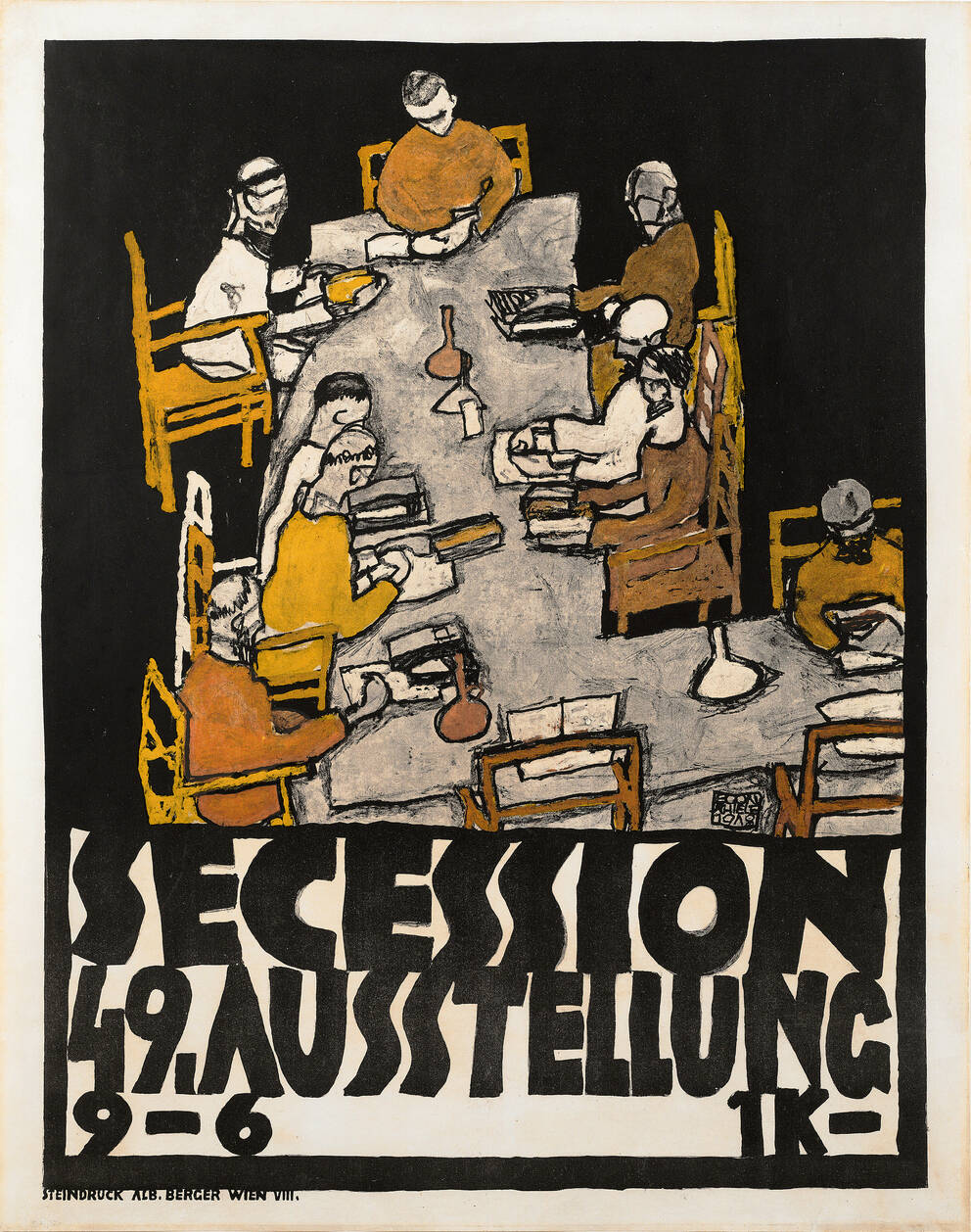 Round Table. Poster for the *49th Exhibition of the Vienna Secession *
1918
Lithograph on paper
68.5×53 cm
Artists
Egon Schiele

(Tulln 1890–1918 Vienna)
Unfortunately not on display at the moment
Egon Schiele (1890–1918) designed this poster for the
49th Exhibition of the Vienna Secession
, which ran from 1st March to 1st April 1918 and was a major success for the artist – also financially. In this group show Schiele claimed the main hall of the Secession building for the presentation of his works. With the same confidence, he staged himself at the head of the table on the poster, surrounded by fellow artists including Georg Merkel (1881–1976), Anton Faistauer (1887–1930), Albert Paris Gütersloh (1887–1973), Alfred Kubin (1877–1959) and Felix Albrecht Harta (1884–1967). For this work he modified the painting
The Friends (Round Table)
, created in late 1917 and early 1918, which showed him at the head of an L-shaped table, dining with eight other men. For the poster, the Christian iconography was lessened by replacing the plates with books. Another contrast to the earlier painting is the omission of the figure depicted from behind at the center of the painting's lower edge, which can be identified as Gustav Klimt (1862–1918). He had died on 6th February 1918, following a stroke, and Schiele had created
drawings of the dead artist
. The empty chair in the exhibition's poster is therefore thought to symbolize the void left by Klimt, who had been of such great importance for Schiele and many other artists of his generation.
Object data
Artist/author

Title

Round Table. Poster for the *49th Exhibition of the Vienna Secession *

Date

1918

Art movement

Expressionism

Category

Graphic work

Material​/technique

Lithograph on paper

Dimensions

68.5×53 cm

Credit line

Leopold Museum, Vienna, Inv. 224

Inventory access

Contributed to the Leopold Museum-Privatstiftung in 1994

Selection of Reference works

Trotzdem Kunst! Österreich 1914-1918, hrsg. von Elisabeth Leopold/Ivan Ristić u.a., Wien 2014 (Ausst-Kat. Leopold Museum, Wien, 09.05.2014-15.09.2014).
Klimt persönlich. Bilder - Briefe - Einblicke, hrsg. von Tobias G. Natter/Franz Smola, Wien 2012 (Ausst.-Kat. Leopold Museum, Wien, 24.02.2012–27.08.2012).
Wien 1900. Sammlung Leopold, hrsg. von Diethard Leopold/Peter Weinhäupl, Wien u.a. 2009.
Jane Kallir: Egon Schiele - The complete works. Expanded edition including a biography and a catalogue raisonné, New York 1998.

Catalogue raisonne

J. Kallir 1990/1998: G15b
O. Kallir 1970: 15b

Keywords
If you have further information on this object, please contact us.
Provenance
Provenance research
Leopold Museum
i
Dr. Rudolf Leopold, Wien (o.D.);
Leopold Museum-Privatstiftung, Wien (1994).
For provenance related information, please contact us.