Portrait of Natalie Baczewski
, 1907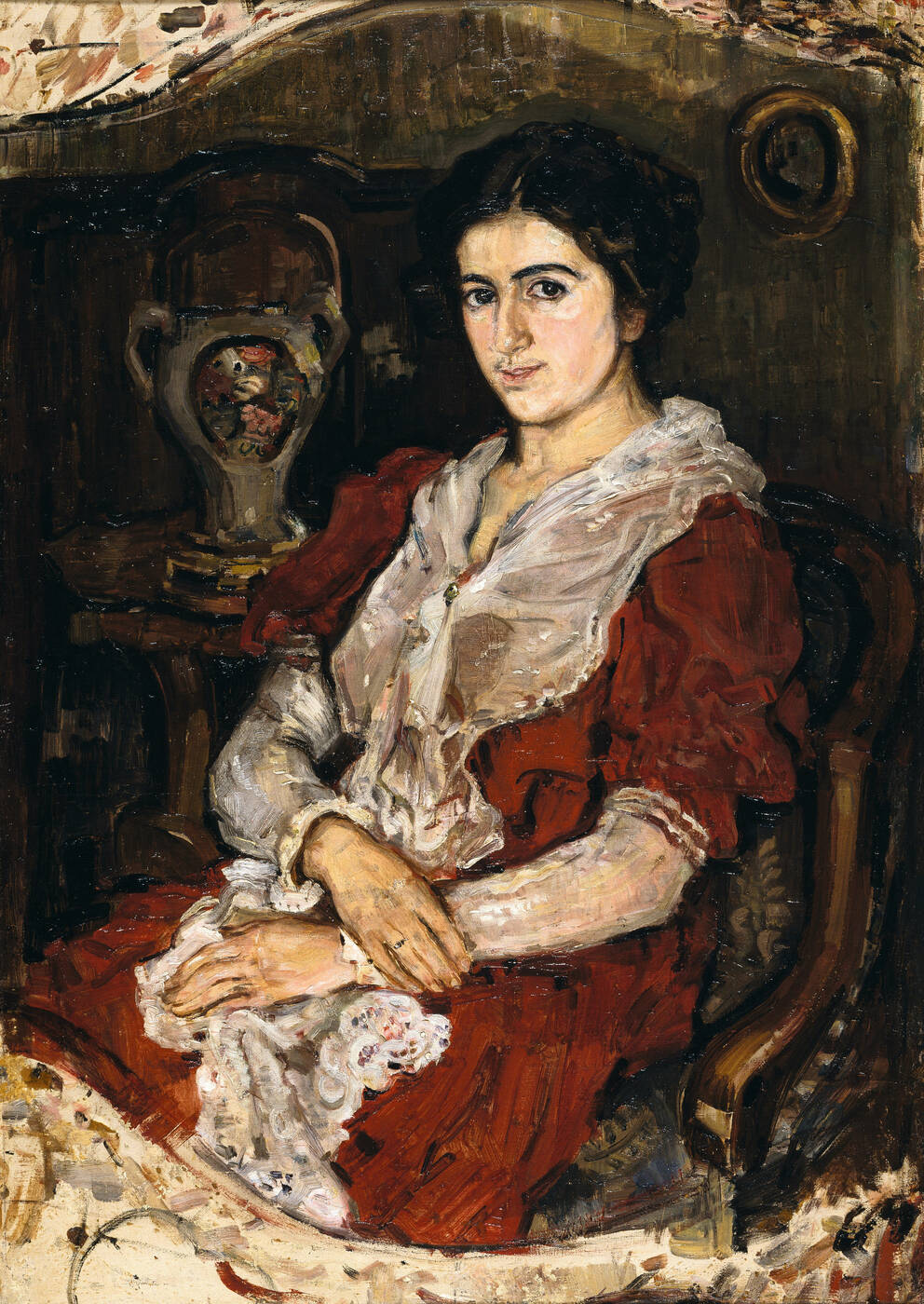 Leopold Museum Vienna,
© Fondation Oskar Kokoschka/Bildrecht,
Vienna 2022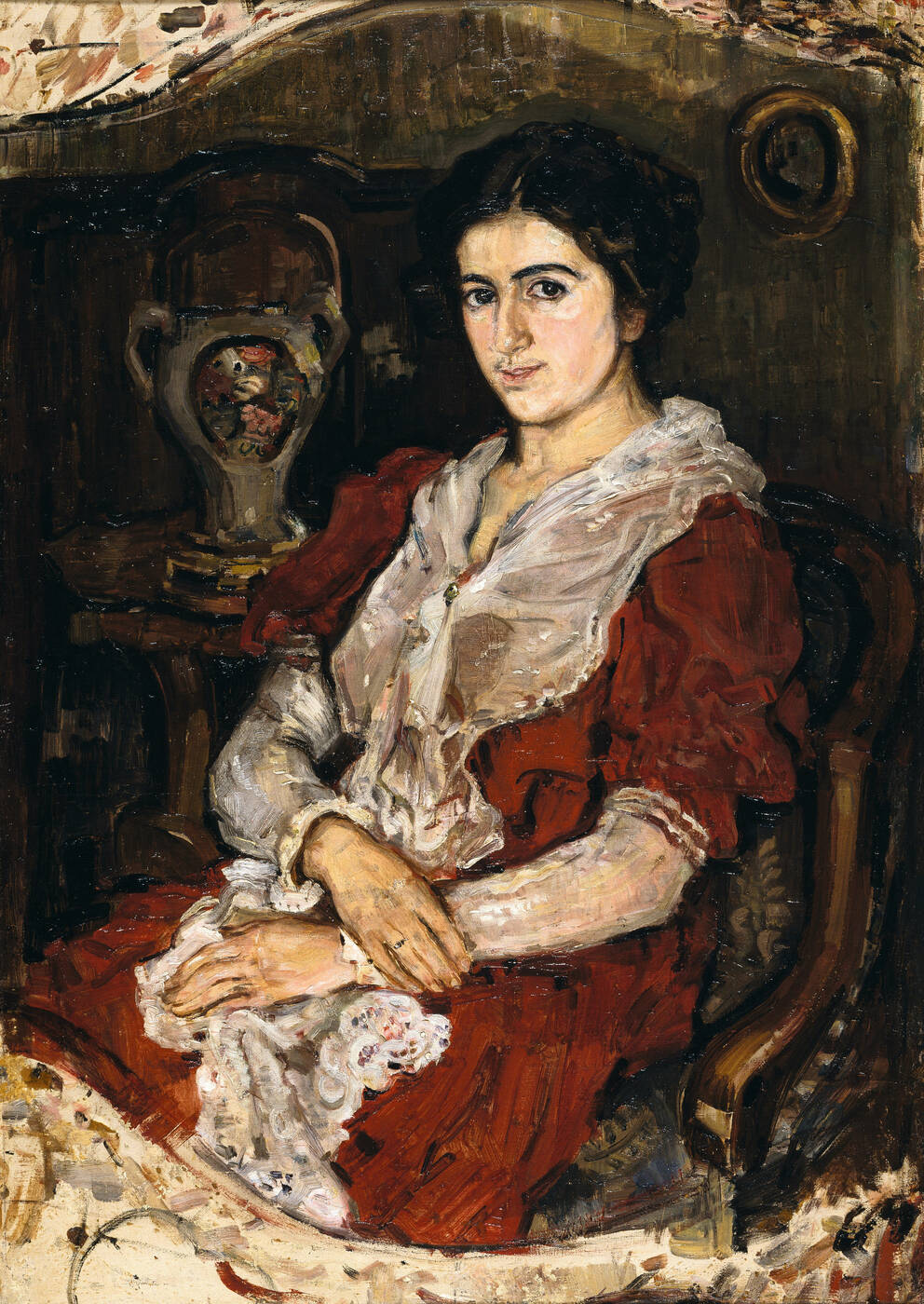 Portrait of Natalie Baczewski
1907
Oil on canvas
95.5×68.5 cm
Artists
Oskar Kokoschka

(Pöchlarn 1886–1980 Montreux)
Currently on display at OG3
Natalie Steinhaus (1883–1942) commissioned a portrait of herself in 1907 as a wedding present for her fiancé Max Baczewski (1873–1938). In search of a suitable artist, her father Sigmund Steinhaus (1834–1916) went to the School of Arts and Crafts, where he inquired about talented students. Oskar Kokoschka (1886–1980), who from the summer of 1906 had intensified his studies of portrait painting, got in touch with the family. The ensuing portrait sittings took place in the family's apartment at Ameisgasse 19. The painting was among Kokoschka's first commissions and marked an important step in his artistic development. During the National Socialist era, the Baczewski family fell victim to the flaring hatred: Max Baczewski was forced to vacate his position as a patent attorney and died a few days after the Pogrom Night of November 1938. The sons Victor and Alexander were arrested and deported to concentration camps in Dachau and Buchenwald, but managed to flee to the US upon their release. Natalie stayed behind in Vienna. On 20th March 1939 she applied for an export permit for five oil paintings, among them possibly the present portrait, which was granted. Natalie Baczewski was forcibly relocated, and on 14th September 1942 was deported to the extermination camp Maly Trostinez, where she was killed four days later. Her number was 155. The portrait remained in the family until 1975, and was subsequently part of several private collections.
Object data
Artist/author

Title

Portrait of Natalie Baczewski

Date

1907

Art movement

Expressionism

Category

Painting

Material​/technique

Oil on canvas

Dimensions

95.5×68.5 cm

Credit line of the permanent loan

Private collection

Selection of Reference works

Wien 1900. Aufbruch in die Moderne, hrsg. von Hans-Peter Wipplinger, Wien 2019 (Ausst.-Kat. Leopold Museum, Wien, ab 15.03.2019).
Oskar Kokoschka. Expressionist, Migrant, Europäer, hrsg. von Cathérine Hug/Heike Eipeldauer, Heidelberg 2018 (Ausst.-Kat. Kunsthaus Zürich, 14.12.2018–10.03.2019; Leopold Museum, Wien, 06.04.2019–08.07.2019).
Kokoschka. Das Ich im Brennpunkt, hrsg. von Tobias G. Natter/Franz Smola, Wien 2013 (Ausst. Kat. Leopold Museum, Wien, 04.10.2013–27.01.2014).
Die nackte Wahrheit. Klimt, Schiele, Kokoschka und andere Skandale, hrsg. von Tobias G. Natter/Max Hollein, München 2005 (Ausst.-Kat. Schirn Kunsthalle, Frankfurt, 28.01.2005-24.01.2005; Leopold Museum, Wien, 31.05.2005-22.08.2005).
Johann Winkler/Katharina Erling: Oskar Kokoschka. Die Gemälde 1906–1929, Salzburg 1995.
Fondation Oskar Kokoschka, Werkkatalog der Gemälde von Oskar Kokoschka, https://www.oskar-kokoschka.ch/de/1020/Online-Werkkatalog.

Catalogue raisonne

Winkler/Erling 1995: 8
oskar-kokoschka.ch: 1907/1

Keywords
If you have further information on this object, please contact us.