Mountain Stream with Boulders
, 1888/90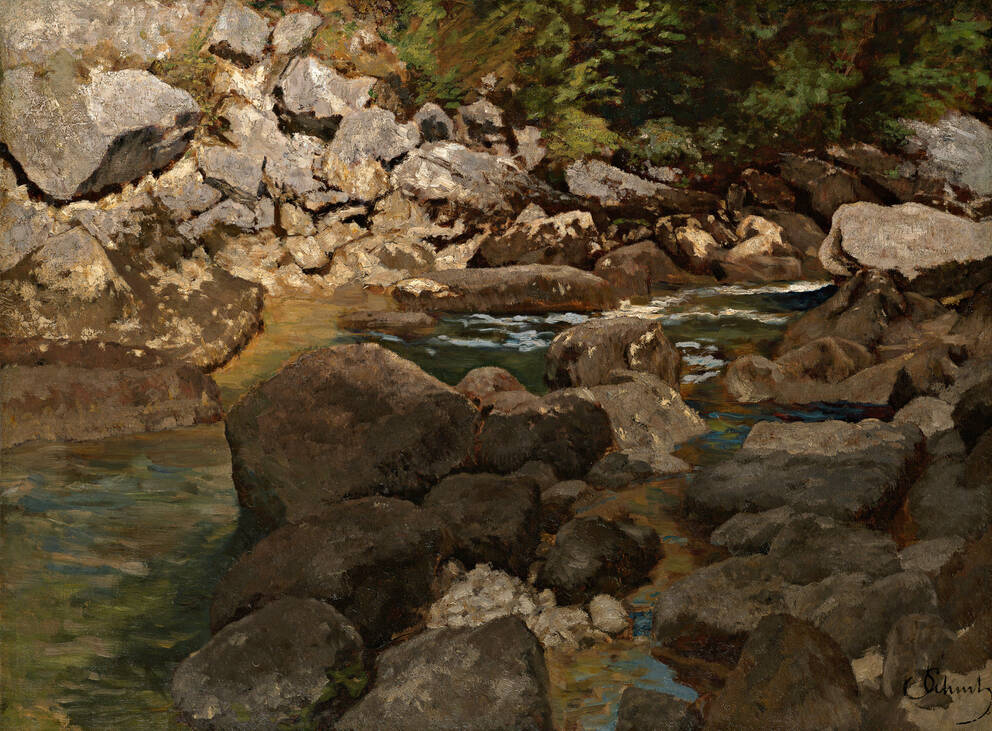 Leopold Museum,
Vienna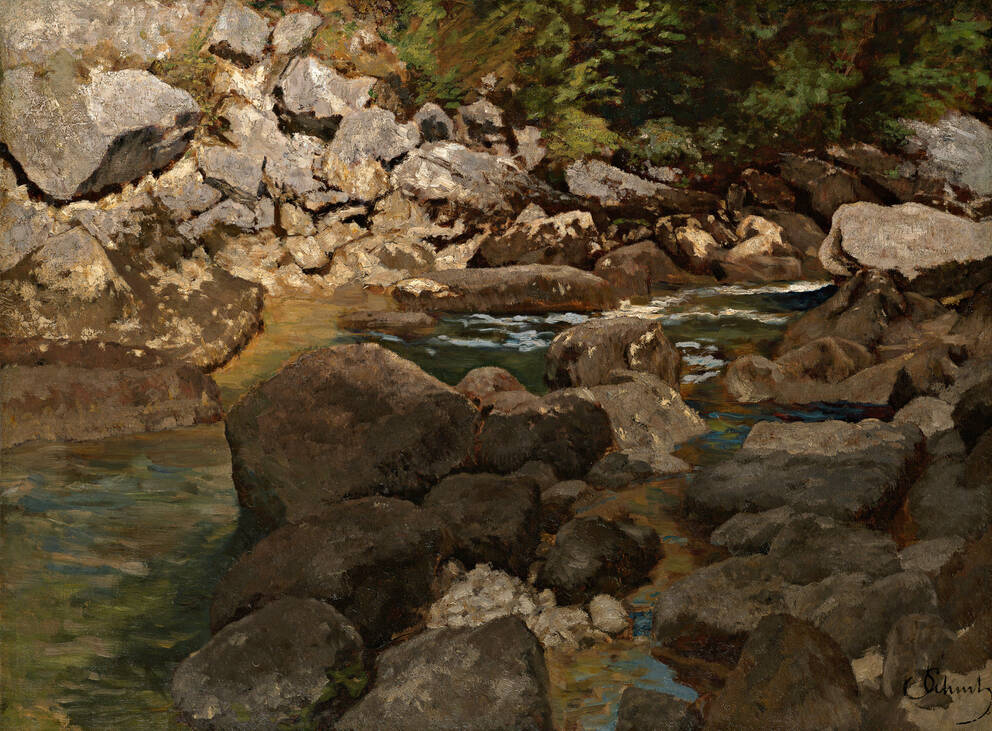 Mountain Stream with Boulders
1888/90
Artists
Carl Schuch

(Vienna 1846–1903 Vienna)
Currently on display at OG4
The painting Mountain Stream with Boulders was probably made near the Saut du Doubs waterfall in French-speaking Switzerland, where Carl Schuch (1846–1903) spent several summers starting in 1886. In the narrow picture perspective, possibly inspired by contemporary photography, the artist depicts the boulder formations between which the thin mountain stream can be made out by the reflexes of the spray. Some deep-blue brushstrokes indicate reflections of the sky, which, however, is not visible in the picture because of the top view. Schuch concentrates entirely on the differentiated representation of the color values of the heaped-up small and larger stones. In a sensually palpable manner, he expresses differences of materiality—between sunlit and lying in the shade, between cool and warm, or between dry and wet.
Object data
Artist/author

Title

Mountain Stream with Boulders

Date

1888/90

Art movement

Naturalism I Realism

Category

Painting

Material​/technique

Oil on canvas

Dimensions

61×82.4 cm

Signature

Signature stamp lower right: CSchuch

Credit line

Leopold Museum, Vienna, Inv. 230

Inventory access

Contributed to the Leopold Museum-Privatstiftung in 1994

Selection of Reference works

Meisterwerke Leopold Museum, hrsg. von Hans-Peter Wipplinger, Köln 2018.
Leopold Museum Wien. Österreichische Kunst des 19. und 20. Jahrhunderts, hrsg. von Leopold Museum-Privatstiftung, München u.a. 2008.
Leopold. Meisterwerke aus dem Leopold Museum Wien, hrsg. von Rudolf Leopold und Romana Schuler, Köln u.a. 2001.

Keywords
If you have further information on this object, please contact us.
Provenance
Provenance research
Leopold Museum
i
Dr. Rudolf Leopold, Wien (o.D.);
Leopold Museum-Privatstiftung, Wien (seit 1994).
For provenance related information, please contact us.