Still Life with Garlic
, 1887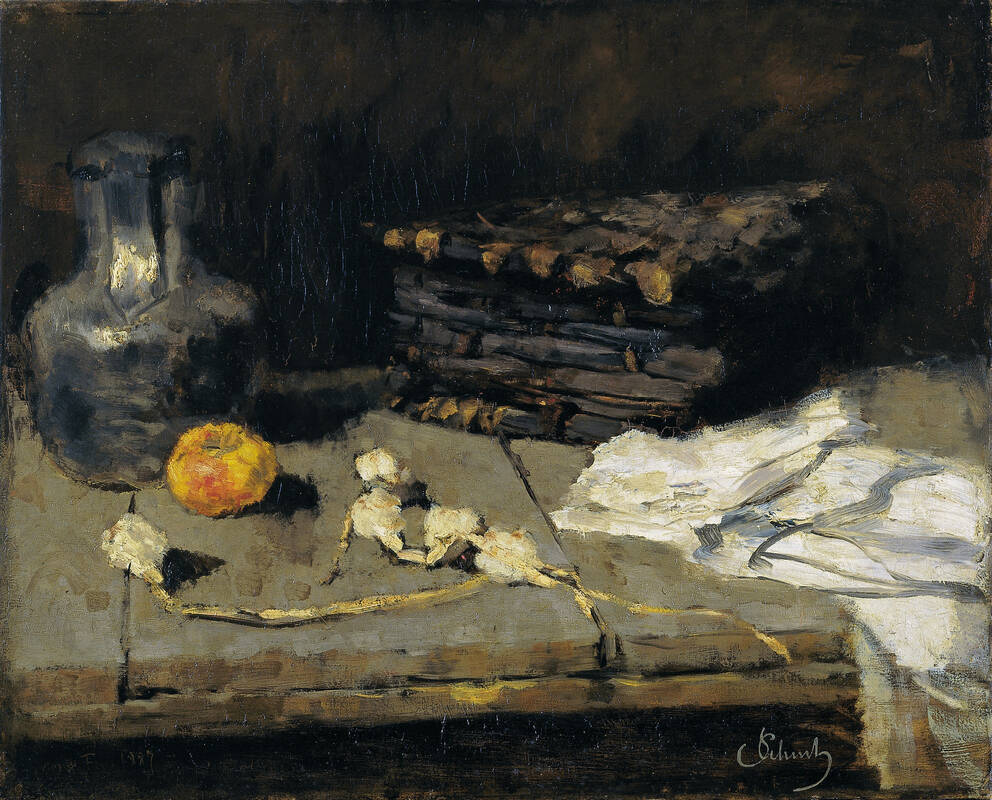 Leopold Museum,
Vienna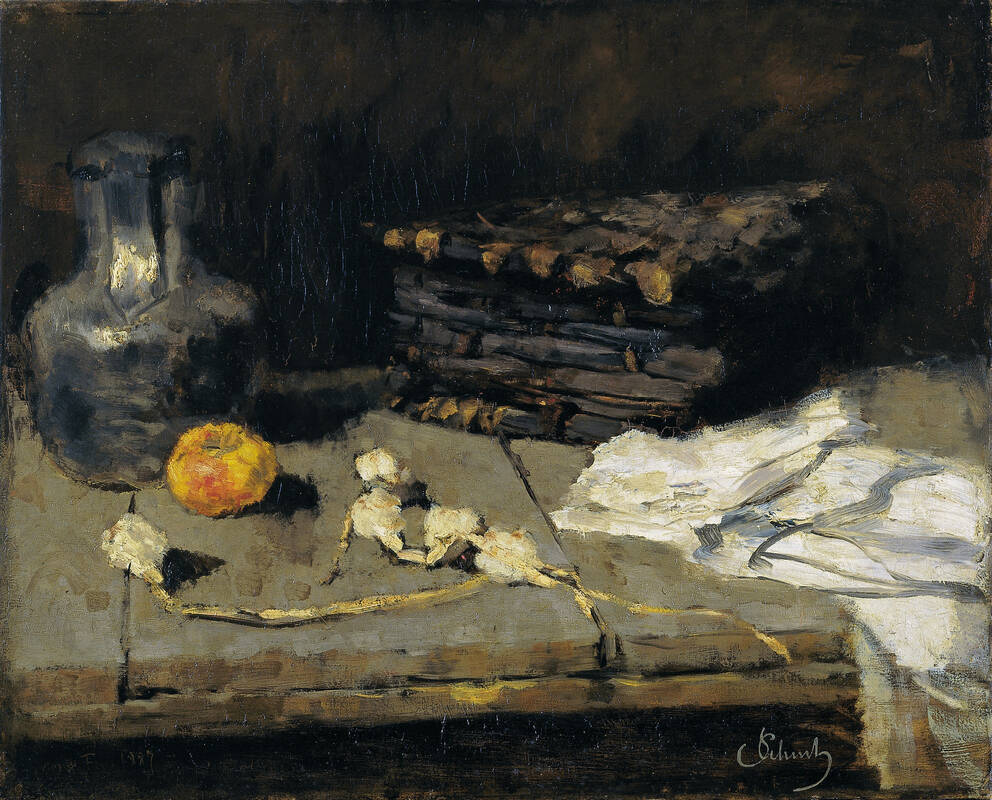 Still Life with Garlic
1887
Oil on canvas
63.8×79.2 cm
Artists
Carl Schuch

(Vienna 1846–1903 Vienna)
Currently on display at OG4
Carl Schuch (1846–1903) chooses a narrow picture detail in his painting Still Life with Garlic and renders the objects in a slight top view. Against the background of a nondescript dark room, a jug, books, garlic, a loosely folded piece of cloth and an apple are seen on a rough plank table. The items look like taken out of their respective contexts and arranged into a still life with free and brisk brushwork solely on the basis of their colors and shapes. Shades of white, gray, black and brown are dominant, creating an intense light-dark contrast. The only object that looks shiny is the apple, rendered in only bright colors, which makes it the eye-catcher of the picture. Schuch is considered a gifted colorist, who also dealt intensively with color and perception theories. From 1882 to 1894 he lived in Paris, where he found important inspiration. His free play with colors and color fields is resonant with echoes of Édouard Manet (1832–1883) and Paul Cézanne (1839–1906).
Object data
Artist/author

Title

Still Life with Garlic

Date

1887

Art movement

Naturalism I Realism

Category

Painting

Material​/technique

Oil on canvas

Dimensions

63.8×79.2 cm

Signature

Signature stamp lower right: C Schuch

Credit line

Leopold Museum, Vienna, Inv. 232

Inventory access

Contributed to the Leopold Museum-Privatstiftung in 1994

Selection of Reference works

Meisterwerke Leopold Museum, hrsg. von Hans-Peter Wipplinger, Köln 2018.
Leopold Museum Wien. Österreichische Kunst des 19. und 20. Jahrhunderts, hrsg. von Leopold Museum-Privatstiftung, München u.a. 2008.
Leopold. Meisterwerke aus dem Leopold Museum Wien, hrsg. von Rudolf Leopold und Romana Schuler, Köln u.a. 2001.

Keywords
If you have further information on this object, please contact us.
Provenance
Provenance research
Leopold Museum
i
Dr. Rudolf Leopold, Wien (o.D.);
Leopold Museum-Privatstiftung, Wien (seit 1994).
For provenance related information, please contact us.