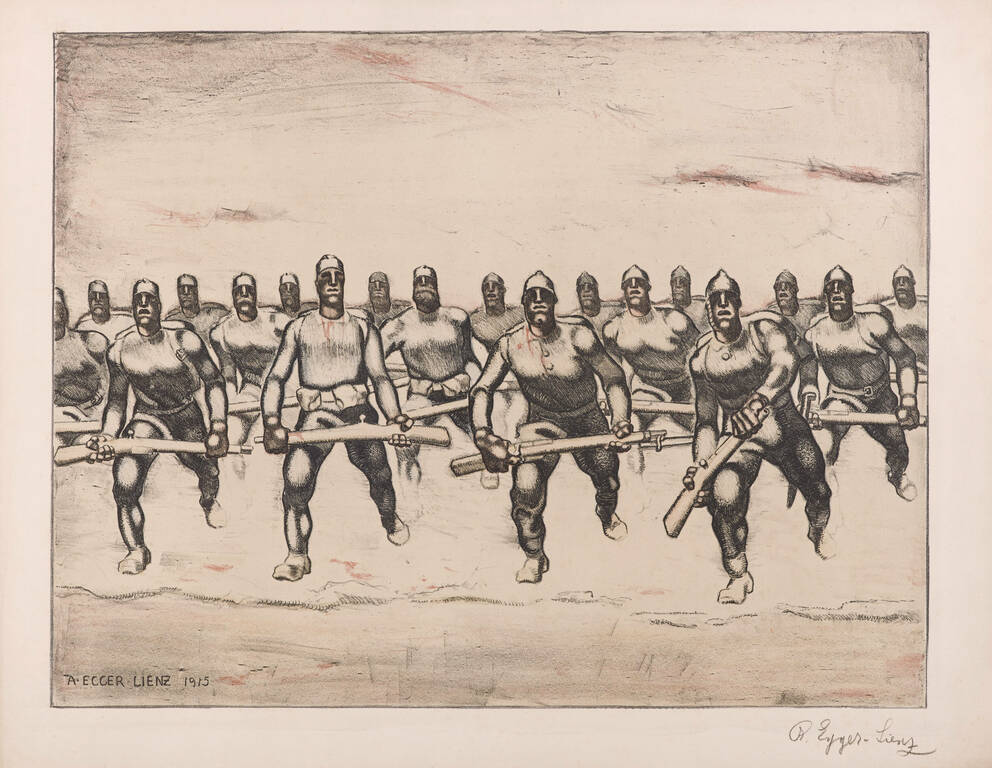 Leopold Museum,
Vienna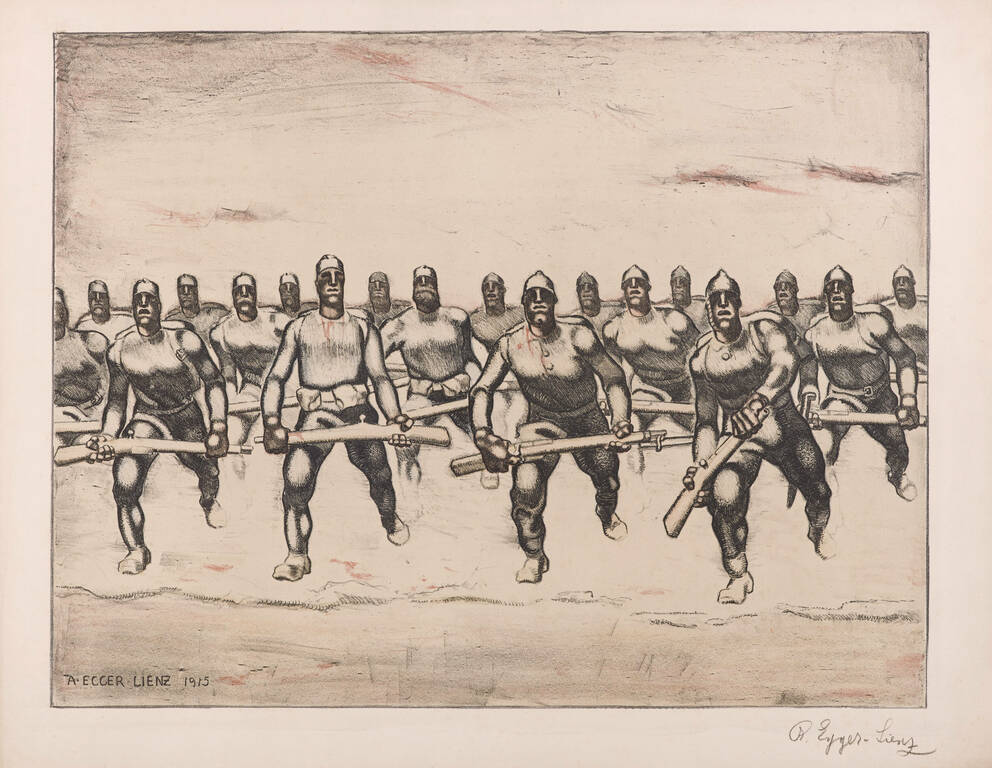 Surging Soldiers
1915
Lithograph on paper
69.5×91 cm
Artists
Albin Egger-Lienz

(Stribach near Lienz 1868–1926 Zwölfmagreien/Bolzano)
Unfortunately not on display at the moment
Full of energy and assured of victory, their weapons poised, a phalanx of powerful soldiers surges towards the beholder with bounding strides. In their simplified plasticity the figures appear devoid of individuality and to be moving in unison, like an incarnation of the mechanisms of the first industrialized war of mass destruction in the history of mankind, the First World War. In contrast to his later oeuvre, in which the graphic artist and painter Albin Egger-Lienz (1868–1926) addressed the oppressive consequences of the War, such as pain, suffering and death, and transferred them into monumental and expressive forms, his monochrome 1915 lithograph Surging Soldiers conveys a war-affirming pathos. This ambivalence is further evidenced by Egger-Lienz's painting War, created shortly afterwards, which shows the same subject but with the addition of fallen soldiers.
Object data
Artist/author

Title

Surging Soldiers

Date

1915

Art movement

Naturalism I Realism, Expressionism

Category

Graphic work

Material​/technique

Lithograph on paper

Dimensions

69.5×91 cm

Signature

Signed and dated in the stone lower left: A. EGGER LIENZ 1915; signed lower right: A. Egger-Lienz

Credit line

Leopold Museum, Vienna, Inv. 3039

Inventory access

Contributed to the Leopold Museum-Privatstiftung in 1994

Selection of Reference works

Trotzdem Kunst! Österreich 1914-1918, hrsg. von Elisabeth Leopold/Ivan Ristić u.a., Wien 2014 (Ausst-Kat. Leopold Museum, Wien, 09.05.2014-15.09.2014).
Albin Egger-Lienz: 1868-1926, hrsg. von Gert Amann/Michael Fuhr, Wien 2008 (Ausst.-Kat. Leopold Museum, Wien, 15.02.2008–29.05.2008).
Wilfried Kirschl: Albin Egger-Lienz: 1868-1926; das Gesamtwerk; [Monographie in zwei Bänden], Wien 1996.

Catalogue raisonne

Keywords
If you have further information on this object, please contact us.
Provenance
Provenance research
Leopold Museum
i
Dr. Rudolf Leopold, Wien (o.D.);
Leopold Museum-Privatstiftung, Wien (1994).
For provenance related information, please contact us.