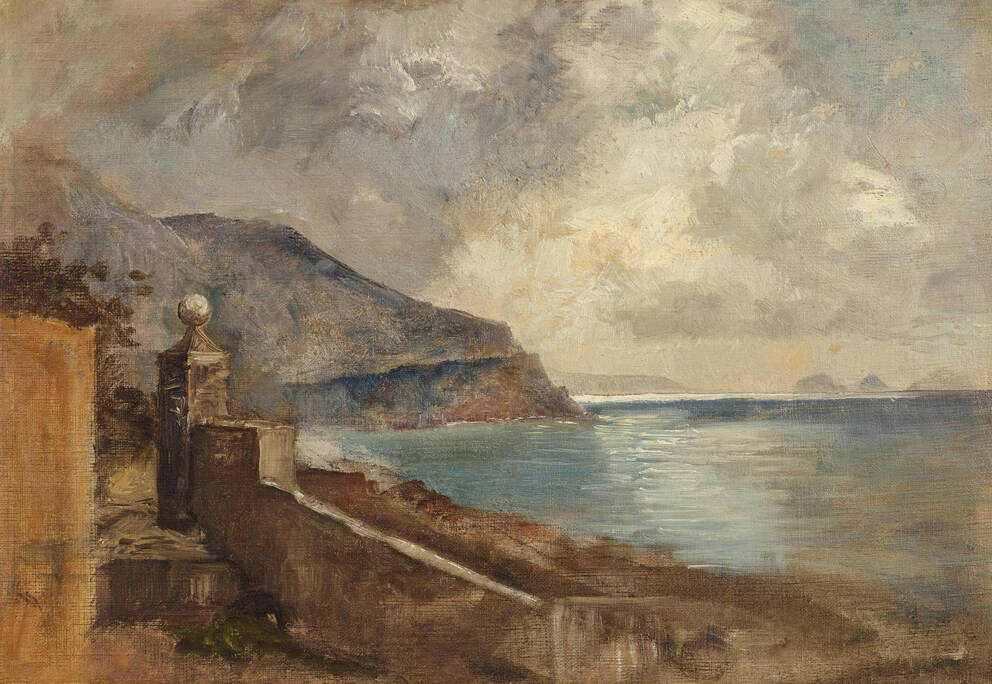 Leopold Museum,
Vienna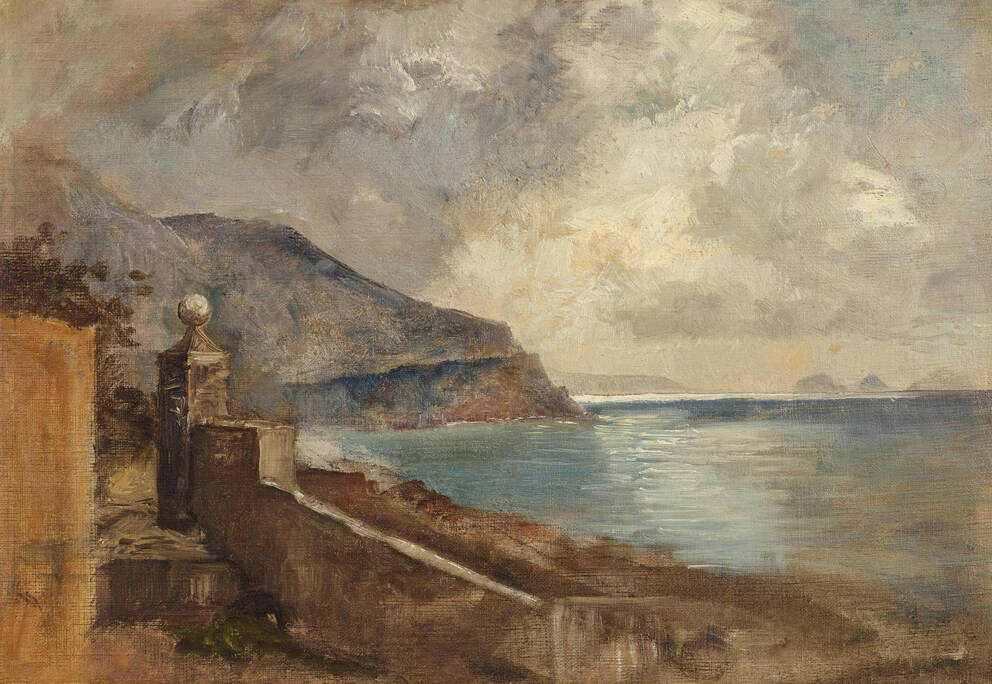 Bay near Naples
c. 1904
Oil on canvas
27.8×39.3×2.5 cm
Artists
Marie Egner

(Radkersburg 1850–1940 Vienna)
Currently on display at OG4
In the oil sketch Coast in Dalmatia, Marie Egner (1850–1940) captures, mostly in a smooth painting style, a scenic sea view overshadowed by a brewing storm. She is concerned with the effect of an overall blue-brown tone, but her artistic emphasis is on mood of light and atmosphere. The artist directs the viewer's gaze along the bay line, defined in the left foreground by a footpath lined with walls and by coastal mountains farther away, all the way up to a cloud-covered sky. Sunlight breaks through behind the high cliff, creating fascinating reflections in the sky and on the horizon as well as reflexes on the surface of the sea. Throughout her life, the pupil of atmospheric impressionist Emil Jakob Schindler (1842–1892), who traveled throughout Europe, was an enthusiastic plein-air painter, which for her was associated with a poetic view of nature.
Object data
Artist/author

Title

Bay near Naples

Date

c. 1904

Art movement

Atmospheric Impressionism

Category

Painting

Material​/technique

Oil on canvas

Dimensions

27.8×39.3×2.5 cm

Credit line

Leopold Museum, Vienna, Inv. 261

Inventory access

Contributed to the Leopold Museum-Privatstiftung in 1994

Selection of Reference works

Martin Suppan/Erich Tromayer u.a.: Marie Egner. Eine österreichische Stimmungsimpressionistin, Wien 1993.

Catalogue raisonne

Suppan/Tromayer/Feuchtmüller 1993: 654

Keywords
If you have further information on this object, please contact us.
Provenance
Provenance research
Leopold Museum
i
Dr. Rudolf Leopold, Wien (o.D.);
Leopold Museum-Privatstiftung, Wien (1994)
For provenance related information, please contact us.