Table from the Livingroom of the Eisler von Terramare Apartment
, 1903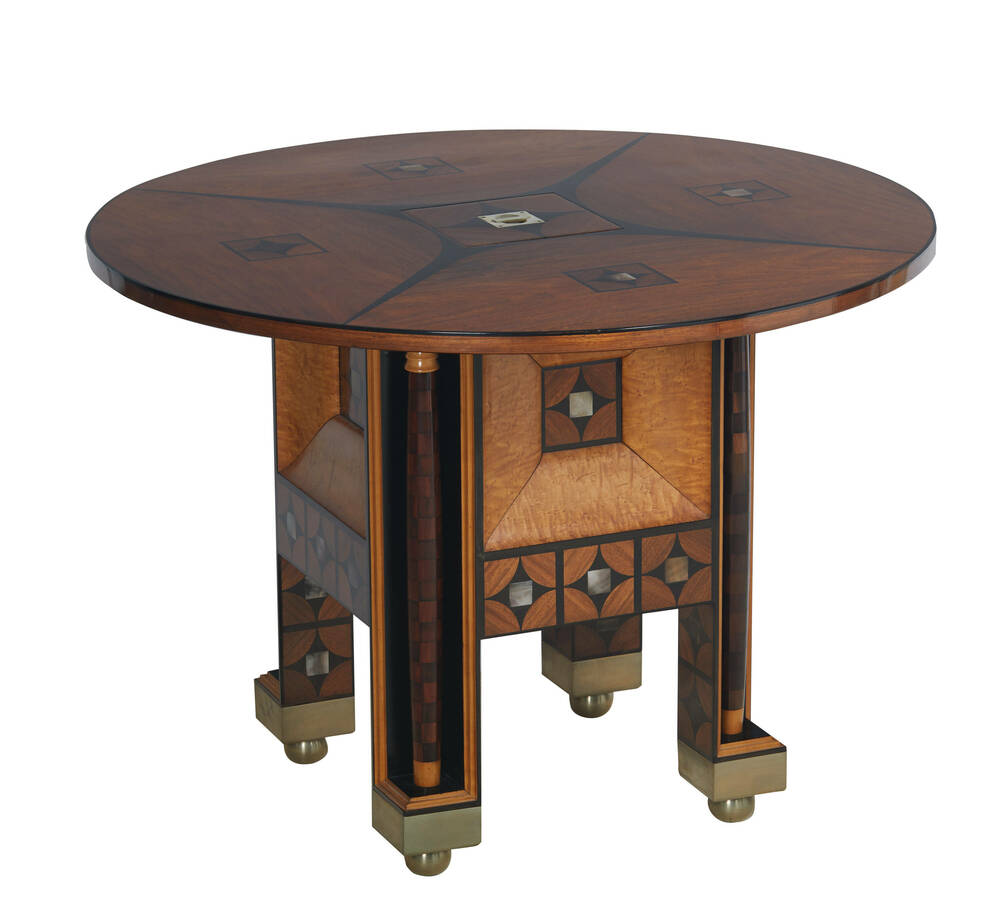 Leopold Museum,
Vienna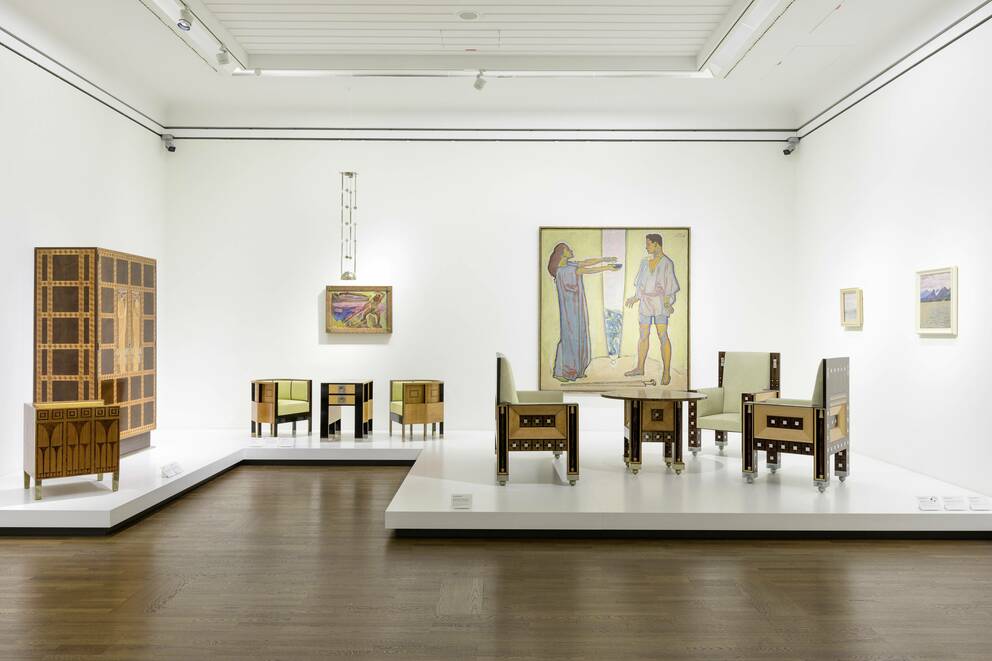 Leopold Museum,
Vienna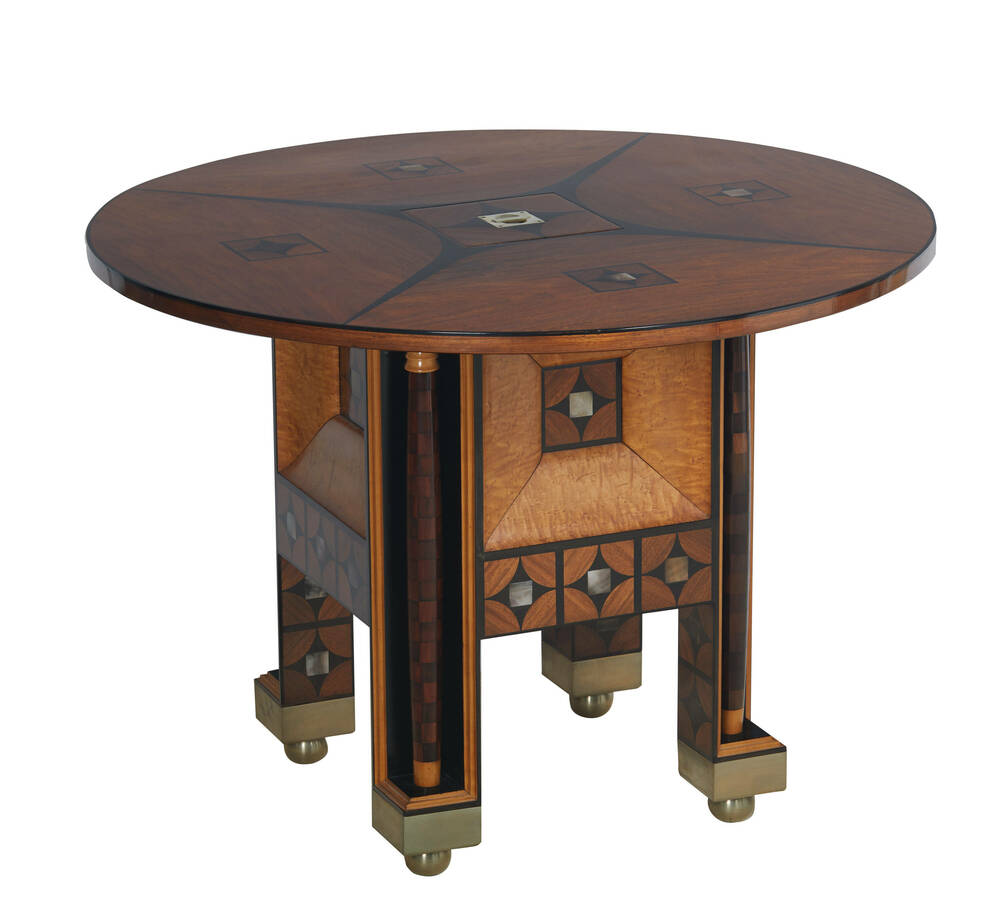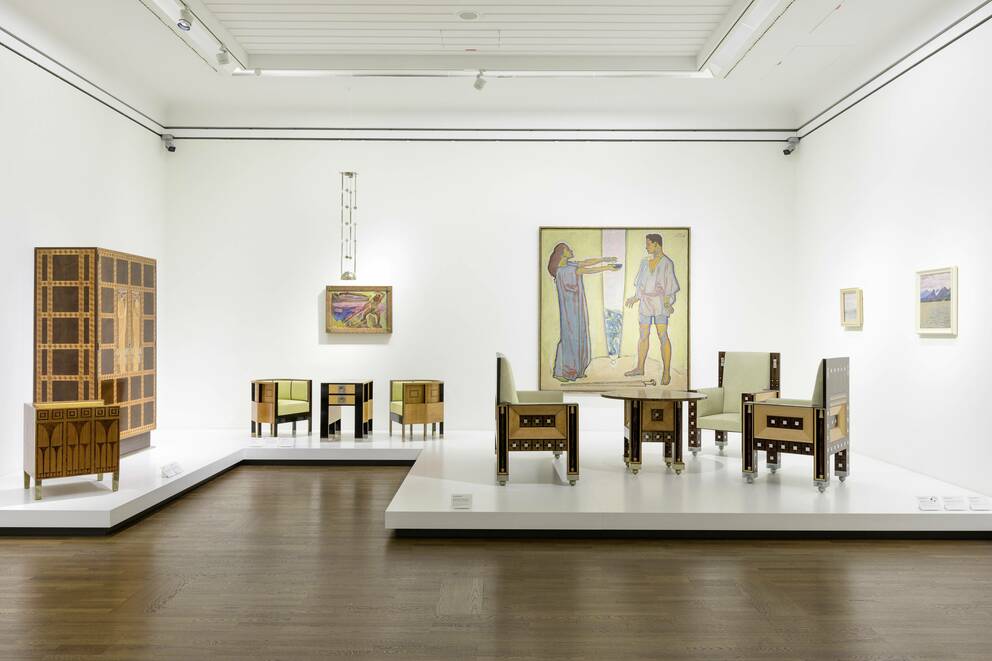 Table from the Livingroom of the Eisler von Terramare Apartment
1903
Swedish birch, ebony, coral wood, mother-of-pearl, ivory, beveled glass, metal
70×100 cm
Artists
Koloman Moser

(Vienna 1868–1918 Vienna)

Wiener Werkstätte
Caspar Hrazdil
J. W. Müller (court carpenter)
Currently on display at OG3
Koloman Moser (1868–1918) was commissioned in 1902 by the newlywed couple Hans and Gerta Eisler von Terramare to create the complete interior design for their spacious apartment on Vienna's Schottenring. It would be the most luxurious interior decoration designed by Moser. In keeping with the idea of a Gesamtkunstwerk, or universal work of art, Moser selected uniform colors and shapes throughout the apartment. The furnishings are testament to the exacting standards of modern Viennese design, characterized by the very best workmanship, an upholding of traditional craftsmanship and the use of exquisite materials. The reduced geometrical design vocabulary that was typical for Moser from 1900 is already clearly apparent here. The items of furniture were executed by the carpenter Caspar Hrazdil and the court carpenter J. W. Müller, and are almost consistently characterized by orthogonal shapes as well as understated planar decorations made from premium thuja and satinwood veneers.
Object data
Artist/author

Design: Koloman Moser
Execution: Wiener Werkstätte
Execution: Caspar Hrazdil
Execution: J. W. Müller (court carpenter)

Title

Table from the Livingroom of the Eisler von Terramare Apartment

Date

1903

Art movement

Wiener Werkstätte

Category

Furniture

Material​/technique

Swedish birch, ebony, coral wood, mother-of-pearl, ivory, beveled glass, metal

Dimensions

70×100 cm

Credit line of the permanent loan

Ernst Ploil, Vienna

Selection of Reference works

Wien 1900. Aufbruch in die Moderne, hrsg. von Hans-Peter Wipplinger, Wien 2019 (Ausst.-Kat. Leopold Museum, Wien, ab 15.03.2019).
Koloman Moser- Die Sammlung Leopold, hrsg. von Elisabeth Leopold/Stefan Kutzenberger, Wien 2018 (Ausst.-Kat. Leopold Museum, Wien, 18.01.2018-10.06.2018).
Koloman Moser 1868-1818, hrsg. von Rudolf Leopold/Gerd Pichler, Wien 2007 (Ausst.-Kat. Leopold Museum, Wien, 25.05.2007-10.09.2007).

Keywords
If you have further information on this object, please contact us.