Flatware Set from the Series "Rundes Modell"
, after 1907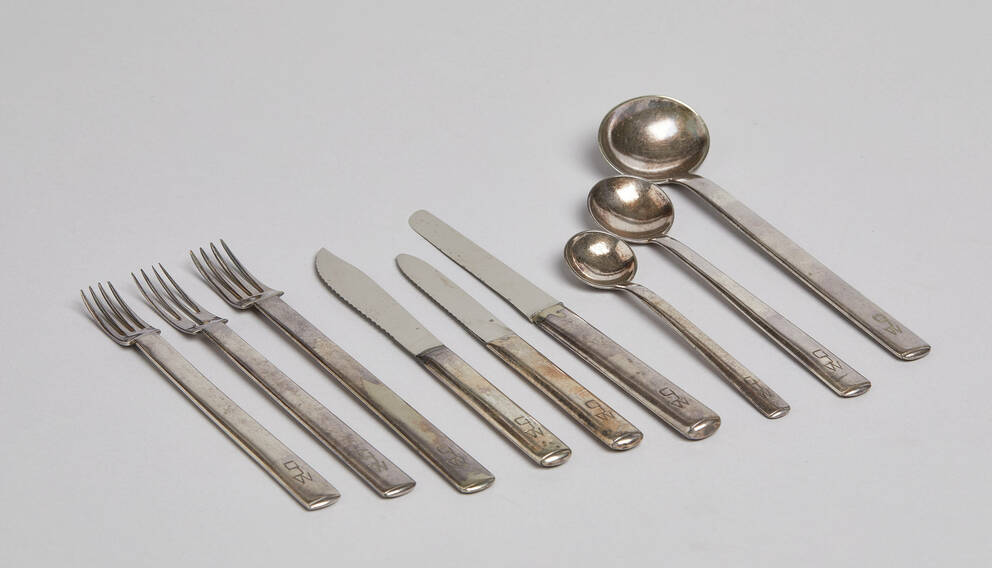 Leopold Museum,
Vienna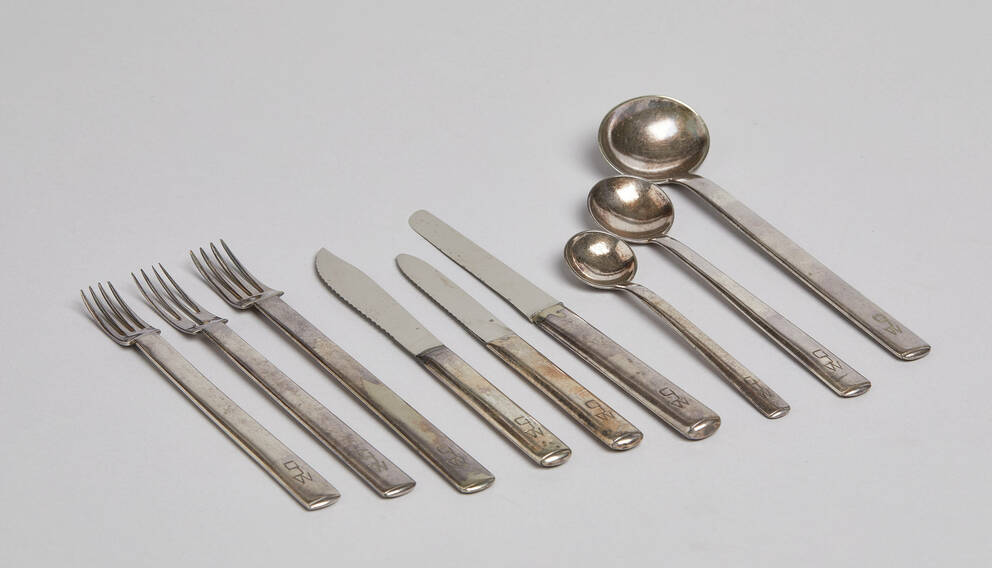 Flatware Set from the Series "Rundes Modell"
after 1907
Artists
Josef Hoffmann

(Pirnitz/Brtnice 1870–1956 Vienna)

Wenzel Bachmann & Co for the Wiener Werkstätte
Unfortunately not on display at the moment
The aim of the Wiener Werkstätte was to embellish all areas of life with high-quality decorative objects and articles of daily use. The Wiener Werkstätte opened its own exhibition space on Vienna's Neustiftgasse in 1906 with the exhibition Der gedeckte Tisch [The Laid Table], organized by Koloman Moser (1868–1918) and Josef Hoffmann (1870–1956). The exhibition was intended to present the Wiener Werkstätte's products and achievements up to that date. On display were several tables laid and decorated in different ways. The exhibits also included the flatware set from the series Rundes Modell, designed by Hoffmann and executed either in silver-plated alpacca or in silver. The individual components of the flatware set captivate beholders with their unadorned, strongly reduced shapes. What is especially remarkable is the shape of the circular tablespoon, whose head is mounted perpendicular to the handle.
Object data
Artist/author

Design: Josef Hoffmann
Execution: Wenzel Bachmann & Co for the Wiener Werkstätte

Title

Flatware Set from the Series "Rundes Modell"

Date

after 1907

Art movement

Wiener Werkstätte

Category

Arts and crafts

Material​/technique

Alpacca

Credit line of the permanent loan

Collection Richard Grubman

Selection of Reference works

Koloman Moser 1868-1818, hrsg. von Rudolf Leopold/Gerd Pichler, Wien 2007 (Ausst.-Kat. Leopold Museum, Wien, 25.05.2007-10.09.2007).

Keywords
If you have further information on this object, please contact us.