Badge for the ushers at the Cabaret Fledermaus
, 1907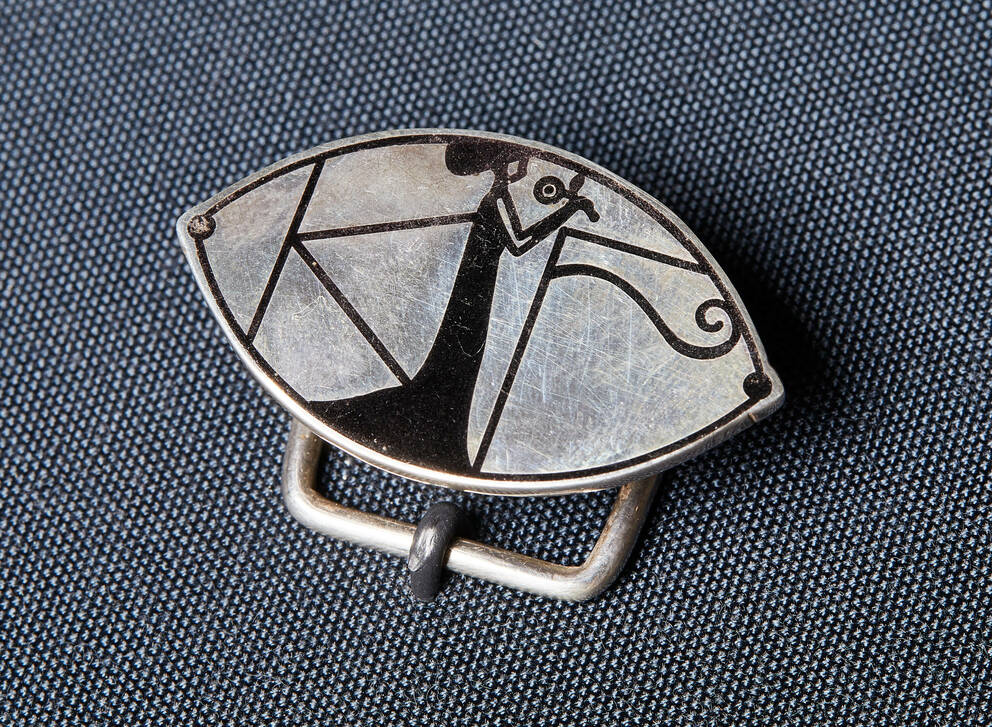 Leopold Museum,
Vienna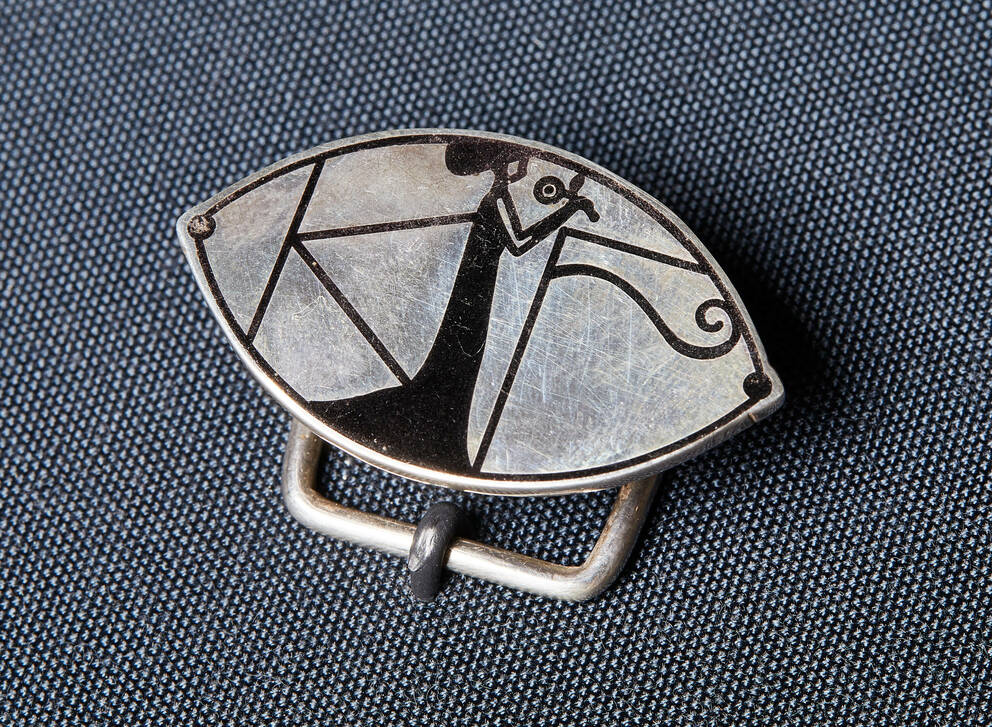 Badge for the ushers at the Cabaret Fledermaus
1907
Alpacca, silver-plated, enameled in black
2.1×3.6×1.1 cm
Artists
Bertold Löffler

(Nieder-Rosenthal near Reichenberg/district of Liberec 1874–1960 Vienna)

Wiener Werkstätte
Currently on display at OG4
This badge created by the painter, graphic artist and designer Bertold Löffler (1874–1960) beautifully illustrates the concept of the Gesamtkunstwerk, or universal work of art, espoused by Viennese Jugendstil. The performance venue Cabaret Fledermaus, planned by Josef Hoffmann (1870–1956), opened in 1907. Every last object, no matter how unassuming, was designed by artists of the Wiener Werkstätte, including the badges worn by the staff. Everything was created with the same attention to detail and thus emanated the spirit of the Wiener Werkstätte. For the badges, Löffler chose an almond-shaped format and used silver-plated alpacca, rendering the Cabaret Fledermaus's initials "K" and "F" with sparingly applied black enamel to the left and right of the central depiction of a lady. While it is not clear at first glance what this silhouetted figure is doing, we are enlightened by a description of the badge by Ludwig Hevesi (1843–1910), who informs us that she is smelling the scent of a rose.
Object data
Artist/author

Design: Bertold Löffler
Execution: Wiener Werkstätte

Title

Badge for the ushers at the Cabaret Fledermaus

Date

1907

Art movement

Art Nouveau, Wiener Werkstätte

Category

Arts and crafts

Material​/technique

Alpacca, silver-plated, enameled in black

Dimensions

2.1×3.6×1.1 cm

Credit line of the permanent loan

Collection Richard Grubman

Selection of Reference works

Wien 1900. Aufbruch in die Moderne, hrsg. von Hans-Peter Wipplinger, Wien 2019 (Ausst.-Kat. Leopold Museum, Wien, ab 15.03.2019).

Keywords
If you have further information on this object, please contact us.