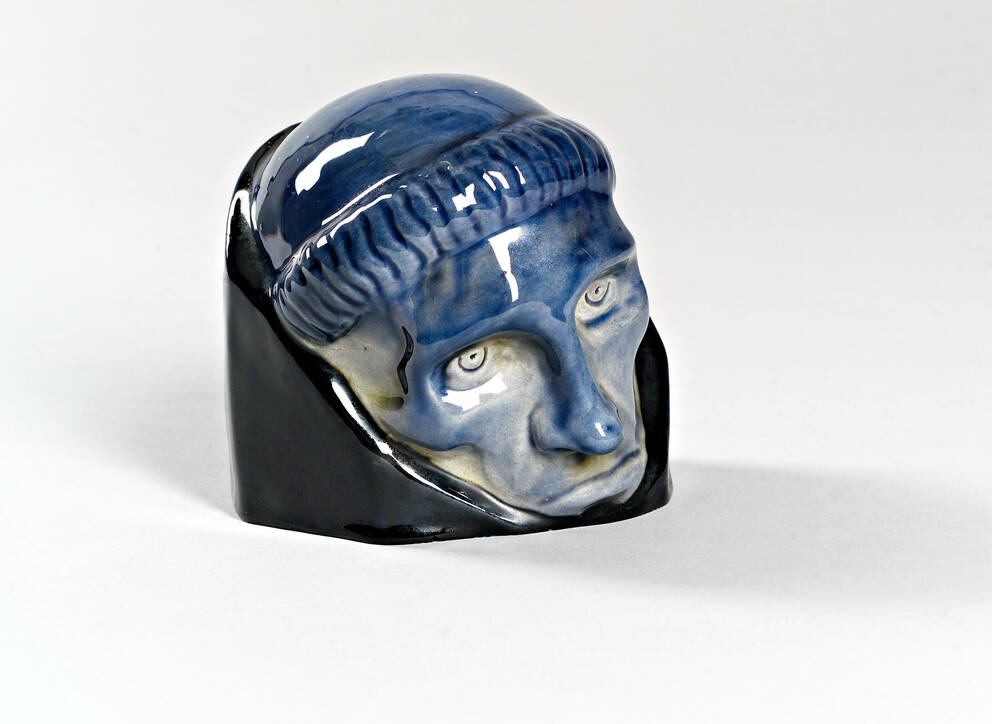 Leopold Museum,
Vienna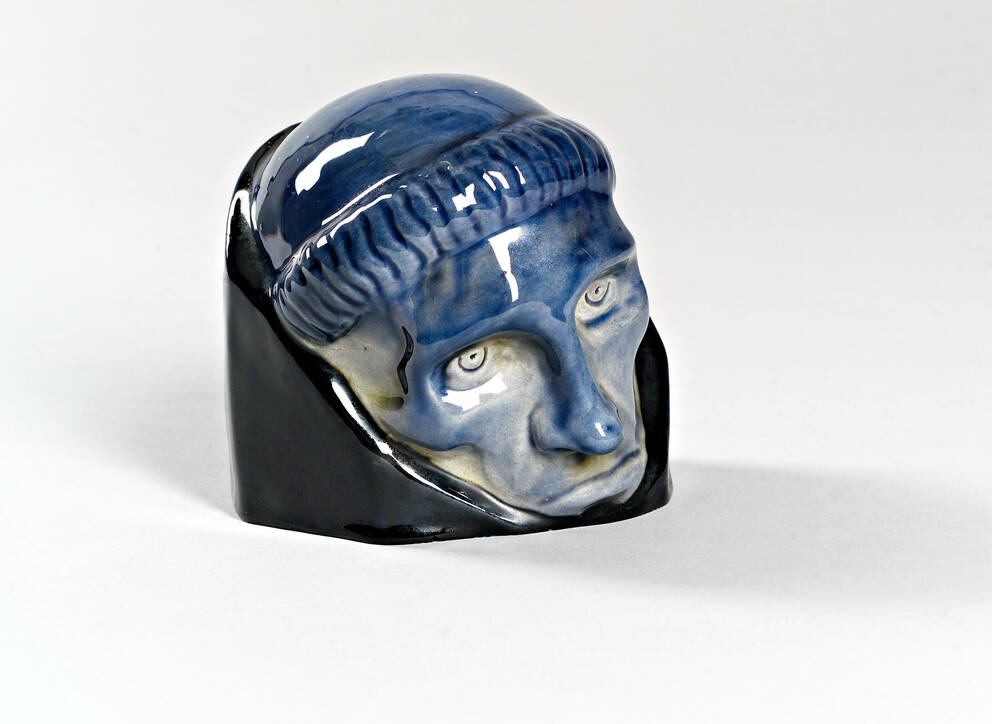 Monk's Head
c. 1906
Ceramic, light body, colored glazing
12×13.5×11 cm
Artists
Michael Powolny

(Judenburg 1871–1954 Vienna)

Wiener Keramik
Currently on display at OG4
Together with Bertold Löffler (1874–1960), the ceramicist and sculptor Michael Powolny (1871–1954) set up a company, Wiener Keramik, in 1905. It collaborated closely with the Wiener Werkstätte and was eventually taken over by Gmundner Keramik in 1913 and successfully continued under the name of Vereinigte Wiener und Gmundner Keramik. Powolny designed this enigmatic sculpture around 1906. The colorfully glazed ceramic solely consists of the head of a monk, characterized by the typical tonsure and a strikingly emaciated face with sunken eyes. The head is literally framed by the cowl. It seems as if Powolny wanted to create a melancholic memento mori based on a religious figure in this small-sized work. This is also borne out by the man's thoroughly resigned facial expression.
Object data
Artist/author

Design: Michael Powolny
Execution: Wiener Keramik

Title

Monk's Head

Date

c. 1906

Art movement

Wiener Werkstätte, Art Nouveau

Category

Sculpture

Material​/technique

Ceramic, light body, colored glazing

Dimensions

12×13.5×11 cm

Signature

Pictorial mark inside: Wiener Keramik; monogram stamp: MP

Credit line

Leopold Museum, Vienna, Inv. 4323

Inventory access

Contributed to the Leopold Museum-Privatstiftung in 1994

Selection of Reference works

Elisabeth Frottier: Michael Powolny. Keramik und Glas aus Wien. 1900 bis 1950. Monografie und Werkverzeichnis, Wien/Köln 1990.

Catalogue raisonne

Keywords
If you have further information on this object, please contact us.