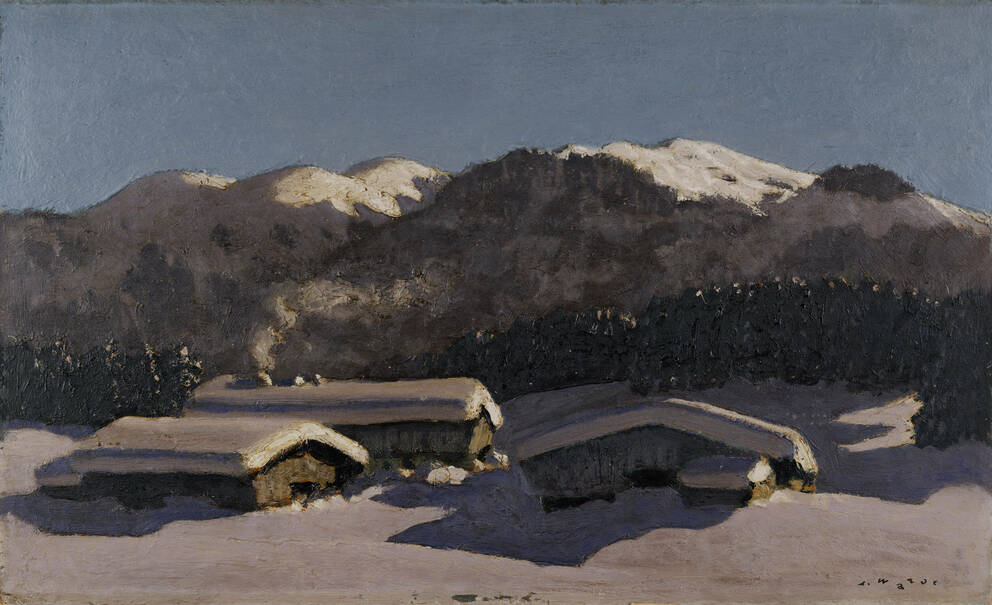 Leopold Museum,
Vienna © Bildrecht,
Vienna 2022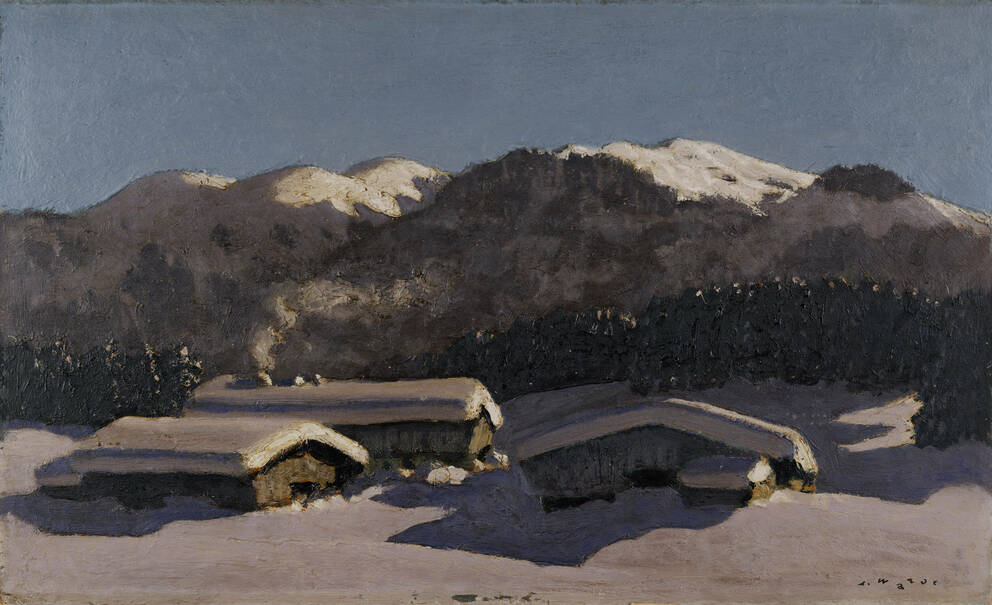 The short Day
1925/26
Oil on cardboard
43.2×70.1 cm
Artists
Alfons Walde

(Oberndorf 1891‒1958 Kitzbühel)
Unfortunately not on display at the moment
Pristine and enchanting in its elemental beauty, Alfons Walde (1891–1958) depicts in his oil-on-cardboard painting The Short Day of 1925/26 the alpine winter landscape with its snowy mountain peaks, dense coniferous forests, and a group of snow-capped small chalets, sunk in the whiteness of the landscape and casting hard shadows in the low late-afternoon sun. Walde returned to Kitzbühel in 1918, specializing on landscapes and alpine motifs. With the skill of a sought-after commercial artist, the trained architect gained international attention in the early 1920s, when winter tourism and the winter-sports industry were first taking shape. Walde used photographs to find pictorial subjects for his posters. His balanced compositions, oscillating between simplified forms and sophisticated detailing, became so popular that the artist set up his own postcard-publishing company and also brought out many of his most successful motifs as oil paintings on cardboard that were offered in three different sizes.
Object data
Artist/author

Title

The short Day

Date

1925/26

Art movement

Classical Modernism

Category

Painting

Material​/technique

Oil on cardboard

Dimensions

43.2×70.1 cm

Signature

Signed lower right: A. WALDE

Credit line

Leopold Museum, Vienna, Inv. 335

Inventory access

Contributed to the Leopold Museum-Privatstiftung in 1994

Selection of Reference works

Moderne Österreichische Farbmalerei um 1918, hrsg. von Elisabeth Leopold, Wien 2021 (Ausst.-Kat. Leopold Museum, Wien, 03.02.2021-24.05.2021).
Zwischen den Kriegen. Österreichische Künstler 1918–1938, hrsg. von Rudolf Leopold, Wien 2007 (Ausst.-Kat. Leopold Museum, Wien, 21.09.2007-28.01.2008).
Alfons Walde hrsg. von Rudolf Leopold, Wien 2006 (Ausst.-Kat. Leopold Museum, Wien, 17.03.2006-19.06.2006).

Keywords
If you have further information on this object, please contact us.
Provenance
Provenance research
Leopold Museum
i
Dr. Rudolf Leopold, Wien (o.D.);
Leopold Museum-Privatstiftung, Wien (1994).
For provenance related information, please contact us.