Still Life with Oranges and Pitcher (»Palermo«)
, 1924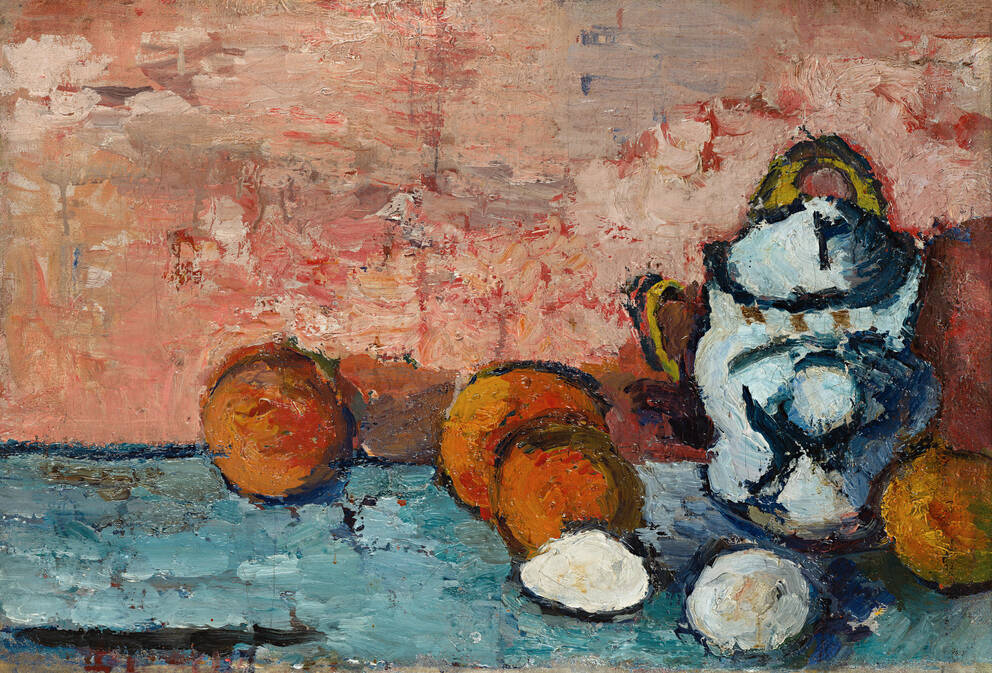 Leopold Museum,
Vienna © Herbert Boeckl estate,
Vienna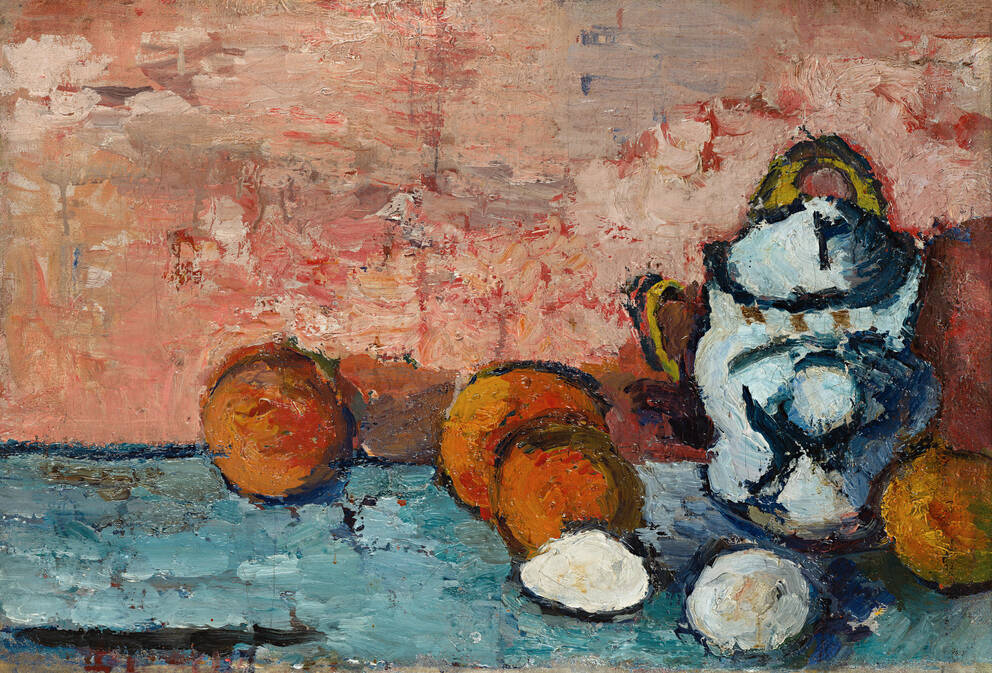 Still Life with Oranges and Pitcher (»Palermo«)
1924
Oil on canvas
40.7×57.3 cm
Artists
Herbert Boeckl

(Klagenfurt 1894–1966 Vienna)
Unfortunately not on display at the moment
This painting shows an arrangement of oranges, eggs, and a pitcher on a blue tabletop. Departing from the tendency to break up forms in his earlier works, Herbert Boeckl (1894–1966) was now trying to focus on the physicality and dimensionality of his motifs. He used dark contours as a strong creative means for giving shape to objects. The complementary contrast of blue and orange, in addition to the tectonic paint application, suggest a space that is created entirely by paint. Although Boeckl had already discovered Paul Cézanne's (1839–1906) painting on his student trips to Berlin and Paris, he made a particularly close study of it during his time in Sicily. Through the paintings of Cézanne—and by reflecting on his still lifes in particular—Boeckl succeeded in forging new paths in his painting by clarifying space and representing the plasticity of objects.
Object data
Artist/author

Title

Still Life with Oranges and Pitcher (»Palermo«)

Date

1924

Art movement

Expressionism

Category

Painting

Material​/technique

Oil on canvas

Dimensions

40.7×57.3 cm

Signature

Signed and dated lower left: H. Böckl 24 (badly readable)

Credit line

Leopold Museum, Vienna, Inv. 522

Inventory access

Contributed to the Leopold Museum-Privatstiftung in 1994

Keywords
If you have further information on this object, please contact us.