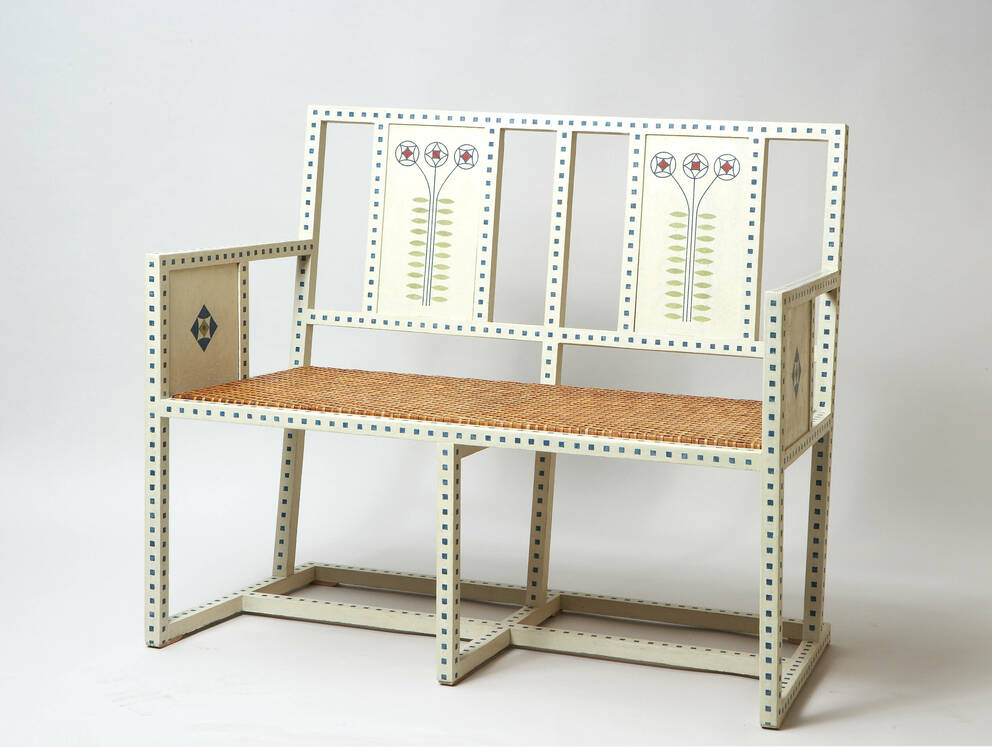 Leopold Museum,
Vienna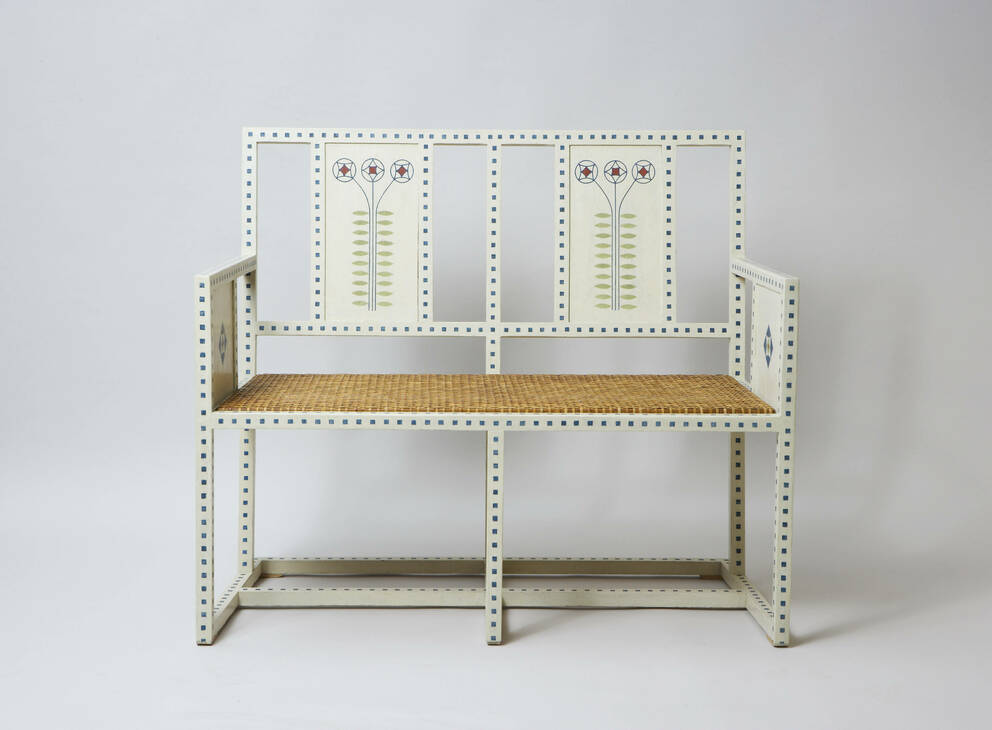 Leopold Museum,
Vienna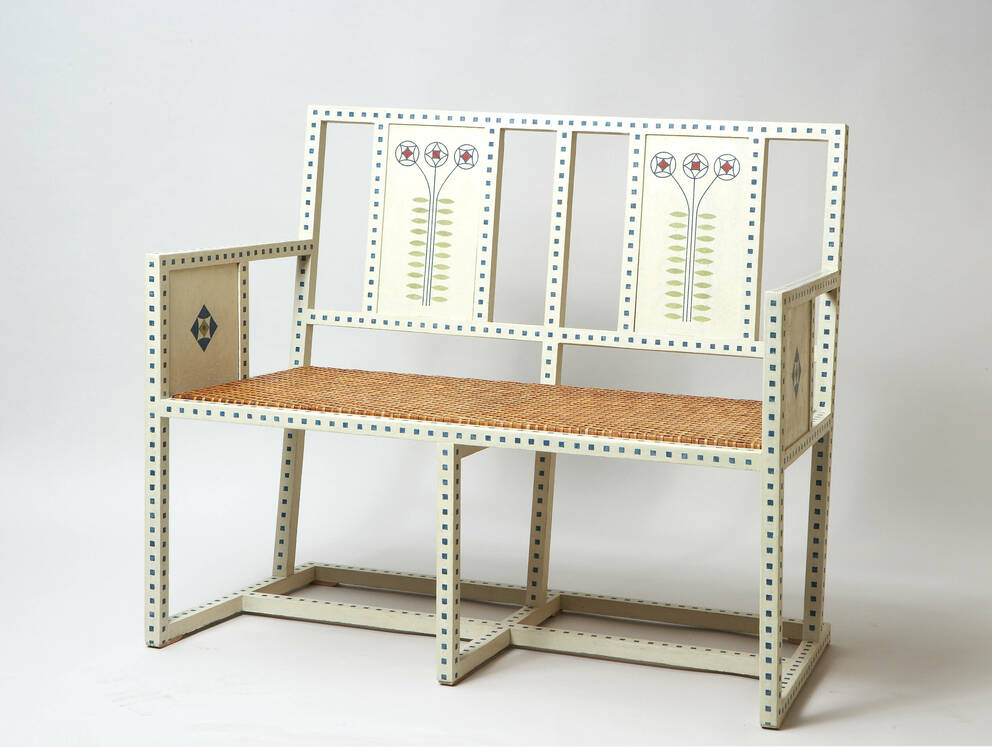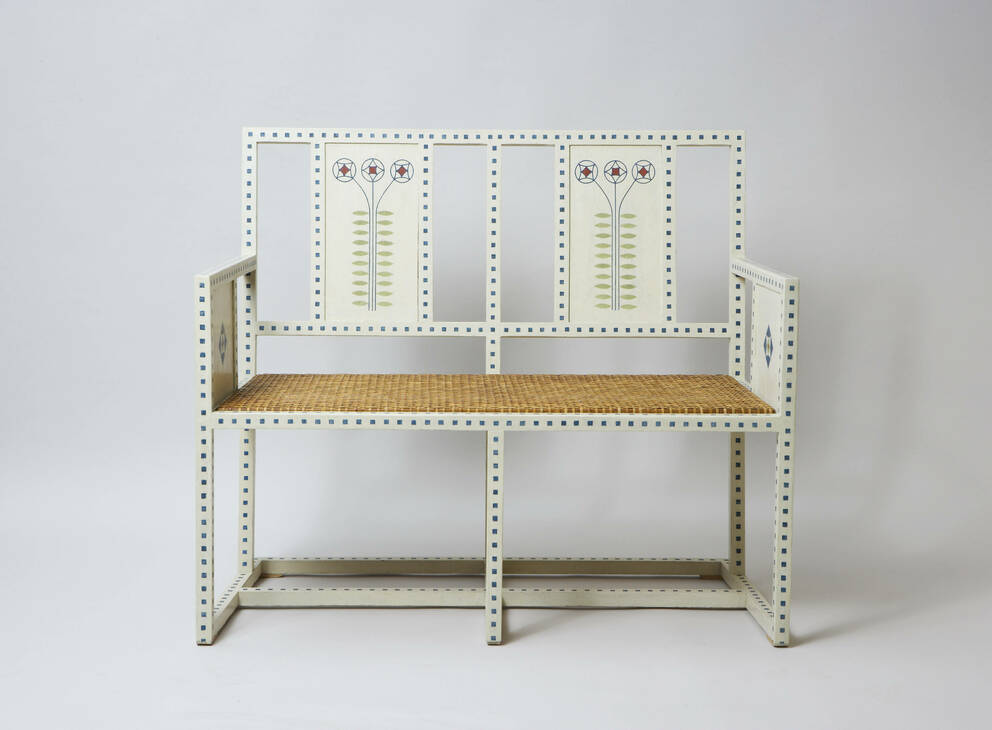 Two-Seat Bench
c. 1906
Wood, white varnished and painted
94×110×58 cm
Artists
Wilhelm Schmidt

(Grulich/Králíky 1880–[after]1928)

Prag-Rudniker Korbwaren-Fabrikation

(Rudnik 1877–1965 Vienna )
Unfortunately not on display at the moment
This two-seat bench was designed around 1906 by Wilhelm Schmidt (1880–after 1928) in his capacity as head designer of the Prague-Rudnik Wickerwork Manufactory. It is made of white varnished and colorfully painted wood and, in its design language, shows the former Hoffmann pupil's close stylistic affinity for the Wiener Werkstätte without ever belonging to it in any narrower sense. The unobtrusive painting in the form of squares and simple flowers countervails the formal austerity of the furniture piece and makes it inviting and friendly. It is only the cane seat of the bench that is indicative of the core business of the then important manufacturer of wickerwork furniture. This piece of furniture is evidence, as is a
Round Table
also in the holdings of the Leopold Museum, that the product range of Prague-Rudnik Wickerwork also included solid woodworking items.
Object data
Artist/author

Wilhelm Schmidt
Execution: Prag-Rudniker Korbwaren-Fabrikation

Title

Two-Seat Bench

Date

c. 1906

Art movement

Art Nouveau

Category

Furniture

Material​/technique

Wood, white varnished and painted

Dimensions

94×110×58 cm

Credit line

Leopold Museum, Vienna, Inv. 4162

Inventory access

Contributed to the Leopold Museum-Privatstiftung in 1994

Keywords
If you have further information on this object, please contact us.