Mountain Landscape with River
, c. 1880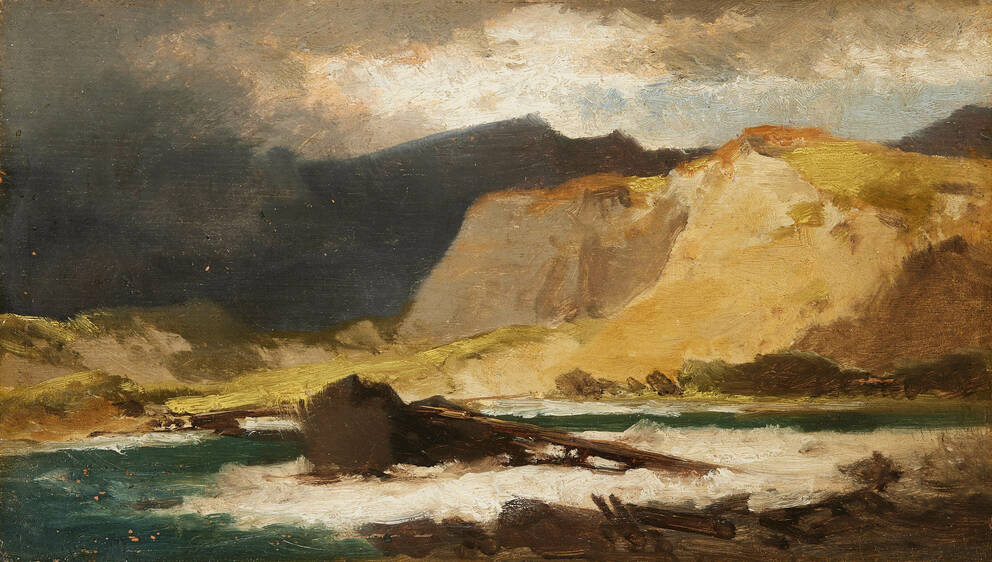 Leopold Museum,
Vienna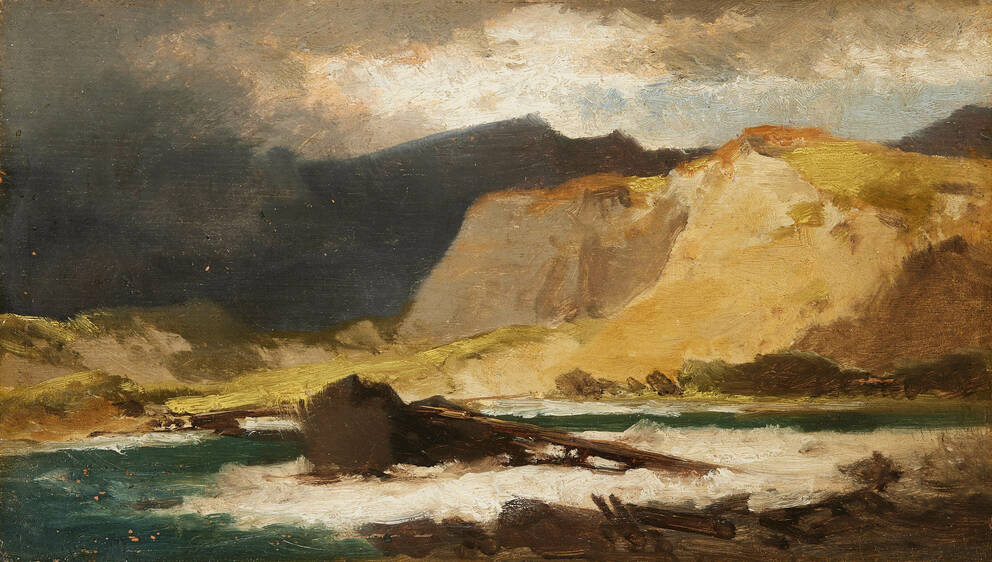 Mountain Landscape with River
c. 1880
Artists
Eduard Peithner von Lichtenfels

(Vienna 1833–1913 Berlin)
Unfortunately not on display at the moment
In his representation of a river and a mountain range across from it, Eduard Peithner von Lichtenfels (1833–1913) mainly placed the focus on the dramatic moods of light and weather with their stark light and dark contrasts. With lightly applied brushstrokes, he captures the coming thunderstorm. Some parts of the scenery like a mountain slope or the foam of the river still are sharply sunlit, while others are already being swallowed by darkness. Whether the oil sketch Mountain Landscape with River from around 1880 was created as a preparatory study for a large oil painting or as a work in its own right is not known.
Lichtenfeld studied in the 1850 at the Vienna Academy under Franz Steinfeld (1787–1868) and Thomas Ender (1793–1875), who are also considered as discoverers of the Alps for painting and whose influence is palpable in his heroic mountain landscapes like the ones in Vienna's Natural History Museum. Later in his career, Peithner also turned to more unspectacular subjects, moods of nature, and landscapes like the Lower Austrian Wachau region.
Object data
Artist/author

Eduard Peithner von Lichtenfels

Title

Mountain Landscape with River

Date

c. 1880

Art movement

Atmospheric Impressionism

Category

Painting

Material​/technique

Oil on wood

Dimensions

18×31.7 cm

Credit line

Leopold Museum, Vienna, Inv. 368

Inventory access

Contributed to the Leopold Museum-Privatstiftung in 1994

Keywords
If you have further information on this object, please contact us.
Provenance
Provenance research
Leopold Museum
i
Dr. Rudolf Leopold, Wien (o.D.);
Leopold Museum-Privatstiftung, Wien (1994)
For provenance related information, please contact us.