Letter from Egon Schiele to Hermann Engel
, Sept. 1911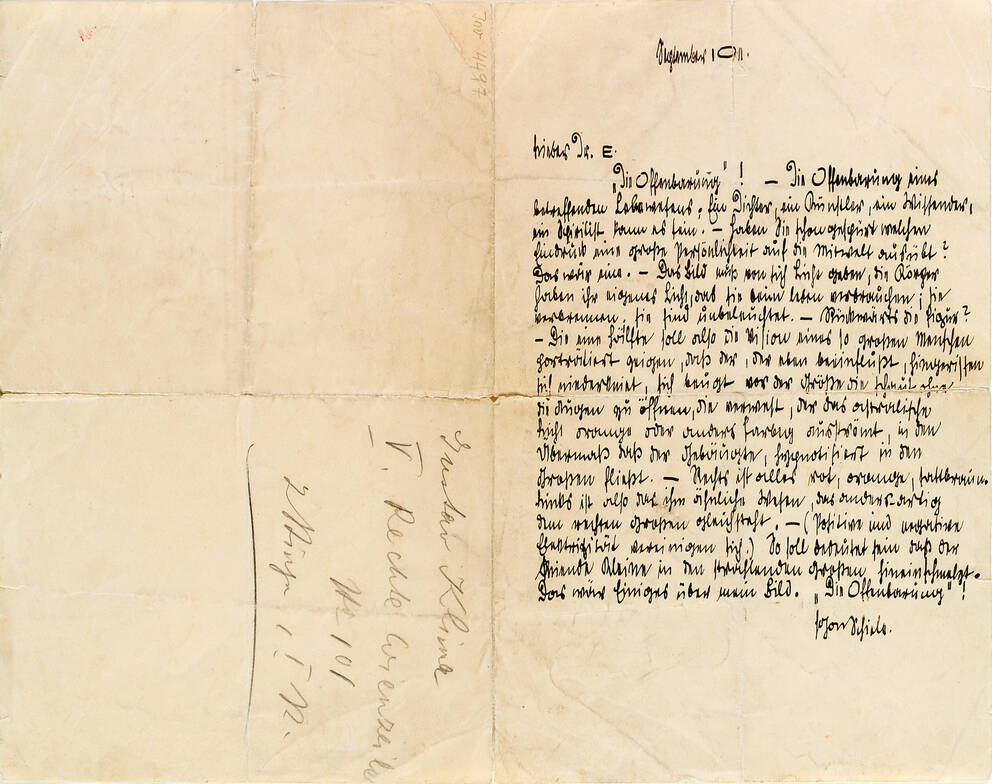 Leopold Museum,
Vienna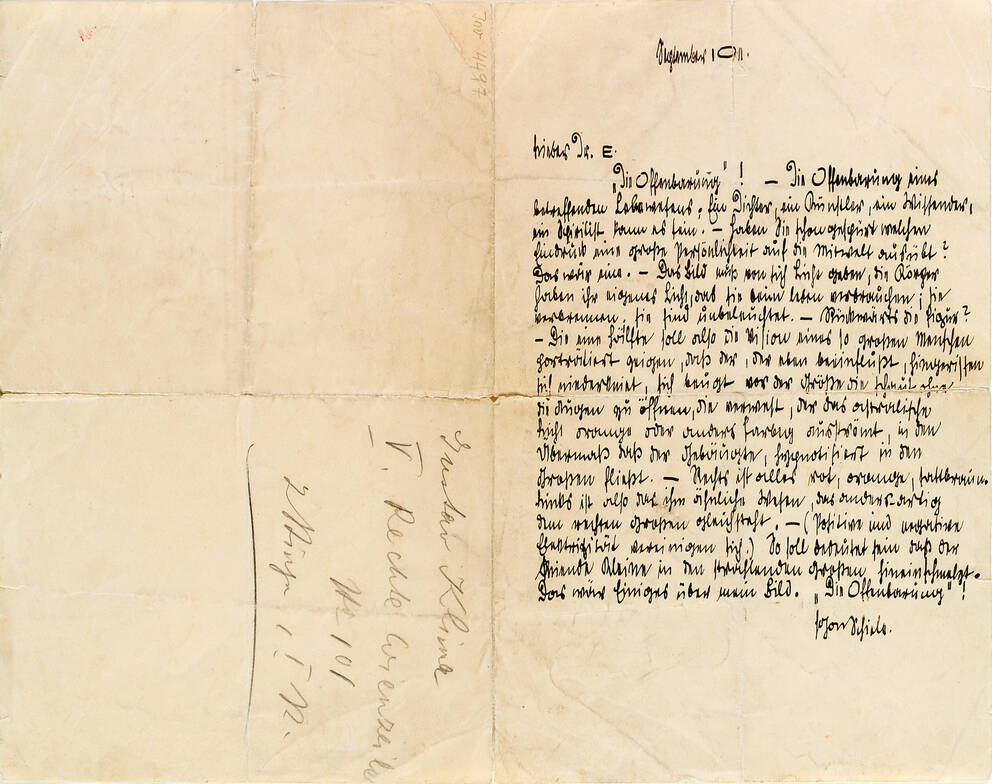 Letter from Egon Schiele to Hermann Engel
Sept. 1911
India ink on paper
22.5×28.8 cm
Artists
Egon Schiele

(Tulln 1890–1918 Vienna)

Hermann Engel
Unfortunately not on display at the moment
Transcription:
September 1911.
Dear Dr. E. [Engel]
"Revelation"! – The revelation of a certain being; it can be a poet, an artist, a man of knowledge, a spiritist. – Have you ever felt the impression a great personality can make on the world? That would be one. – The painting must emit light from itself, the bodies have their own light, which they consume during their lifetime; they burn; they are unlit. – The figure backwards? – The one half should thus show portrayed the vision of such a great person, that the one who influences kneels down in rapture, bends over before the great one who looks without opening its eyes, who decays, out of whom streams astral light orange or other color, in such excess that the one who is kneeling flows hypnotized into the great one. – On the right everything is red, orange, deep brown and on the left is the being similar to him, which resembles the great one on the right differently. – (Positive and negative electricity unite.) It should thus mean that the small one on his knees melts into the radiant great one. That gives you some idea about my painting. "Revelation"!
Egon Schiele.
The work Revelation by Egon Schiele (1890-1918) is housed by the Leopold Museum.
Object data
Artist/author

Egon Schiele
Recipient: Hermann Engel

Title

Letter from Egon Schiele to Hermann Engel

Date

Sept. 1911

Category

Autograph

Material​/technique

India ink on paper

Dimensions

22.5×28.8 cm

Signature

Handwritten annotation in pencil by a foreign hand: Gustav Klima [?], V., Rechte Wienzeile Nr. 101, Stiege, I.M [?]

Credit line

Leopold Museum, Vienna, Inv. 4497

Inventory access

Contributed to the Leopold Museum-Privatstiftung in 1994

Selection of Reference works

Christian M. Nebehay: Egon Schiele 1890-1918. Leben, Briefe, Gedichte, Salzburg 1979.

Catalogue raisonne

ESDA ID 141
Nebehay 1979: 397

Keywords

Egon Schiele
Autograph Database

For further information on Egon Schiele and to conduct primary source research, please visit our Egon Schiele Autograph Database.

Egon Schiele Autograph Database
If you have further information on this object, please contact us.
Provenance
Provenance research
Leopold Museum
i
Dr. Rudolf Leopold, Wien (o.D.);
Leopold Museum-Privatstiftung, Wien (seit 1994).
For provenance related information, please contact us.