Manuscript from Bregenz
, 18th Aug. 1912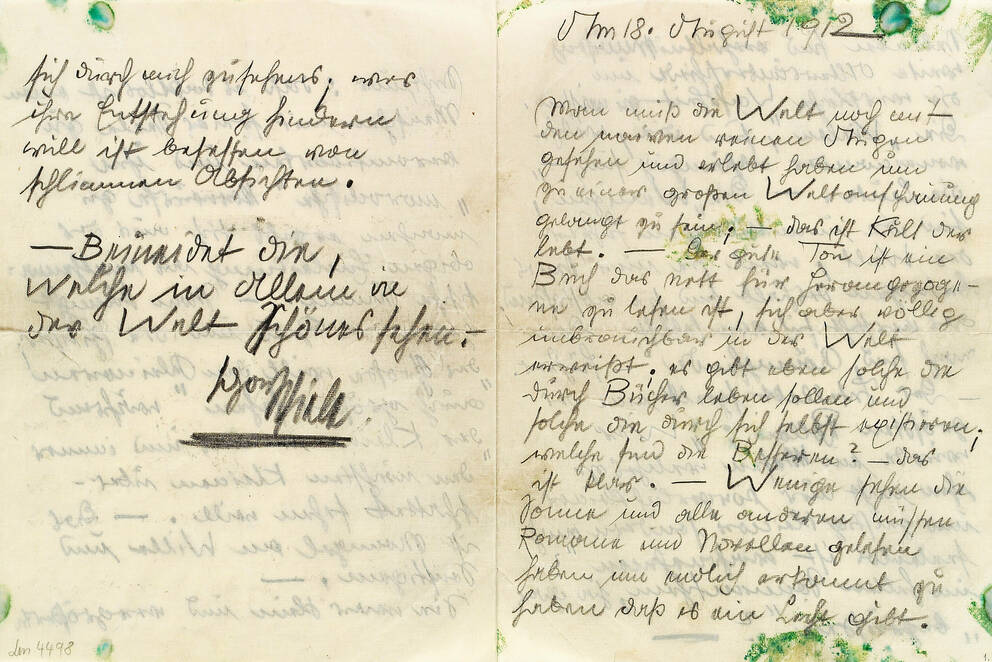 Leopold Museum,
Vienna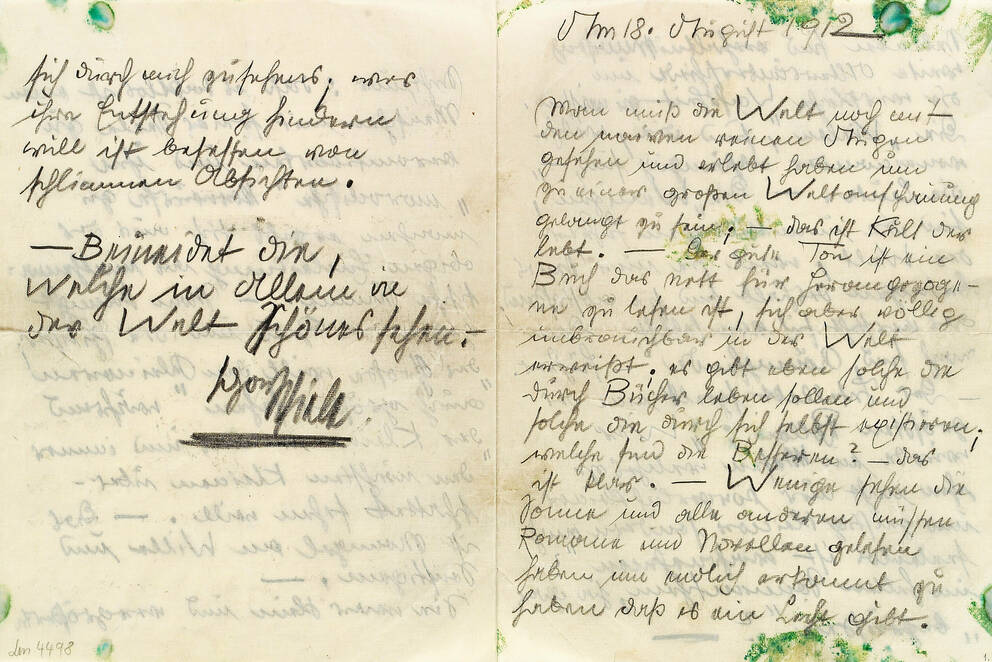 Manuscript from Bregenz
18th Aug. 1912
Pencil, oil on paper
20.3×15.2 cm
Artists
Egon Schiele

(Tulln 1890–1918 Vienna)
Unfortunately not on display at the moment
Transcription:
On August 18, 1912
One needs to observe and experience the world with naïve, pure eyes in order to attain a great weltanschauung; that is a living cult. – The proper tone is a book which, for some, may be nice to consult, but proves itself completely useless in the world; in other words, there are those who should live through books and those who exist through themselves; who are the better ones? – that is clear. – Few see the sun and everyone else must read novels and novellas in order to finally realize that there is a light.
||
And then there are relatively broad age differences in order to know the real truth. The "many" are those who are dependent upon each other, – the people. – The "few" are the direct leaders of the world because they introduce only that which is new and are therefore repugnant; that should be clear enough. Beyond that are the "fighting" - leaders. – The intellect plays one of the largest roles: "Who would perceive another being who, in comparison, is not only slighter of body and mind but also soulless"? or even "greet" him beneath the sun's bright shine? –
||
Not only: that it is tactless to hold accountable a person with a free soul and to level "moral" charges against him can be seen from the introduction above as a mathematic equation. – One battles against capital and the philistines; "the large spirit wishes to see the smaller one equally large" whereas "the small spirit forever wishes to overshadow every small spirit around him. – That is a lack of will and whatever else. – She was small and grew
||
increasingly larger because of me; whatever desires to hinder her development is possessed by evil intentions.
– Envy those who see beauty in everything in the world. –
Egon Schiele
Object data
Artist/author

Title

Manuscript from Bregenz

Date

18th Aug. 1912

Category

Autograph

Material​/technique

Pencil, oil on paper

Dimensions

20.3×15.2 cm

Credit line

Leopold Museum, Vienna, Inv. 4498

Inventory access

Contributed to the Leopold Museum-Privatstiftung in 1994

Selection of Reference works

Der Lyriker Egon Schiele. Briefe und Gedichte 1910–1912 aus der Sammlung Leopold, hrsg. von Rudolf Leopold/Elisabeth Leopold, München 2008.

Catalogue raisonne

ESDA ID 142
Nebehay 1979: Nicht gelistet/Not listed

Keywords

Egon Schiele
Autograph Database

For further information on Egon Schiele and to conduct primary source research, please visit our Egon Schiele Autograph Database.

Egon Schiele Autograph Database
If you have further information on this object, please contact us.
Provenance
Provenance research
Leopold Museum
i
Dr. Rudolf Leopold, Wien (o.D.);
Leopold Museum-Privatstiftung, Wien (seit 1994).
For provenance related information, please contact us.