Typewritten Letter from Egon Schiele to Anton Peschka, with Red Signature
, 8th Aug. 1916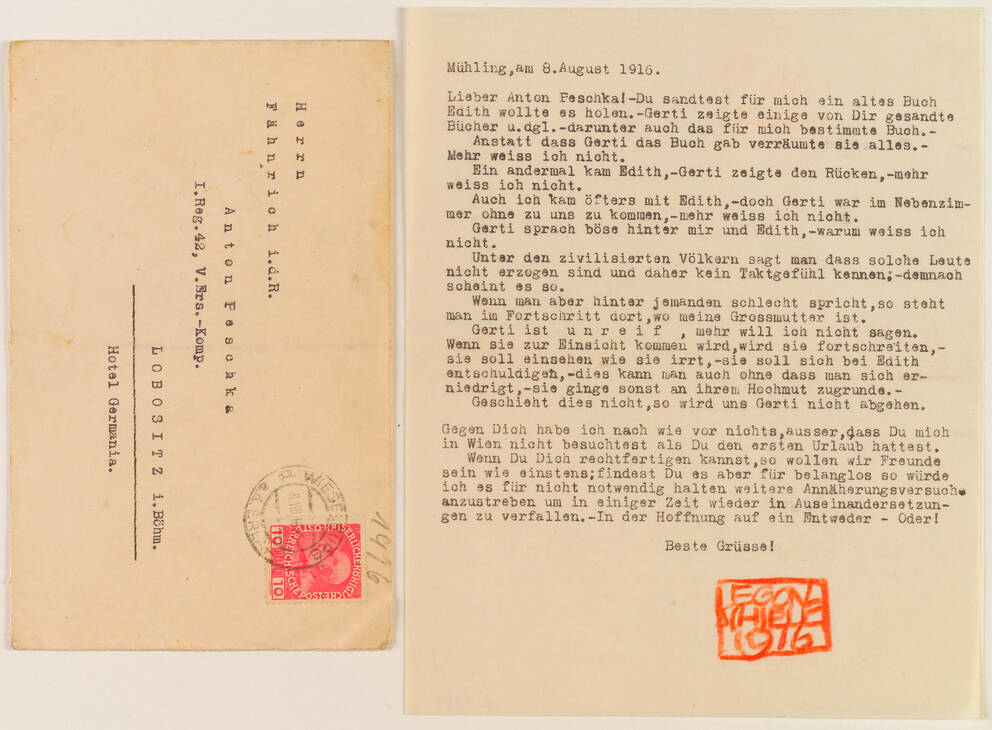 Leopold Museum,
Vienna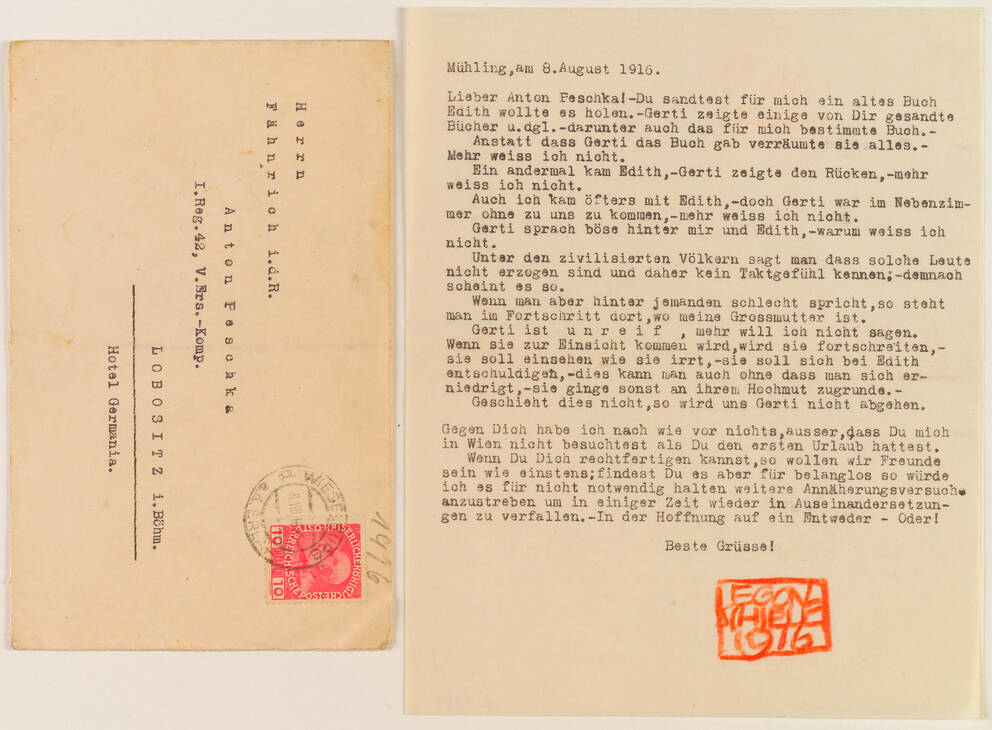 Typewritten Letter from Egon Schiele to Anton Peschka, with Red Signature
8th Aug. 1916
Typewriter, red crayon on paper
33.8×20.8 cm
Artists
Egon Schiele

(Tulln 1890–1918 Vienna)

Anton Peschka

(Vienna 1885–1940 Vienna)
Unfortunately not on display at the moment
Transcription:
Mühling, on August 8, 1916.
Dear Anton Peschka,
You sent me an old book, Edith wanted to get it. Gerti showed some of the books you sent and the like, among them also the book intended for me. Instead of Gerti giving the book, she stored everything away. More, I don't know. Another time Edith came – Gerti turned her back, – more, I don't know. I also frequently came with Edith, Gerti however was in the adjoining room without coming to us, – more, I don't know. Gerti spoke badly behind me and Edith, – why, I don't know.
Among civilized people we say that such people are not educated and therefore have no sense of tact, it looks like that. But if one speaks badly behind someone's back, it leaves one at the stage of progress where my grandmother is. Gerti is immature, I don't want to say more. Once she comes to her senses, she will progress, she should come to recognize that she is wrong, she should apologize to Edith, one can do that without humiliating oneself, or she would go down with her pride. – If this doesn't happen, we won't miss Gerti.
I still have no grievance against you, except that you did not visit me when you were in Vienna on your first leave. If you can justify yourself, we shall remain friends like in the past; but if you find it trivial, I would not consider it necessary to seek further approaches in order to get into arguments again later. In the hopes of an either – or!
Best regards,
EGON
SCHIELE
1916
[Envelope:]
To Mr.
Reserve Officer
Anton Peschka
Infantry Regiment 42, V. Srs. Komp.
LOBOSITZ in Bohemia
Hotel Germania
Object data
Artist/author

Egon Schiele
Recipient: Anton Peschka

Title

Typewritten Letter from Egon Schiele to Anton Peschka, with Red Signature

Date

8th Aug. 1916

Category

Autograph

Material​/technique

Typewriter, red crayon on paper

Dimensions

33.8×20.8 cm

Signature

Signed and dated using red crayon: EGON SCHIELE 1916

Credit line

Leopold Museum, Vienna, Inv. 4504

Inventory access

Contributed to the Leopold Museum-Privatstiftung in 1994

Selection of Reference works

Christian M. Nebehay: Egon Schiele 1890-1918. Leben, Briefe, Gedichte, Salzburg 1979.

Catalogue raisonne

ESDA ID 148
Nebehay 1979: 1084

Keywords

Egon Schiele
Autograph Database

For further information on Egon Schiele and to conduct primary source research, please visit our Egon Schiele Autograph Database.

Egon Schiele Autograph Database
If you have further information on this object, please contact us.
Provenance
Provenance research
Leopold Museum
i
Dr. Rudolf Leopold, Wien (o.D.);
Leopold Museum-Privatstiftung, Wien (seit 1994).
For provenance related information, please contact us.