Letter from Egon and Edith Schiele to Anton Peschka
, 17th Aug. 1915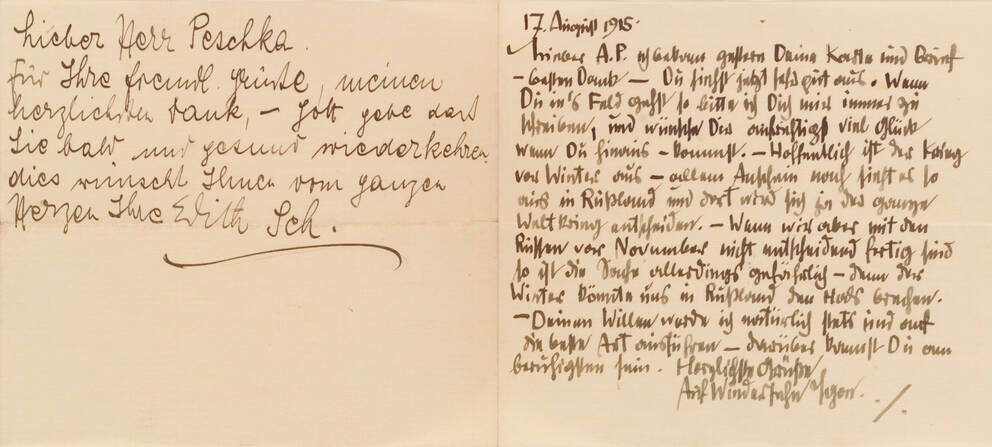 Leopold Museum,
Vienna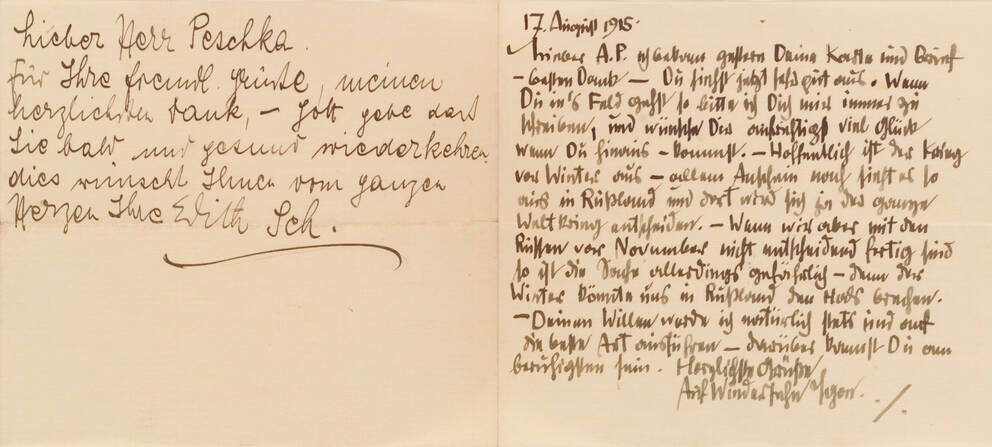 Letter from Egon and Edith Schiele to Anton Peschka
17th Aug. 1915
Artists
Egon Schiele

(Tulln 1890–1918 Vienna)

Anton Peschka

(Vienna 1885–1940 Vienna)
Unfortunately not on display at the moment
Transcription:
August 17, 1915.
Dear A.P. [Anton Peschka],
I received your card and your letter yesterday – thank you – you look very good now. Once you move to the front, I ask you to always write, and I sincerely wish you much luck when you get out from there. Hopefully the war will be over before winter – by all appearances it looks like that in Russia and that's where the whole world war will be decided. But if we are not decisively finished with the Russians before November, things will certainly become dangerous – because the winter in Russia could break our necks. – Of course I will always carry out your will the best way possible – you may rest assured about that. Warmest greetings
See you Egon. ./.
||
[appendix from Edith Schiele: ]
Dear Mr. Peschka.
For your kind regards, my warmest thanks, – God grant that you will return soon and healthy, this wishes you from all my heart your Edith Sch. [Schiele]
Object data
Artist/author

Egon Schiele
Recipient: Anton Peschka

Title

Letter from Egon and Edith Schiele to Anton Peschka

Date

17th Aug. 1915

Category

Autograph

Material​/technique

Ink on paper

Dimensions

15×33.7 cm

Credit line

Leopold Museum, Vienna, Inv. 4507

Inventory access

Contributed to the Leopold Museum-Privatstiftung in 1994

Selection of Reference works

Christian M. Nebehay: Egon Schiele 1890-1918. Leben, Briefe, Gedichte, Salzburg 1979.

Catalogue raisonne

ESDA ID 151
Nebehay 1979: 834

Keywords

Egon Schiele
Autograph Database

For further information on Egon Schiele and to conduct primary source research, please visit our Egon Schiele Autograph Database.

Egon Schiele Autograph Database
If you have further information on this object, please contact us.
Provenance
Provenance research
Leopold Museum
i
Dr. Rudolf Leopold, Wien (o.D.);
Leopold Museum-Privatstiftung, Wien (seit 1994).
For provenance related information, please contact us.