Letter from Egon Schiele to Anton Peschka
, 9th Jun. 1915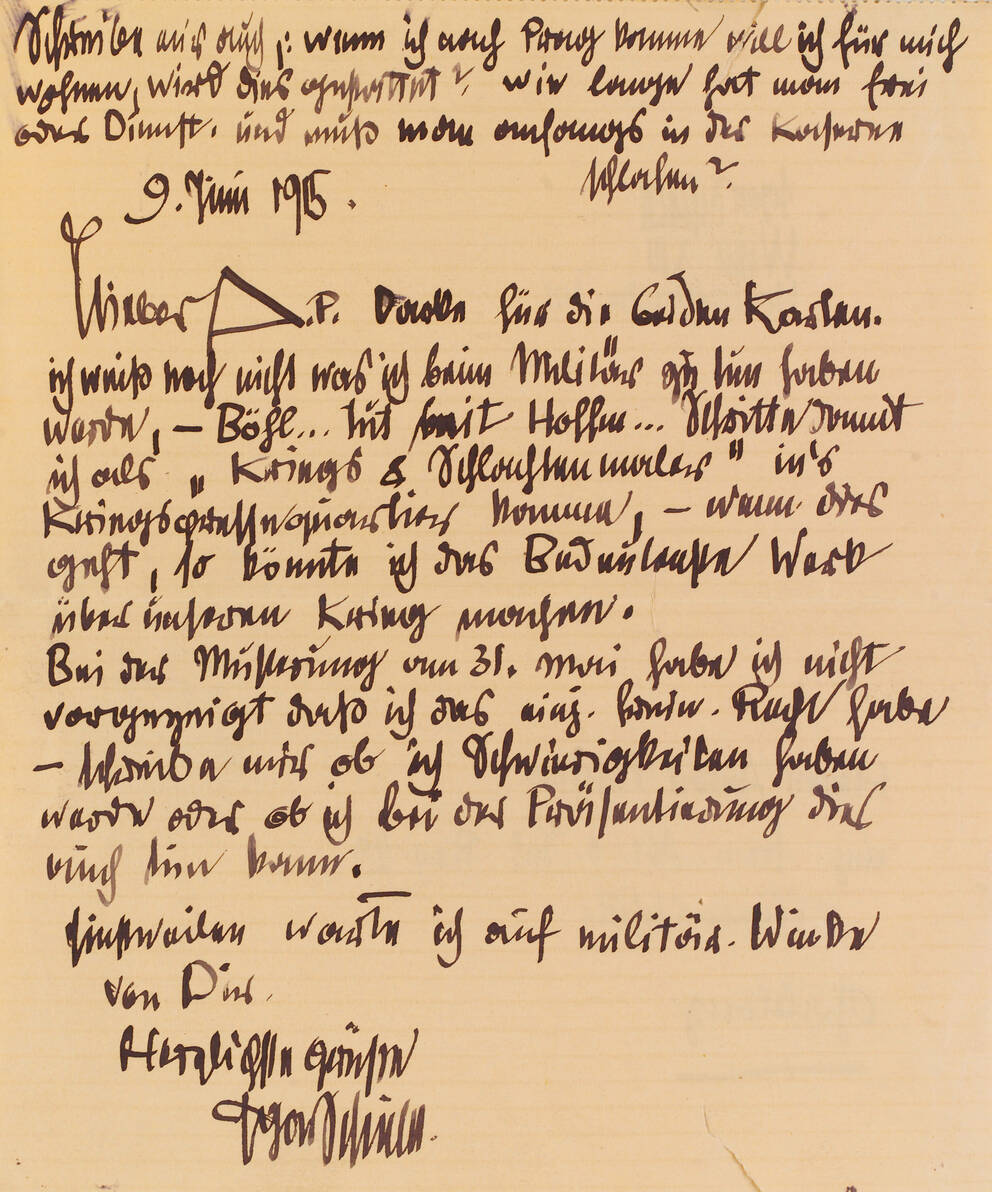 Leopold Museum,
Vienna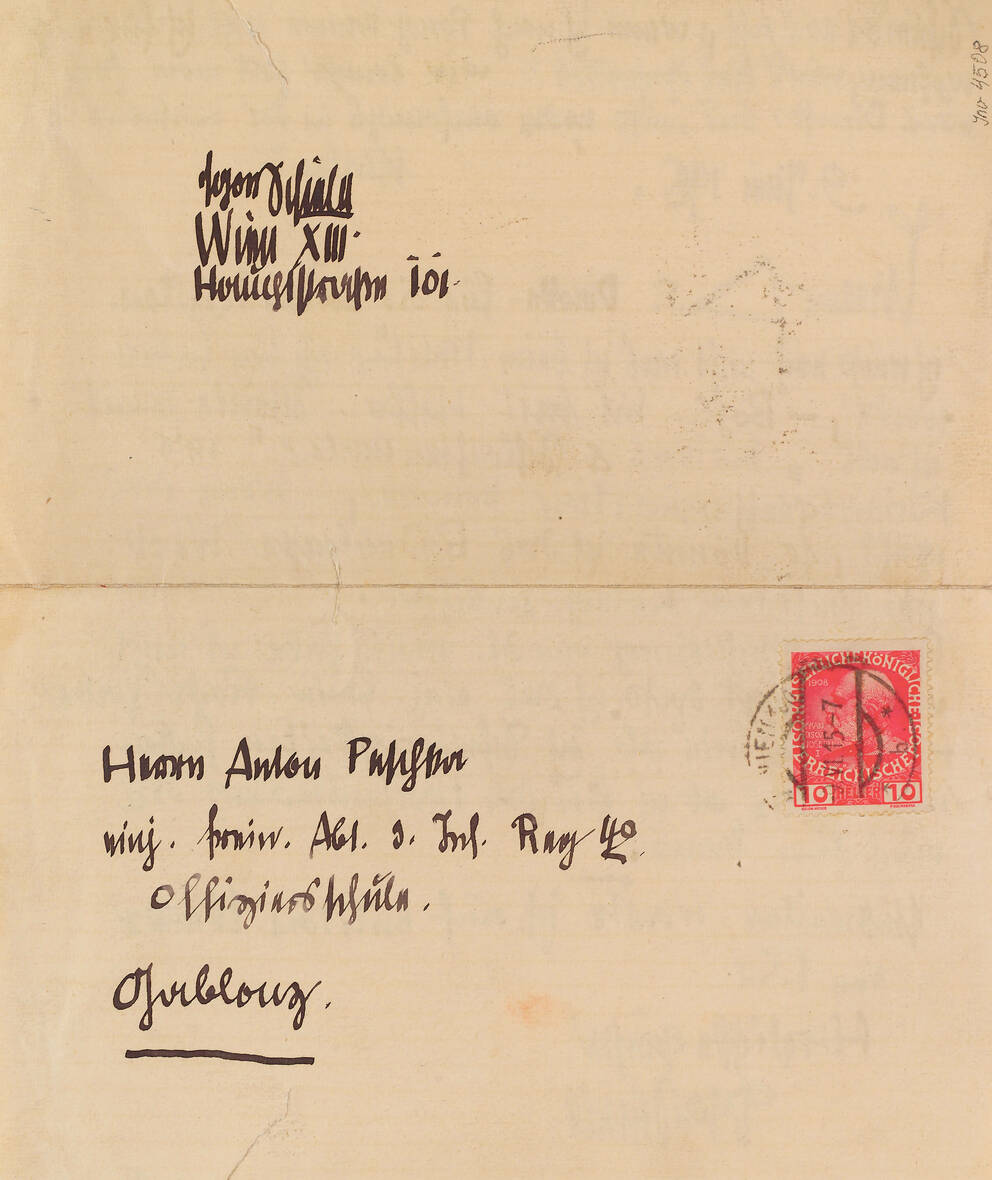 Leopold Museum,
Vienna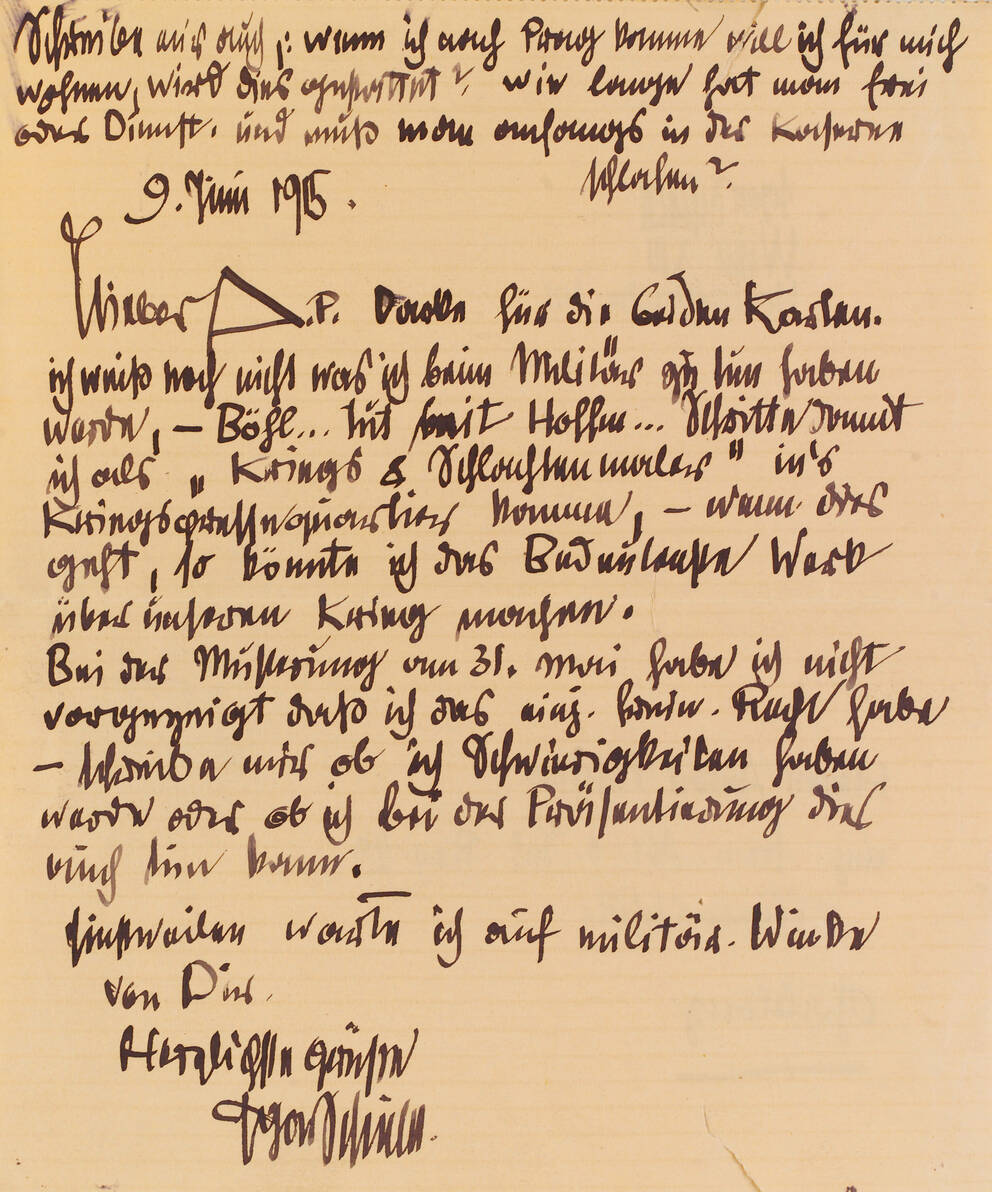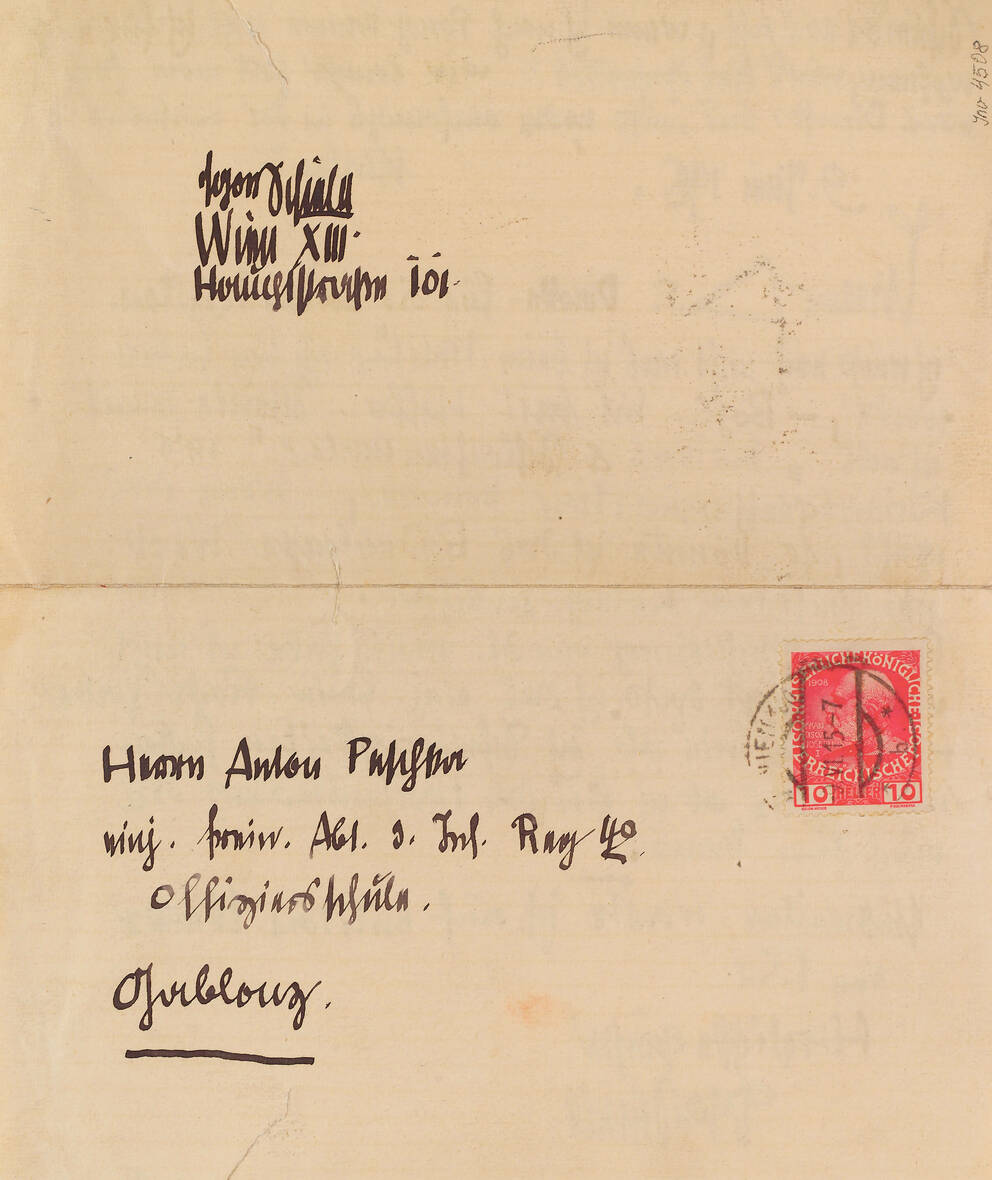 Letter from Egon Schiele to Anton Peschka
9th Jun. 1915
India ink on paper
20.5×17.2 cm
Artists
Egon Schiele

(Tulln 1890–1918 Vienna)

Anton Peschka

(Vienna 1885–1940 Vienna)
Unfortunately not on display at the moment
Transcription:
June 9, 1915
Dear A.P. [Anton Peschka]! Thank you for the two postcards. I don't yet know what my military role will be. Böhl… [Heinrich Böhler] and Hoffm… [Josef Hoffmann] are trying to have me sent to the war press quarter as a "war and battle painter". If this turns out to be possible, it would allow me to create the most important work about our war. At the medical examination on May 31 I did not mention that I have the one-year volunteer status – please write me whether any problem is likely to arise in that respect or if I can do it at the presentation as well.
In the meantime I am waiting for military hints from you.
Warm greetings
Egon Schiele.
Write to me also: when I come to Prague I want to live by myself, will this be allowed? How long is one off or on duty, and does one have to sleep in the barracks at first?
||
[Adress block:]
To Mr. Anton Peschka
One-year volunteer department of the Infantry Regiment 42
Officer's school.
Gablonz.
||
Egon Schiele
Vienna XIII.
Hauptstraße 101.
Object data
Artist/author

Egon Schiele
Recipient: Anton Peschka

Title

Letter from Egon Schiele to Anton Peschka

Date

9th Jun. 1915

Category

Autograph

Material​/technique

India ink on paper

Dimensions

20.5×17.2 cm

Credit line

Leopold Museum, Vienna, Inv. 4508

Inventory access

Contributed to the Leopold Museum-Privatstiftung in 1994

Selection of Reference works

Christian M. Nebehay: Egon Schiele 1890-1918. Leben, Briefe, Gedichte, Salzburg 1979.

Catalogue raisonne

ESDA ID 152
Nebehay 1979: 794

Keywords

Egon Schiele
Autograph Database

For further information on Egon Schiele and to conduct primary source research, please visit our Egon Schiele Autograph Database.

Egon Schiele Autograph Database
If you have further information on this object, please contact us.
Provenance
Provenance research
Leopold Museum
i
Dr. Rudolf Leopold, Wien (o.D.);
Leopold Museum-Privatstiftung, Wien (seit 1994).
For provenance related information, please contact us.