Letter from Egon Schiele to Anton Peschka
, 28th May 1915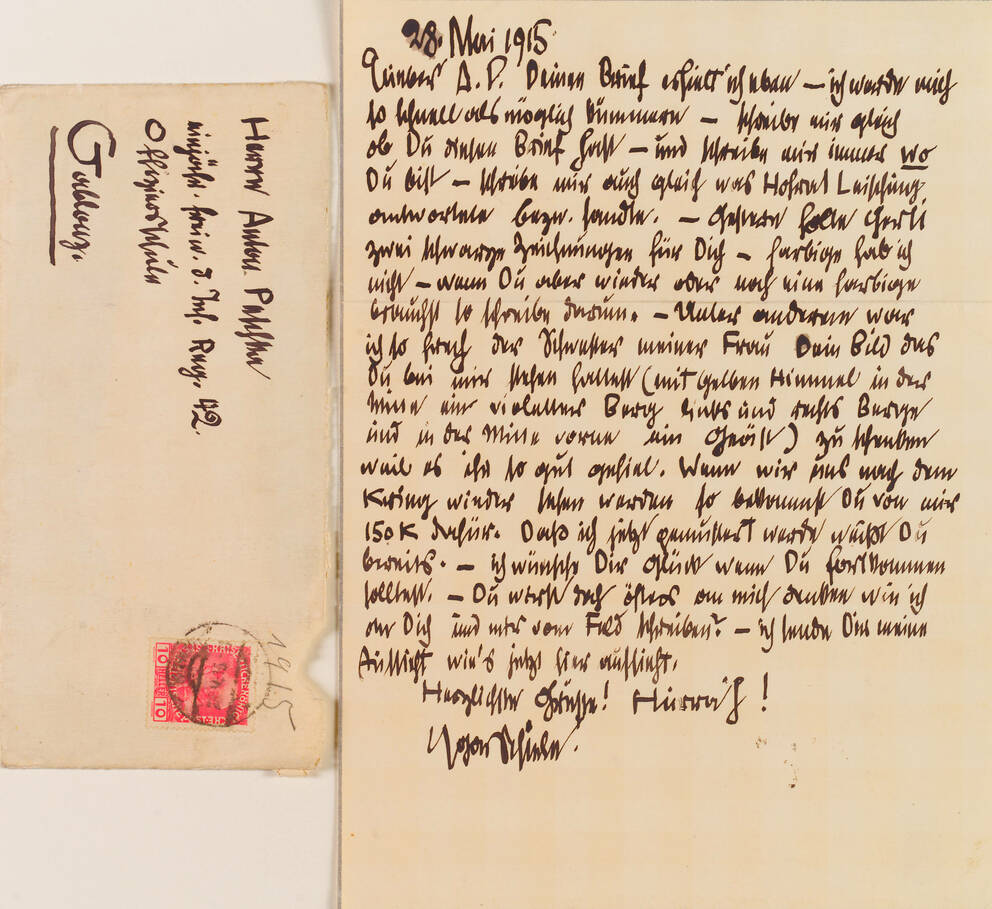 Leopold Museum,
Vienna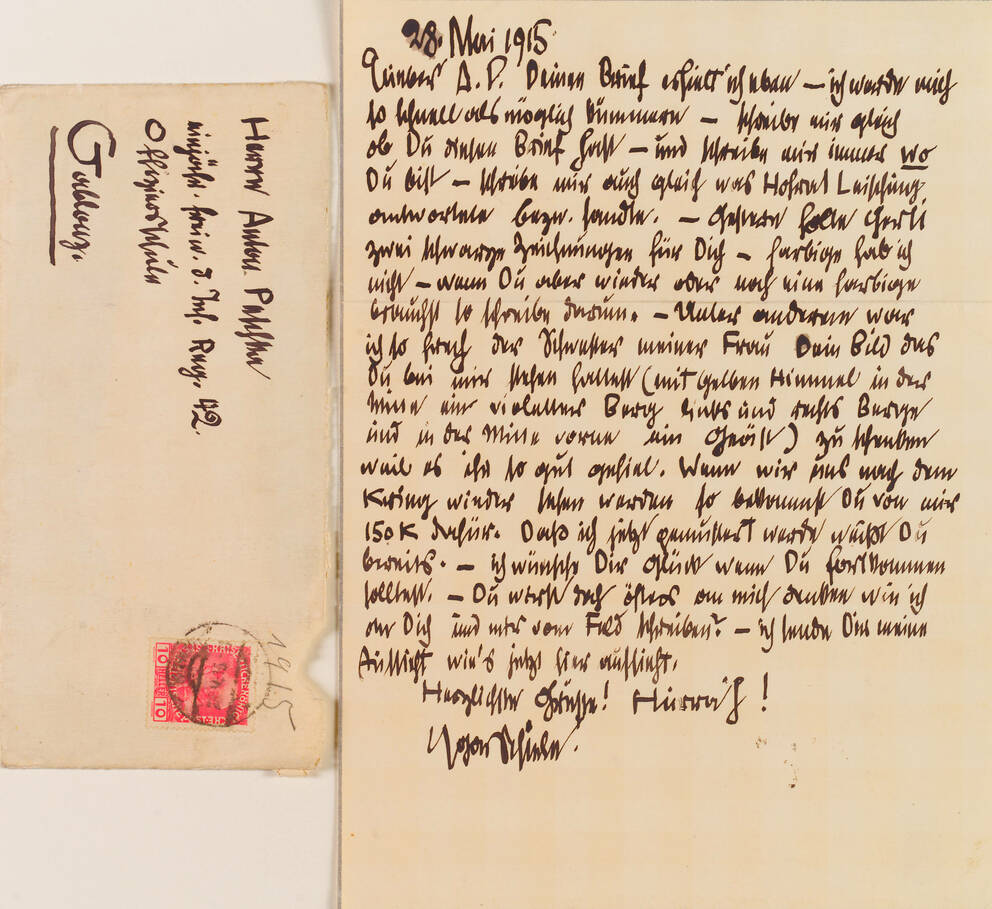 Letter from Egon Schiele to Anton Peschka
28th May 1915
India ink on paper with silver border
25.5×18.4 cm
Artists
Egon Schiele

(Tulln 1890–1918 Vienna)

Anton Peschka

(Vienna 1885–1940 Vienna)
Unfortunately not on display at the moment
Transcription:
May 28, 1915
Dear A.P. [Anton Peschka],
I have just received your letter. I'll see to it as soon as possible – write immediately if you have this letter and always write to me where you are – also write immediately what Court Councilor Leisching answered or sent. – Yesterday Gerti took two black drawings for you – I don't have any colored ones – should you again or still need a colored one, however, just write for it. – Amongst other things, I was bold enough and gifted my wife's sister your picture that you had sitting with me (with yellow sky, a purple mountain in the middle, mountains to the left and right, and branches centered in the front) because she liked it so much. If we see each other after the war you will get 150 K [Kronen] from me. You already know that I am being examined now. – I wish you the best of luck should you get away. – You will think of me once in a while, as I do, and write to me from the front? I am sending you my view, what it looks like here now.
Warm greetings! Hurray!
Egon Schiele.
[Envelope:]
To Mr. Anton Peschka
One-year volunteer of the Infantry Regiment 42
Military Academy
Gablonz
Object data
Artist/author

Egon Schiele
Recipient: Anton Peschka

Title

Letter from Egon Schiele to Anton Peschka

Date

28th May 1915

Category

Autograph

Material​/technique

India ink on paper with silver border

Dimensions

25.5×18.4 cm

Credit line

Leopold Museum, Vienna, Inv. 4509

Inventory access

Contributed to the Leopold Museum-Privatstiftung in 1994

Selection of Reference works

Christian M. Nebehay: Egon Schiele 1890-1918. Leben, Briefe, Gedichte, Salzburg 1979.

Catalogue raisonne

ESDA ID 153
Nebehay 1979: 784

Keywords

Egon Schiele
Autograph Database

For further information on Egon Schiele and to conduct primary source research, please visit our Egon Schiele Autograph Database.

Egon Schiele Autograph Database
If you have further information on this object, please contact us.
Provenance
Provenance research
Leopold Museum
i
Dr. Rudolf Leopold, Wien (o.D.);
Leopold Museum-Privatstiftung, Wien (seit 1994).
For provenance related information, please contact us.