Postcard from Egon Schiele in Vienna to Anton Peschka in Gablonz an der Neiße
, 9th May 1915
Leopold Museum,
Vienna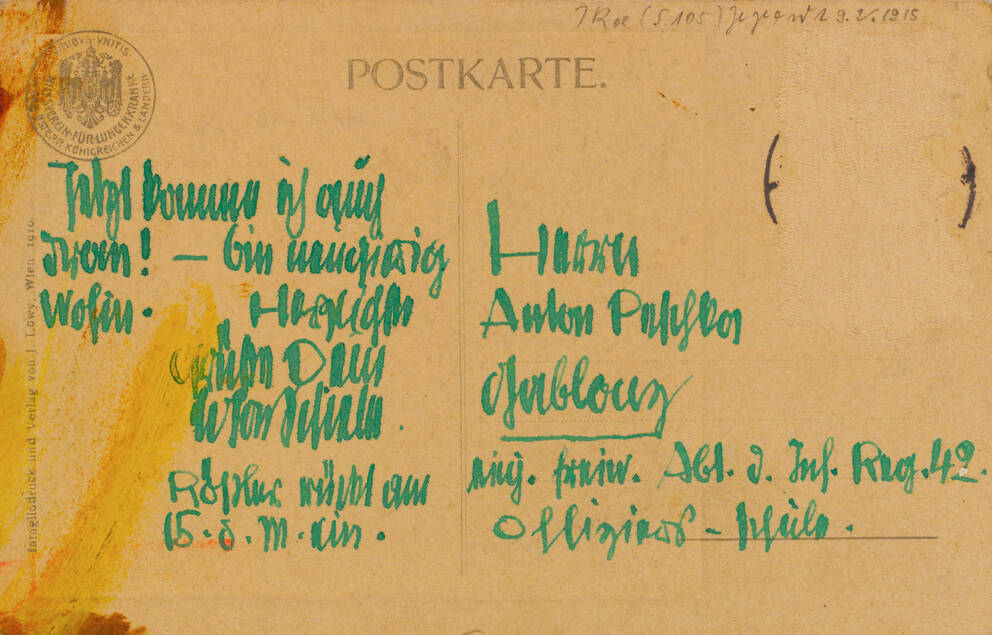 Leopold Museum,
Vienna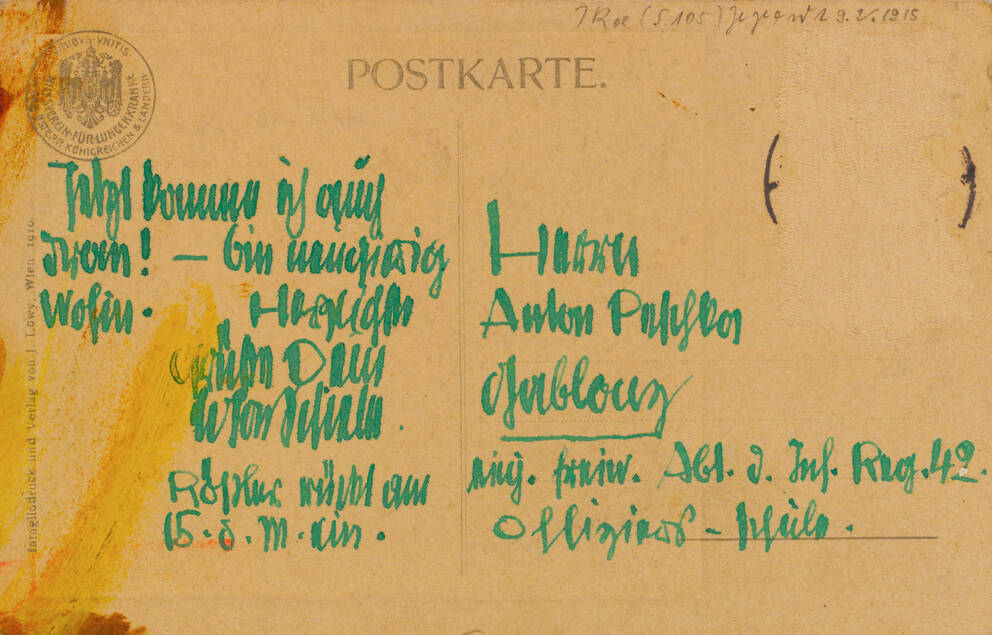 Postcard from Egon Schiele in Vienna to Anton Peschka in Gablonz an der Neiße
9th May 1915
Green ink, residues of brown and yellow oil paint on paper
9×14 cm
Artists
Egon Schiele

(Tulln 1890–1918 Vienna)

Anton Peschka

(Vienna 1885–1940 Vienna)
Unfortunately not on display at the moment
Transcription:
Now it's my turn too! – am curious where to.
Warmest greetings your
Egon Schiele
Rößler enlists on the 15th of the month
[Address block:]
To Mr.
Anton Peschka
Gablonz
One-year Volunteer Division of the Infantry Regiment 42
Military Academy
Object data
Artist/author

Egon Schiele
Recipient: Anton Peschka

Title

Postcard from Egon Schiele in Vienna to Anton Peschka in Gablonz an der Neiße

Date

9th May 1915

Category

Autograph

Material​/technique

Green ink, residues of brown and yellow oil paint on paper

Dimensions

9×14 cm

Credit line

Leopold Museum, Vienna, Inv. 4512

Inventory access

Contributed to the Leopold Museum-Privatstiftung in 1994

Selection of Reference works

Christian M. Nebehay: Egon Schiele 1890-1918. Leben, Briefe, Gedichte, Salzburg 1979.

Catalogue raisonne

ESDA ID 155
Nebehay 1979: 777

Keywords

Egon Schiele
Autograph Database

For further information on Egon Schiele and to conduct primary source research, please visit our Egon Schiele Autograph Database.

Egon Schiele Autograph Database
If you have further information on this object, please contact us.
Provenance
Provenance research
Leopold Museum
i
Dr. Rudolf Leopold, Wien (o.D.);
Leopold Museum-Privatstiftung, Wien (seit 1994).
For provenance related information, please contact us.