Leopold Czihaczek at the Piano
, 1907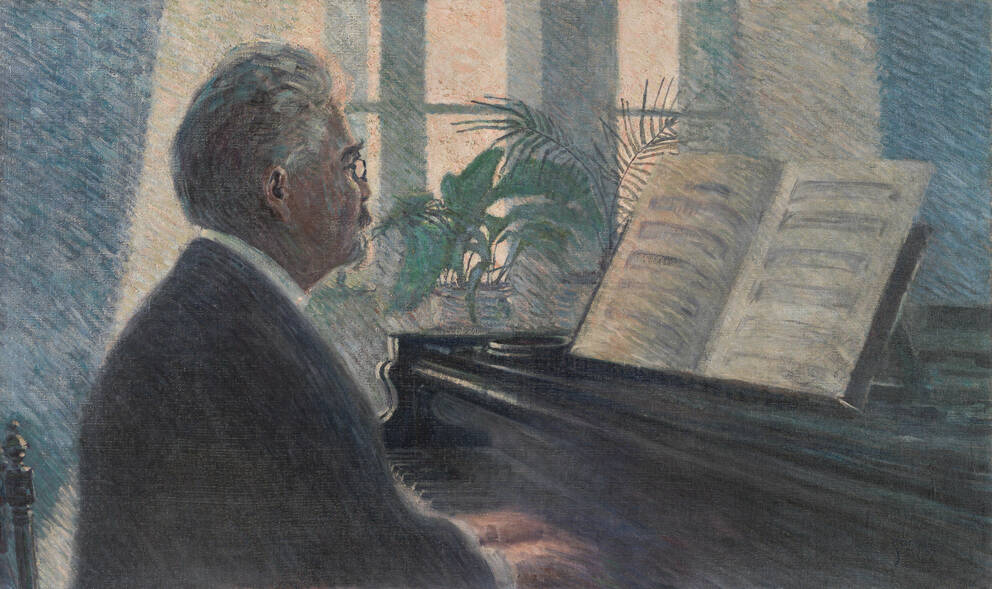 Leopold Museum,
Vienna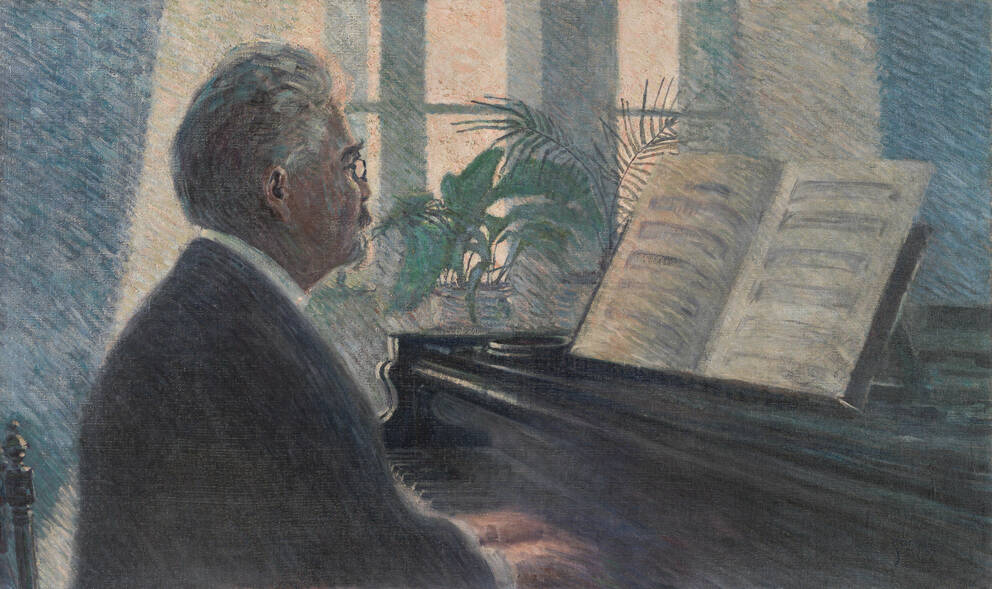 Leopold Czihaczek at the Piano
1907
Oil on canvas
60.2×100.7 cm
Artists
Egon Schiele

(Tulln 1890–1918 Vienna)
Currently on display at OG3
The painting shows Leopold Czihaczek (1842–1929), Egon Schiele's uncle and guardian,
playing the piano in the music room of his apartment on Zirkusgasse in Vienna's Leopoldstadt district, where, according to eye witnesses, he kept two grand pianos. In terms of style, Schiele's brushwork reveals late-Impressionist tendencies, combining them with the muted palette of pastel colors characteristic of his early oeuvre. In terms of composition, the artist differentiated between illuminated and shadowed sections which allowed him to dramaturgically handle the uncommonly large horizontal format despite the chosen perspective. As if by way of appeasement, he countered this with a unified dynamic of brushstrokes all leading towards the lower right corner of the depiction. The close-up view of the piano player, his head shown in lost profile framed by the bright window panes and the resulting focus on the sheets of music combine to convey an effect of complete immersion in sound. This is emphasized by the hands which the artist rendered in a deliberately blurry manner, as if detached from the rest of the body.
Object data
Artist/author

Title

Leopold Czihaczek at the Piano

Date

1907

Art movement

Impressionism, Naturalism I Realism

Category

Painting

Material​/technique

Oil on canvas

Dimensions

60.2×100.7 cm

Signature

Signed and dated lower right: Schiele 12.V.07

Credit line of the permanent loan

Private collection

Selection of Reference works

Rudolf Leopold: Egon Schiele. Gemälde, Aquarelle, Zeichnungen, hrsg. von Elisabeth Leopold, München 2020.
Jane Kallir: Egon Schiele - The complete works. Expanded edition including a biography and a catalogue raisonné, New York 1998.
Otto Kallir: Egon Schiele. Oeuvre Catalogue of the Paintings, New York 1966.

Catalogue raisonne

J. Kallir 1990/1998: P19
Leopold 1972/2020: 31a
O. Kallir 1966: I

Keywords
If you have further information on this object, please contact us.