Study for Corn Cart in a Thunderstorm near the Zellersee
, 1833/36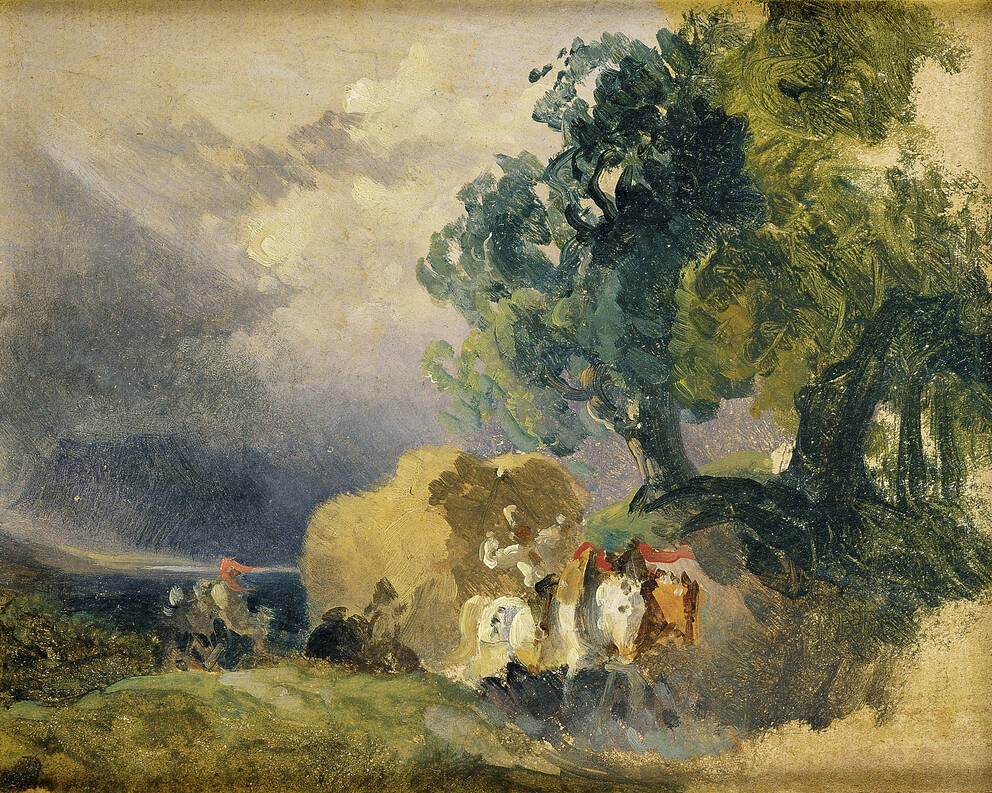 Leopold Museum,
Vienna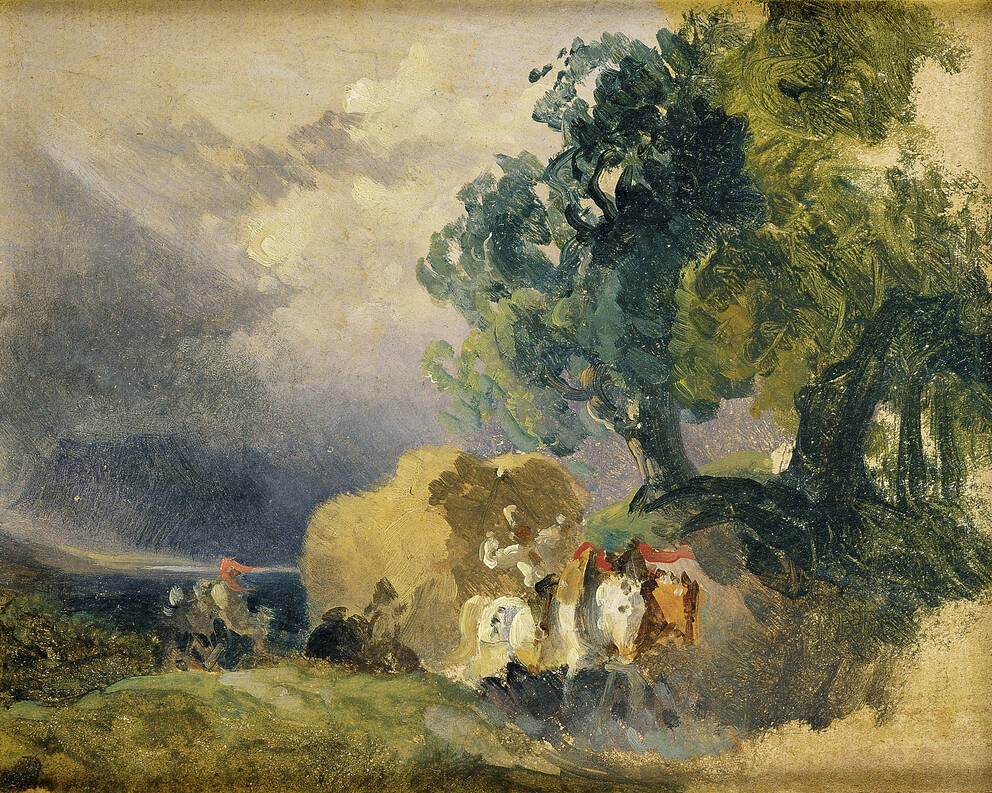 Study for Corn Cart in a Thunderstorm near the Zellersee
1833/36
Oil on paper on cardboard
15.4×19.5 cm
Artists
Friedrich Gauermann

(Scheuchenstein near Miesenbach 1807–1862 Vienna)
Unfortunately not on display at the moment
This oil sketch by Friedrich Gauermann (1807–1862) is a colored compositional sketch for the 1838 painting
The Harvest Wagon
, which was made popular by the lithograph
Summer (Hay Wagon)
by Eduard Joseph Weixelgärtner (1816–1873). In his sketch, which is remarkable for its painterly immediacy, Gauermann focuses on the main scene of the executed painting – the white horse in the team of horses bringing in the harvest before an approaching thunderstorm. Auxiliary scenes are only hinted at rudimentarily. The artist captures the event with loose brushstrokes and with strong colors, such as the shining red, blue and white, which he combines to achieve rich contrasts. From the 1830s, stormy atmospheres play a more and more important part in Gauermann's oeuvre. Dramatic atmospheric effects testify to the romantic attitude of the Biedermeier painter, who combines an idealization of rural life with nature observations.
Object data
Artist/author

Title

Study for Corn Cart in a Thunderstorm near the Zellersee

Date

1833/36

Art movement

Biedermeier

Category

Painting

Material​/technique

Oil on paper on cardboard

Dimensions

15.4×19.5 cm

Credit line

Leopold Museum, Vienna, Inv. 763

Inventory access

Contributed to the Leopold Museum-Privatstiftung in 1994

Selection of Reference works

Leopold Museum Wien. Österreichische Kunst des 19. und 20. Jahrhunderts, hrsg. von Leopold Museum-Privatstiftung, München u.a. 2008.
Leopold. Meisterwerke aus dem Leopold Museum Wien, hrsg. von Rudolf Leopold und Romana Schuler, Köln u.a. 2001.

Keywords
If you have further information on this object, please contact us.
Provenance
Provenance research
Leopold Museum
i
Dr. Rudolf Leopold, Wien (o.D.);
Leopold Museum-Privatstiftung, Wien (seit 1994).
For provenance related information, please contact us.