Disreputable Place
, 1903/04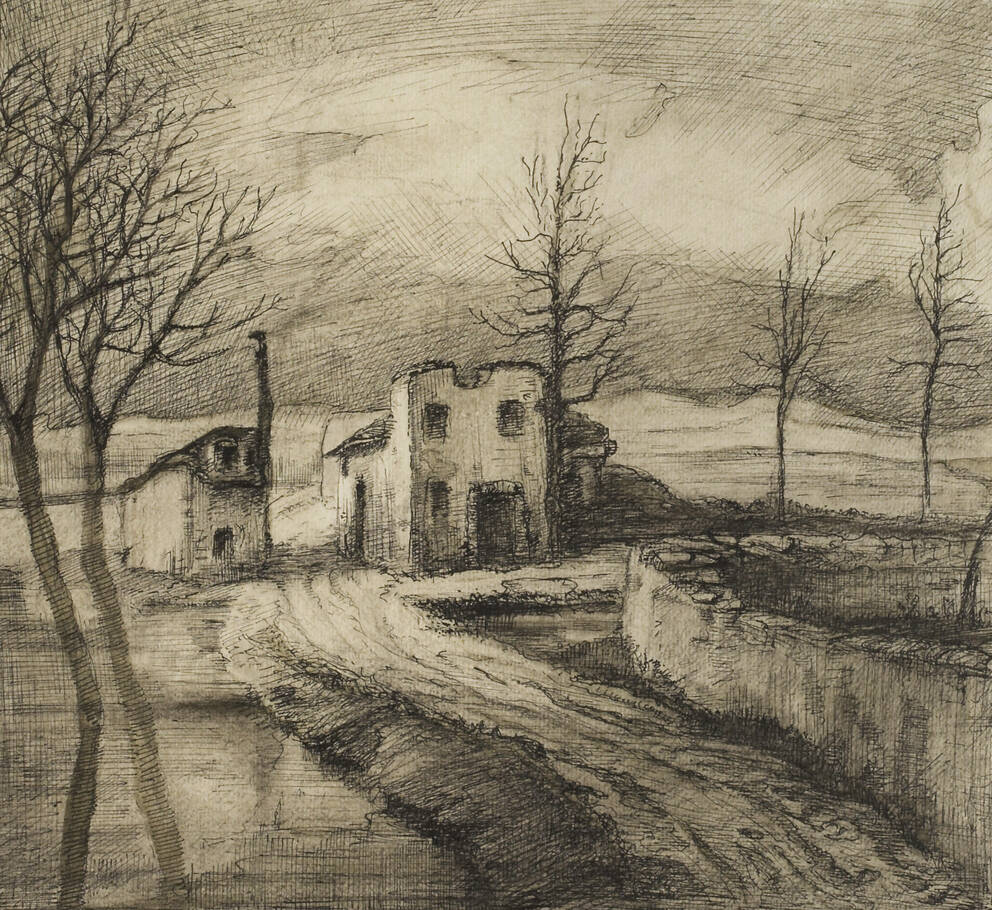 Leopold Museum,
Vienna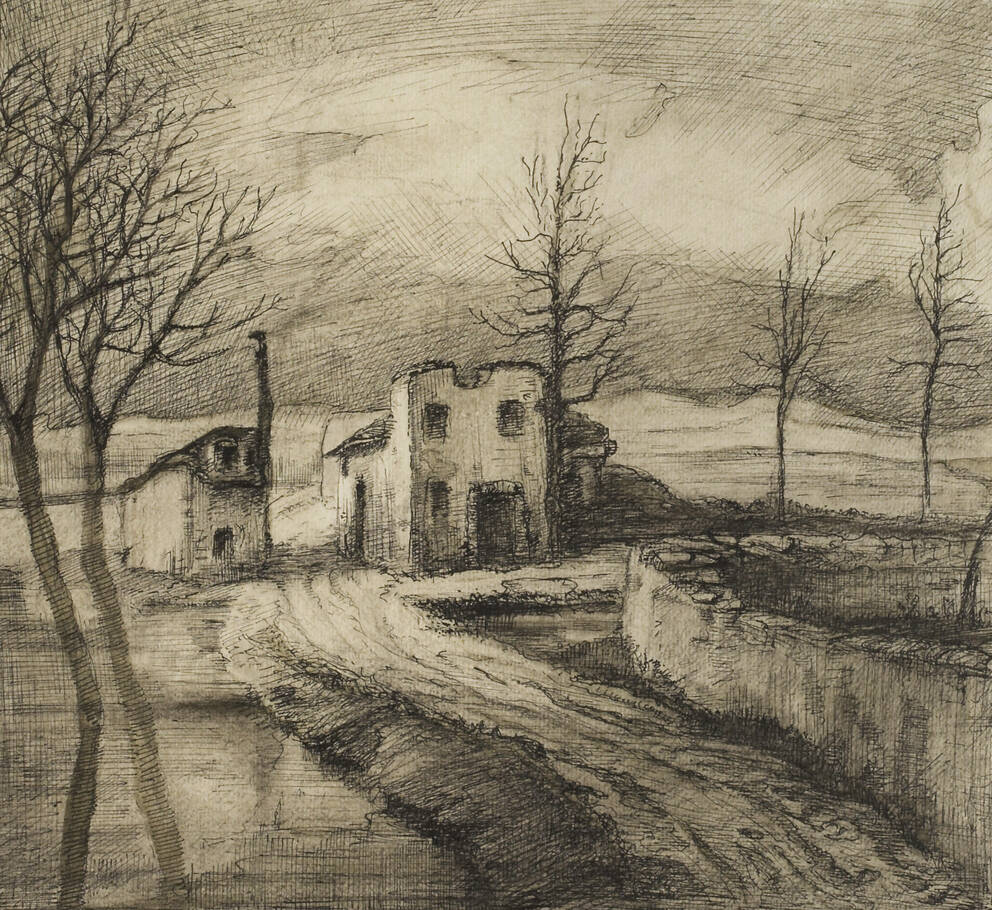 Disreputable Place
1903/04
Pen and India ink wash on cadastral paper
31.6×39.2 cm
Artists
Alfred Kubin

(Leitmeritz/Litoměřice 1877–1959 Zwickledt)
Unfortunately not on display at the moment
In his work Disreputable Place, dating from 1903/04, the draftsman, graphic artist and writer Alfred Kubin (1877–1959) uses pen and India ink to confront us with an abandoned and seemingly cursed farmstead that endures its lonely existence in a rigid winter landscape illuminated by a pale light from an icy sky, producing an impression of apparent harmlessness combined with an underlying sense of menace. The gaze of the beholder follows the grooves in the path that runs along a winding embankment accompanied by a confining wall, only to find two peculiar little buildings with facades that resemble the faces of crude figures. A bent flue pipe protrudes skywards from the smaller of the two buildings. From 1906, Kubin lived in complete seclusion with his wife Hedwig in Zwickledt Castle on a remote estate in Upper Austria. His wife's morphine addiction is thought to have contributed to their choice of a life in self-imposed isolation. Hedwig, previously a widow of considerable means, had financed the purchase of the estate.
Object data
Artist/author

Title

Disreputable Place

Date

1903/04

Art movement

Symbolism

Category

Graphic work

Material​/technique

Pen and India ink wash on cadastral paper

Dimensions

31.6×39.2 cm

Signature

Signed lower right using pencil: Kubin; designated lower left using pencil: Verrufener Ort.; designated by a foreign hand: um 1910; numbered lower right: 3000

Credit line

Leopold Museum, Vienna, Inv. 876

Inventory access

Contributed to the Leopold Museum-Privatstiftung in 1994

Selection of Reference works

Alfred Kubin. Bekenntnisse einer gequälten Seele, hrsg. von Hans-Peter Wipplinger, Köln 2022 (Ausst.-Kat. Leopold Museum, Wien, 16.04.2022–24.07.2022).
Alfred Kubin. Aus meinem Reich. Meisterblätter aus dem Leopold Museum, hrsg. von Rudolf Leopold/Romana Schuler, Wien 2002 (Ausst.-Kat. Leopold Museum, Wien, 05.10.2002-06.01.2003).

Keywords
If you have further information on this object, please contact us.