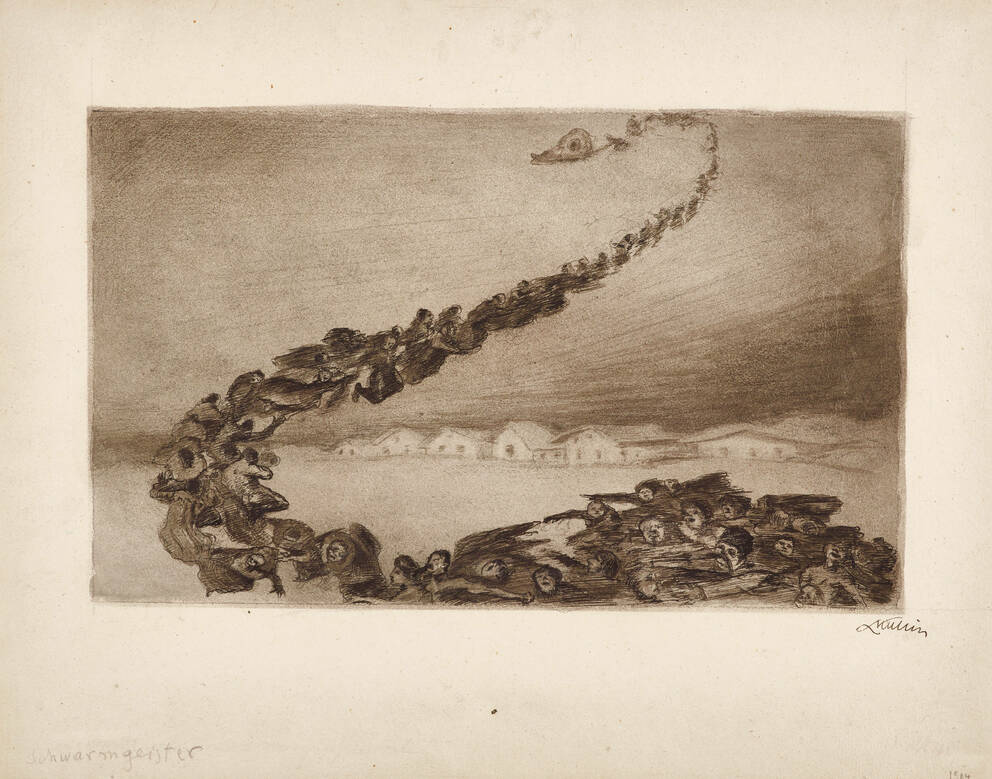 Leopold Museum,
Vienna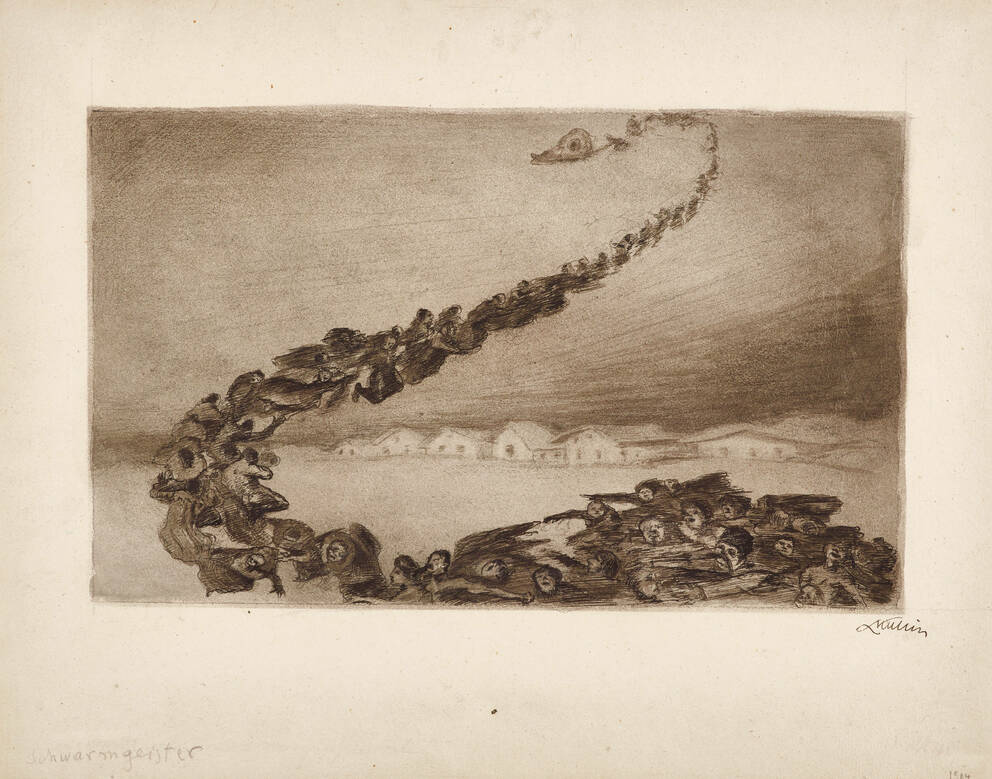 Swarm Spirits
c. 1904
India ink, pen, watercolor, spray technique on cadastral paper
31.3×39.6 cm
Artists
Alfred Kubin

(Leitmeritz/Litoměřice 1877–1959 Zwickledt)
Unfortunately not on display at the moment
Lashing out dynamically, the skeleton of a brontosaurus is brandishing its bony neck in a diagonal, oblique S-shaped line through the work's landscape format. Its huge body grows out of the foreground and is only partly visible in the shape of the gigantic, hilly structure of its back. Alfred Kubin (1877–1959) places the prehistoric monster in an infinite open plane with a conglomeration of small houses on the horizon. A closer inspection of Kubin's pen and India ink drawing Swarm Spirits, created around 1904, reveals that it represents a brilliant picture puzzle and an exquisite shift in perception levels: The gigantic skeleton is not formed of bones, but of wildly swirling human bodies. Arranged in a loose composition, recalling a shoal of mackerel or a flock of starlings, they make the distant past visible in a dynamic exchange. After discontinuing an apprenticeship as a photographer in Klagenfurt and aborting his painting studies in Munich, Kubin went on many study trips and turned out to be a superb autodidact, as evidenced in this early work. He made a name for himself in art history as an imaginative presenter of alternative worlds and a fantastic narrator of surreal ideas.
Object data
Artist/author

Title

Swarm Spirits

Date

c. 1904

Art movement

Symbolism

Category

Graphic work

Material​/technique

India ink, pen, watercolor, spray technique on cadastral paper

Dimensions

31.3×39.6 cm

Signature

Signed lower right: AKubin; designated lower left: Schwarmgeister; dated lower right [?]: 1904

Credit line

Leopold Museum, Vienna, Inv. 1027

Inventory access

Contributed to the Leopold Museum-Privatstiftung in 1994

Selection of Reference works

Alfred Kubin. Bekenntnisse einer gequälten Seele, hrsg. von Hans-Peter Wipplinger, Köln 2022 (Ausst.-Kat. Leopold Museum, Wien, 16.04.2022–24.07.2022).
Alfred Kubin. Aus meinem Reich. Meisterblätter aus dem Leopold Museum, hrsg. von Rudolf Leopold/Romana Schuler, Wien 2002 (Ausst.-Kat. Leopold Museum, Wien, 05.10.2002-06.01.2003).

Keywords
If you have further information on this object, please contact us.