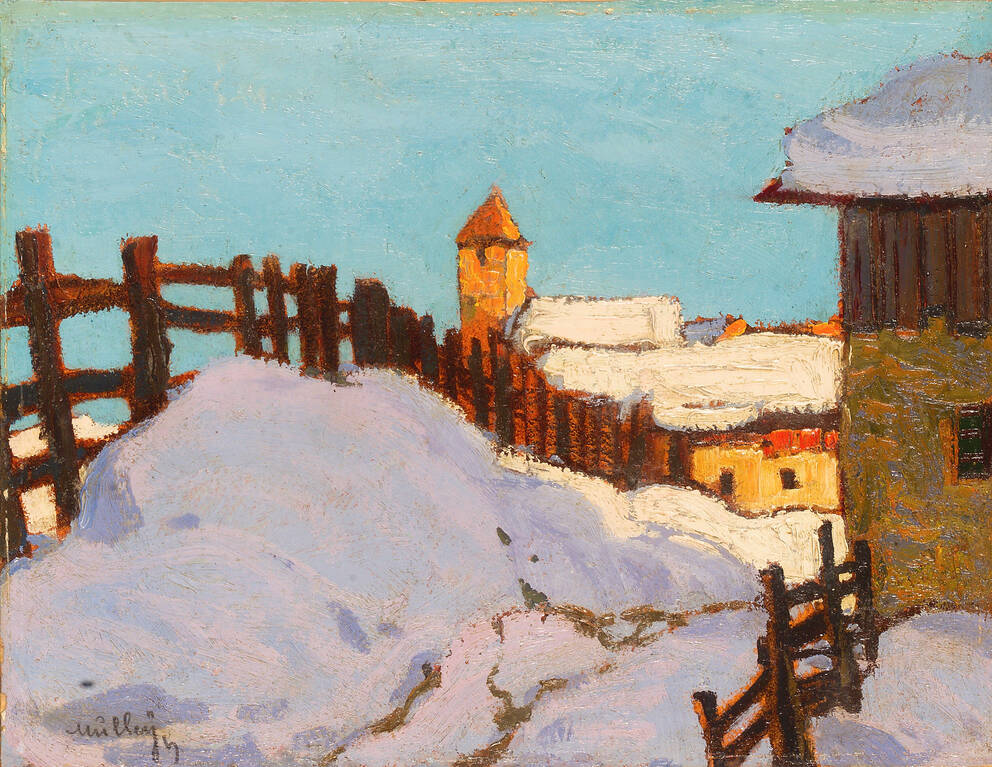 Leopold Museum,
Vienna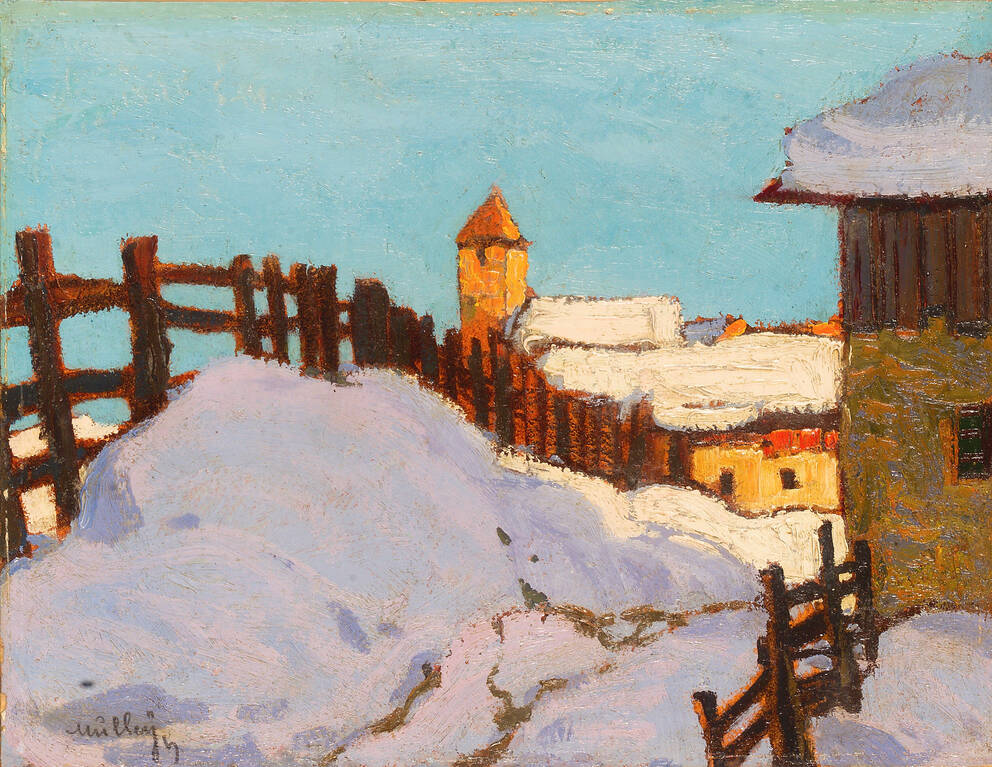 Artists
Oskar Mulley

(Klagenfurt 1891‒1949 Garmisch-Partenkirchen)
Unfortunately not on display at the moment
Oskar Mulley's (1891–1949) Village in Winter from 1914 is a precursor of the vigorous Alpine landscapes that would play a central role in his oeuvre from the 1920s, earning him multiple accolades. Already here, he sculpturally throws on the wood panel—working with palette knife and spatula, as is characteristic for him—a mountain village and atmospherically embeds it in a snow-covered winter scenery. From a perspective of looking out from the cold of the shadows and along the wooden fence leading into the picture center, the enticing warm sunshine lies just a few steps away. It steeps houses and the church tower in a reddish evening glow. The cool intense blue of the cloudless sky contrasts with the warm orange and brownish light-filled view. In its idyllic dreaminess, the Village in Winter is reminiscent of the soulful landscapes of Atmospheric Impressionists like Eugen Jettel (1845–1901), Olga Wisinger-Florian (1844–1926), and Emil Jakob Schindler (1842–1892).
Object data
Artist/author

Title

Village in Winter

Date

1914

Art movement

Atmospheric Impressionism

Category

Painting

Material​/technique

Oil on wood

Dimensions

19.6×25.4 cm

Signature

Signed and dated lower left: Mulley 14

Credit line

Leopold Museum, Vienna, Inv. 343

Inventory access

Contributed to the Leopold Museum-Privatstiftung in 1994

Keywords
If you have further information on this object, please contact us.
Provenance
Provenance research
Leopold Museum
i
Dr. Rudolf Leopold, Wien (o.D.);
Leopold Museum-Privatstiftung, Wien (1994)
For provenance related information, please contact us.