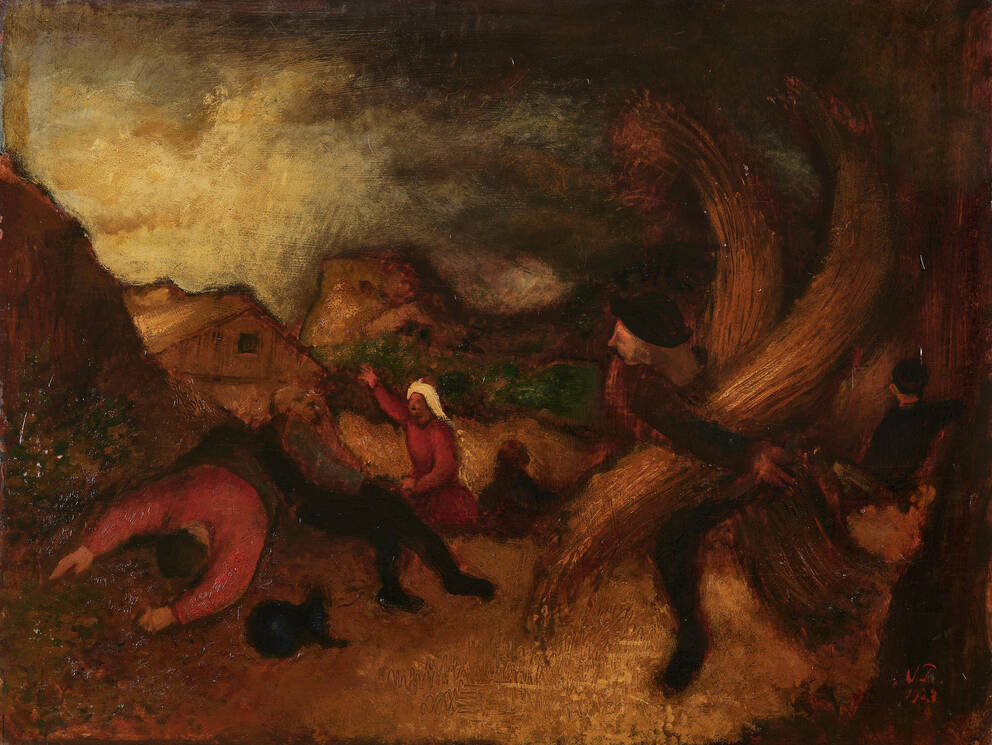 Leopold Museum,
Vienna © Bildrecht,
Vienna 2022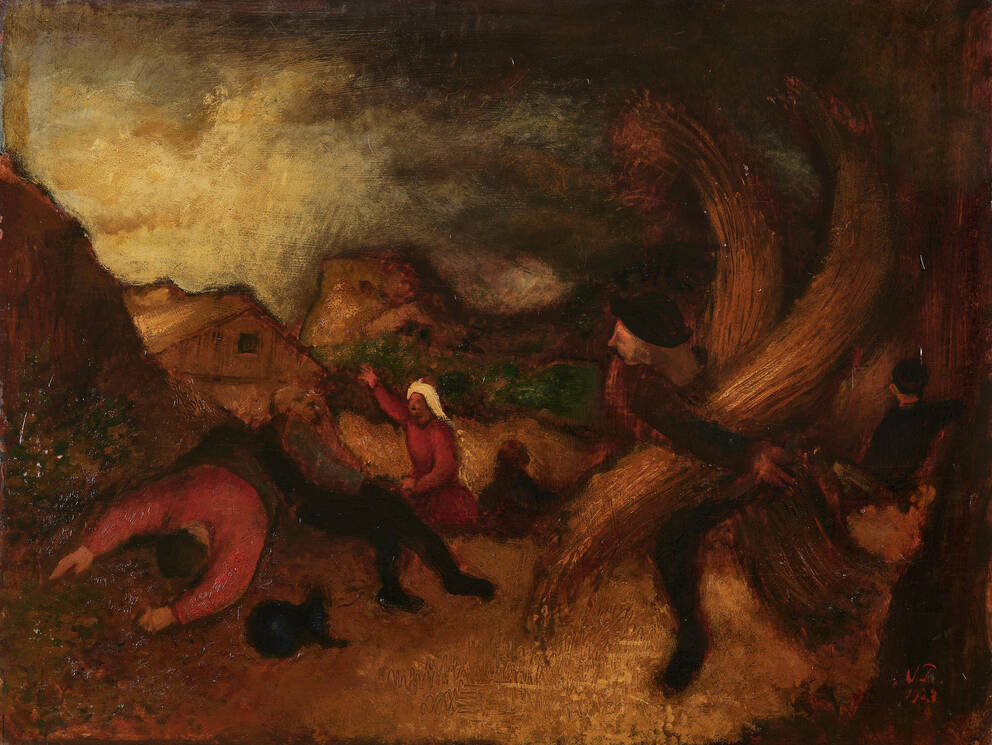 Artists
Josef Dobrowsky

(Karlsbad/Karlovy Vary 1889–1964 Tullnerbach)
Unfortunately not on display at the moment
In the early 1920s, Josef Dobrowsky (1889–1964) was a regular at the Vienna Kunsthistorisches Museum where he took some inspiration particularly from Pieter Bruegel the Elder (1525/20–1569).
The Harvesters
of 1923 also relates back to the tradition-honored art that preceded this work. Like with Bruegel, the representation of the subject of the harvest is followed by a cycle of the seasons. The village scene in earthy warm colors shows a moment of agitation when bundles of harvested grain are brought in and secured from a rising storm. With Dobrowsky, atmosphere means both weather and mood. Like with his contemporary Albin Egger-Lienz (1868–1926) the hard-working peasants appear massive because of the flatness of their depiction. Egger Lienz's
Reapers in Rising Storm
and Dobrowsky's
The Harvesters
both address the subject of how humans—often with an enormous effort, and yet in vain—try to stand up to the overpowering forces of nature.
Object data
Artist/author

Title

The Harvesters

Date

1923

Art movement

Expressionism

Category

Painting

Material​/technique

Oil on wood

Dimensions

72×95.2 cm

Signature

Monogrammed and dates lower right: 1923

Credit line

Leopold Museum, Vienna, Inv. 64

Inventory access

Contributed to the Leopold Museum-Privatstiftung in 1994

Keywords
If you have further information on this object, please contact us.
Provenance
Provenance research
Leopold Museum
i
Dr. Rudolf Leopold, Wien (o.D.);
Leopold Museum-Privatstiftung, Wien (seit 1994).
For provenance related information, please contact us.